I Am Legend and I, Robot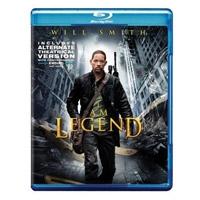 Warner Blu-ray Disc
---
Movie ••• Picture •••• Sound ••••½ Extras •••
If he isn't fighting hordes of humans who've degenerated into zombies, he's battling batches of 'bots who've started strategizing beyond human programming. And only Will Smith can prevent them all from taking over the planet! I Am Legend . . . I, Robot . . . I been here before (make that ID4).
Legend is a study in strangeness that's best expressed in its contrasts, with the most effective moments achieved through startling visual and acoustical shifts. VC-1-encoded images of the drab, recognizable, but disturbingly foreign landscape of dusty, overgrown Manhattan are made more bizarre by the shiny, intensely red sportscar slicing through them. The savanna sounds of Times Square in the open, clear Dolby TrueHD soundtrack are suddenly torn by a deer stampede and by the vehicle's roar in chasing the animals from channel to channel. Such accurately panned effects are particularly unnerving when used for the something-leaps-out moments that'll spill your soda.
Whereas the 2012 of Legend is familiar but weird, the 2035 of I, Robot is weirdly familiar. Nothing has changed: same fashions, storefronts, and slang. We still haven't improved on the ballpoint pen, but we all live with robots.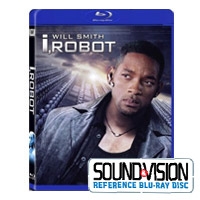 20th Century Fox Blu-ray Disc
---
Movie •••½ Picture ••••½ Sound •••• Extras •••½
Here, AVC-encoded images are nicely grainy in the detective-film tradition, and detail is amazing in a warts-and-all way. Combined with great contrast (the rich blacks in Smith's coat vs. the bright-white city lights), this creates three-dimensional compositions and rounded figures, particularly of Sonny the robot - and Susan the tasty robopsychologist, as portrayed by Bridget Moynahan in her glossy, hugging outfit. The DTS-HD Master Audio 5.1 mix is airy but busy, with good dynamic range. The scene at the robot warehouse is paced by high flutes alternating with deep horns, all very clear. Legend comes with a documentary on viruses that will probably interest virologists and people trapped on a plane. There are also four animated comics plus 50 minutes of standard production featurettes.
The In-Movie Experience on the Robot disc puts a disruptive list of featurettes up the center of your screen. Select one, and after 4 frozen seconds, the film branches to a clip, featurette, or outtake. The robotics info is fascinating, and the behind-the-scenes footage is often presented innovatively: A shot will gradually get CG'd up before your eyes, or you'll be shown green-screen processing, multiple camera angles, or animatics. It would all work better, though, as either PIPs or standalone documentaries.
Of Robot's three commentaries, only one (alternating a separate music track with the composer's thoughts) is worth sitting through, although technical bits in the design/production talk are intriguing. There's also an uninvolving trivia track, plus an index that lets you search for scenes with, say, "nanites" or "explosions." Or . . . "Bridget Moynahan." Hmmm, excellent for research.
LATEST VIDEO