How To Buy An Ultra HDTV Page 2
There are two HDR formats in wide use: HDR10 and Dolby Vision. Before I get into the differences, let's look at what they have in common. Both formats use an electro-optical transfer function called ST-2084, which was developed by Dolby and later adopted by the Society of Motion Picture & Television Engineers (SMPTE) as the baseline standard for HDR. What's important about ST-2084 is that it replaces the gamma curve used for the regular HDTV system, which was a carryover from the analog TV era. While peak brightness for the HDTV standard maxes out at around 400 nits (about 120 foot-lamberts), HDR content is mastered for up to 4,000 nits, though most HDR-capable TVs today achieve only 500 to 1,200.
One difference between Dolby Vision and HDR10 is in the bit depth used to code programs: Dolby uses a 12-bit system, as opposed to the 10-bit system for HDR10. According to Dolby, this allows for even smoother tonal gradations and elimination of color banding. Another key difference lies in the metadata that gets embedded in each video frame of HDR programs. With HDR10, the information is limited to a description of the capabilities of the display monitor used for mastering, along with average and maximum brightness levels for specific content. Dolby Vision, in contrast, uses metadata that's captured on a sceneby-scene basis during program mastering. This information is then conveyed dynamically to the TV during viewing.
Where can you find either format? HDR10 is part of the Ultra HD Blu-ray standard and is supported by all HDR-capable TVs and Ultra HD Blu-ray players. Dolby Vision, on the other hand, is currently supported by only Vizio and LG TVs. Also, Dolby Vision content is only available via streaming services, though it's rumored that Oppo's forthcoming UDP-203 Ultra HD Blu-ray player will support both formats. When that happens, we can look forward to seeing Ultra HD Blu-rays with Dolby Vision from at least Universal, the lone studio so far to pledge disc support for the format.
With much confusion swirling around the ability of Ultra HDTVs to support the improved performance of the new HDR formats, the Ultra HD Alliance, a consortium of hardware manufacturers, Hollywood studios, and streaming providers, has introduced a certification system to identify Ultra HD Premium sets.
What qualifies a TV to be Ultra HD Premium? Other than having a resolution of 3840 x 2160 pixels, it must support 10-bit color and provide at least 90 percent coverage of the P3 color space. If the set is an LCD model, its peak brightness needs to measure at least 1,000 nits and its black level less than 0.05 nit. The standard also provides separate criteria for OLED UHDTVs, acknowledging what was mentioned earlier—that OLED UHDTVs don't get as bright as LCDs but can deliver much deeper blacks. For these sets, peak brightness must yield more than 540 nits and its black level less than 0.0005 nit.
Why does Ultra HD Premium certification matter? Because a number of "HDR-capable" Ultra HDTVs on the market merely have an 8-bit display panel and limited light output. Such sets may recognize HDR signals, but their performance ends up being the same as what you'd get with a regular HDTV. On the other hand, keep in mind that some manufacturers—most notably Sony—have declined to participate in the UHD Premium program even though their televisions may meet the criteria.
Are Smart TVs Still Smart?
The label "smart TV" used to cover a range of capabilities that manufacturers were building into sets—everything from voice control to web search engines. But now it has mostly come to mean the bundle of services that can be streamed directly to the TV. An advantage that most Ultra HD models provide over outboard boxes like Apple TV and inexpensive streaming sticks such as those from Roku is an ability to deliver Ultra HD/HDR content. Among streamers, that capability is only available now in high-end, $100-and-up models from Roku, Amazon, and Nvidia.
Another benefit to smart TV is its "cord-cutting" possibilities. Integrated apps like Sling TV offer a range of premium channels that you'd usually have to pay a hefty price to a cable or satellite TV provider to access. Combine this with Hulu and channel-specific smart TV apps like HBO Now and Showtime, and you have a solid foundation for abandoning your cash-slurping program provider.
Other Considerations
If you're interested in 3D TV, consider yourself in the extreme minority. While 3D pulls in viewers at theaters, the technology never caught on in a big way at home. Not surprisingly, major TV makers like Vizio and Samsung have eliminated 3D support from their product lines. You can still buy 3D TVs from LG and Sony, though in some cases the feature is only available in high-end sets.
Ever wonder about using your TV as a smart-home controller? Samsung's 2016 TVs make that possible by incorporating the same functionality found in the company's SmartThings external control hubs. This lets you control lights, locks, thermostats, security cameras, and other devices right from the TV's screen. And the same capability that controls your home will also let you configure the TV's remote to control the many devices in your entertainment system, from an A/V receiver to an Xbox One.
Tips for Shopping
Ready to head to the store and check out some TVs? You should be aware that most retail outlets set TVs to a "torch mode" designed to help them grab attention when placed in a store under a bank of fluorescent lights. It's impossible to make any assessment of picture quality in this situation; a set that's capable of excellent performance may even be shown to disadvantage. If you do plan to compare sets in a store, you'll be better served by a boutique A/V shop or by something like Best Buy's Magnolia Design Centers, which make a point of displaying TVs in a dim, home theater–friendly setting.
Flat-panel TVs are getting thinner and thinner, and while this has aesthetic benefits, a negative side effect has been a decrease in the sound quality of built-in audio systems. Of course, that won't matter a bit if you own an A/V receiver and a speaker system. If not, you should at least buy a soundbar. Decent models now sell for as little as $200. (See our comparison of four budget soundbars in S&V's December 2016 issue and at soundandvision.com.) Spend a few hundred more, and you can get one with true audiophile capabilities for music playback as well as the ability to deliver clear dialogue and dramatic effects on movies, even from intense, bass-heavy soundtracks. Note that the optical audio output on some televisions may not pass a multichannel surround signal presented from an HDMI source like a Blu-ray player or cable box without downconverting it to stereo: something to keep in mind if you want the best performance from a multichannel soundbar.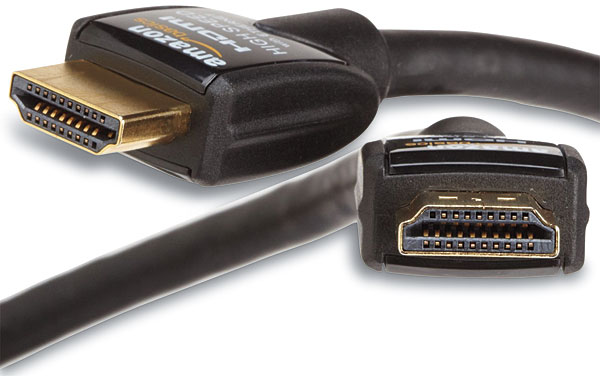 Lastly, a few words about HDMI cables. Although HDMI itself has undergone a number of changes over the past few years, HDMI cables have largely remained the same. To reap the benefits of new technologies such as 4K resolution, HDR, and extended color, you'll likely be able to use the same "high speed" cables you bought when you acquired your first HDTV and Blu-ray player. If you do happen to need new HDMI cables, typically because the new higher-bandwidth signals can get bollixed when travelling longer lengths, buying them in a store isn't a good idea. You'll easily find less expensive, high-quality cables online from sources like Monoprice, C2G (Cables to Go), and Amazon. Look for cables rated for 18.2 Mbps at the length you need if you want to make full use off all the advances that UHD offers (including higher resolution, advanced color, and HDR).
Ready, Set, Shop
Significant changes have transformed the TV landscape in recent years, but your choices when shopping for an Ultra HDTV really come down to just a few. Do you want an LCD or an OLED? Is HDR important enough to make you spend extra for a model that's certified as Ultra HD Premium or performs equivalently? It's our hope that this primer has armed you with enough information to be not just a "smart TV" shopper, but also a smart TV shopper. Just do your homework, and you'll surely be rewarded with many hours of Ultra HD bliss.