House of Marley be Jammin' at CES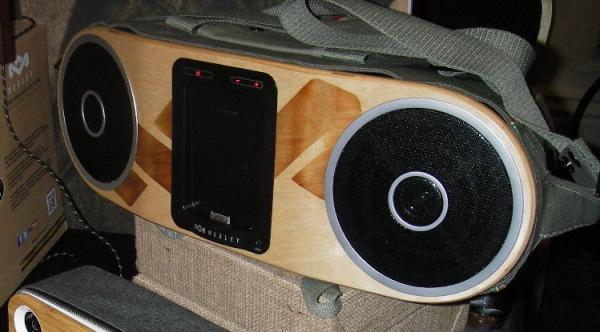 It takes a lot to rise above the din that is CES Unveiled, the press event that kicks off the International 2012 CES. Making some great sounding noise was the newest collection from House of Marley, a line of eco-friendly audio products created to follow Bob Marley's vision of "One Love." Marley's son Rohan Marley was there to promote the new line that will expand in the future to include clothing, watches and more.
In a press statement, Rohan Marley said on behalf of the Marley Family, "We want to give people new ways to experience the sounds of their favorite songs, while giving back to the people and the planet through our non-profit organization, 1Love.org. Our father taught us everything we do has to give back, to complete the circle. It's not enough to make earth-friendly products; we need to support programs that do good and take action." Backing up those words, the company donates 5% of their profits to 1Love.org, who provides funding to causes focused on youth, planet and peace.
Debuting at the show was the Bag of Rhythm ($349.99) boombox. It's really a shame to call it that; let's call it a portable speaker dock system – this thing is just gorgeous. It's made of sustainably-sourced wood with a carry bag made of eco-friendly cotton and hemp. It's iPod/iPhone compatible, with an AUX input for other devices. It has two 4.5" speakers in a ported enclosure with a long-throw woofer and two 1" tweeters. It can run off AC power or six D batteries, or an optional landfill-friendly rechargeable battery pack is available. It also has an optional car adapter.
While the House of Marley produces attractive and good-sounding products, their use of natural wood and fiber will really set them apart. Giving some love back to the 1Love organization is even more of a reason to make some noise.