The House That Jim Built, Part 3 Page 3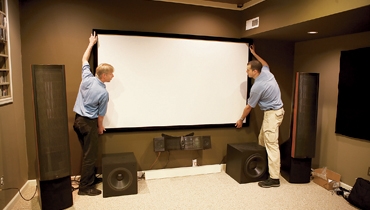 From the day I imagined the theater, I had my heart set on a 7.2-channel surround sound system built around full-range Martin Logan electrostatic speakers. Though I anticipated using the Martin Logan Quest Z speakers I already owned, they proved a bit too large for the space. Thankfully, there's a strong market for used Martin Logans, so I sold them and splurged on a pair of Martin Logan Ascent-i speakers for the L/R front channels, a Cinema-i center speaker, and a pair of Scripts for the side surrounds. Since the back-channel speakers would be located above my recording console, I opted for Martin Logan's Tickets in-wall models, the only non-electrostatic speakers in the system. The three front speakers are all bi-wired using Monster's Z-3 speaker wire; the others are connected directly to the in-wall wire.
While I'll likely one day replace my subs, the low end is currently being handled by two I already own: a 15-inch, 500-watt Dayton Titanic MK III that I built from a PartsExpress kit and a 12-inch 150-watt Energy model. Both are situated in the front of room; their cables are connected to the RG6 wall plate using the RF-to-RCA adapter I mentioned earlier.
The most anguish I experienced over any of the gear was settling on a front projector. Maybe the best thing about my long delay was that the price of an entry-level 1080p model dropped from about $7,000 to about $3,000. After months of waffling, I finally pulled the trigger on Optoma's HD8000 ($2,900), which is an ISF-configurable version of its popular HD80 projector ($2,700). At the time, it was the least expensive 1080p model avaiilable. My main concern - a prescient one, as it turned out - was whether the projector's lack of a vertical lens shift, combined with a very high offset (136% of screen height) and a limited 1.2x zoom lens, would allow the Optoma to work in my room without having to resort to keystone adjustments.
After spending several days working out the math using Optoma's online calculator, I determined that a 106-inch screen would require an 18 3/4-inch vertical offset, with the projector mounted between 14 1/2 and 17 feet away from the screen. That would just work in the room. Had my basement not been excavated a foot deeper than usual, in all likelihood I'd now be watching a different projector.
I quickly discovered that the screens I've written most often about - from companies such as Stewart FilmScreen and Screen Research - cost more than my projector. Online recommendations pointed me toward Elite Screens, which is earning a reputation for delivering a lot of big-screen bang for the buck. I've been more than happy with the fixed-screen model I chose: the Elite EZ Frame - an anodized aluminum frame faced with black velour - paired with the company's CineWhite (1.1 gain) screen ($600). Assembling the frame and screen took only about a half hour, and since this was my first experience with a front projector, Barry and his team helped mount both the screen and projector.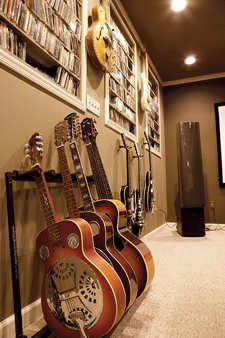 The room's left-side wall is home not only to much of Jim's CD collection, but also a fair number of acoustic and electric guitars.
Once all my gear was installed and connected, I had the HD8000 professionally calibrated by Kevin Miller, noted ISF technician, friend, and president of Queens, NY-based ISFTV. Since I already had an older Philips Pronto remote (TSU-3000), I asked Barry's team to program it with macros for watching a movie or TV and listening to music. Then I used the Integra's Audyssey MultiEQ XT calibration system, which can measure up to eight listening positions in the room, to set up the system, fine-tuning the result with my trusty RadioShack analog SPL meter.
Although there's still some work to be done, I've been enjoying my new room ever since leather theater chairs arrived a few weeks ago. Whether I'm watching a movie, blasting music, or just kicking back playing guitar, I've found that this room embodies everything I hoped for when I imagined it 2 years ago. Although I've always been more of a music guy than a videophile - and the room's sound system is truly awe-inspiring - I have to say that I've been singularly impressed with the performance of the projector and screen, especially when you consider that this level of quality wasn't within my financial reach when we did our addition.
So I'm incredibly happy with how the project turned out. If "The House That Jim Built" saga needs an epilogue, it would be "And they lived happily ever after."
GEAR LIST
•Optoma HD8000 DLP 1080p front projector •106" Elite EZ Frame fixed projection frame with CineWhite screen. •Martin Logan Ascent-I electrostatic speakers (pair, front left and right) •Martin Logan Cinema-I electrostatic center-channel speaker •Martin Logan Script (pair, left and right surrounds) •Martin Logan Passage in-wall speakers (left and right rear) •Energy e-XL12 powered subwoofer (12-inch driver) •Dayton Titanic MK III powered subwoofer (15-inch driver) •LG BH200 Blu-ray Disc/HD DVD player •Pioneer Elite DV-09 DVD player (for CD playback only) •Pioneer DV-563A universal DVD player (for SACD and DVD-Audio playback only) •DirecTV HR21-200 high-definition DVR •Project Debut III turntable •Bellari VP129 tube phono preamp •Krell Showcase seven-channel amplifier (250 watts per channel at 4 ohms) •B&K 7260 Reference six-channel amplifier (400 watts per channel at 4 ohms) •Furman Elite 15 PF i power conditioner/surge protector •Belkin PureAV PFHD Home Theater Power Conditioner (ceiling-mounted for the projector) •Monster Z2 Bi-wire •Raxxess economy studio racks (two) •Cannes leather home theater seats (2 rows of three seats)