Hot Fuzz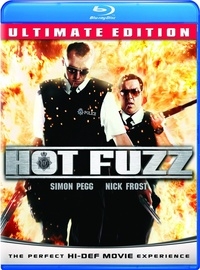 Simon Pegg's and Edgar Writt's ode to buddy-cop films was one of the best-looking HD DVDs ever released, and Universal has actually improved things on Blu-ray. Both VC-1 encodes are flawless, but the audio is improved with a kick-ass DTS-HD MA 5.1 soundtrack on the Blu-ray version. The surround channels are extremely active, the bass rocks, and the dialog sounds as if the actors are sitting in the room.
Extreme service

Chapter 1, 0:01:39
Detail, surround imaging, frequency response
Notice the detail in fabrics, the inky black of the police vests, and the textures of the actors' skin.
As Nicholas (Simon Pegg) introduces himself and his distinguished resume to the audience, the soundstage is quite active with terrific ambience, his voice sounds natural and lifelike, and the bass is deep and tight, especially as he walks into the police department.
Heads or tails?

Chapter 5, 0:12:18
Detail, shadow detail
As Nicholas flips the coin into the fountain, feast your eyes on the intricate detail in this scene. You can see the individual outlines of the cobblestones in the street, the texture of the plaster buildings, and individual drops of water falling from the fountain.
New sheriff in town

Chapter 15, 1:33:13
Detail, color, dynamics, frequency response
There aren't enough adjectives to describe this jaw-dropping scene. Every sign in the background is readable, the image displays phenomenal depth and dimension, and the day-glo orange and yellow on the back of the police car leap off the screen.
When all hell breaks loose, gunshots ring out from nearly every speaker and the soundtrack kicks into high gear. It doesn't get any better than this.
LATEST VIDEO