A Home Theater Humdinger Page 2
So what did Fields and company do differently to deal with this reality? "We designed the main equipment cabinet and plasma to be easily removed, so Mark can take them to his next home," says Fields. "The cabinet is freestanding, with the wood structure actually built around a Middle Atlantic rack system inside. It includes a quick-release wiring design, so all we have to do is disconnect a few wires and we can take the entire cabinet, equipment and all, right out the door. Whoever buys this home from Mark will be able to easily incorporate their own system into it, and there will be no scars left."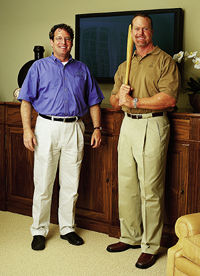 Fields continues, "Even though the home is a temporary residence for Mark, he wanted a wholehouse entertainment system that was designed for low aesthetic impact, but one with a backbone of performance, reliability, and ease of use. Working with Mark's long-time interior designer, Shawna, was a treat. Together we arrived upon a design that served to meet Mark and his family's entertainment needs while integrating seamlessly into his classic Spanish-style villa."
"I could not be more happy with this system," reports McGwire. "The plasma's picture quality is fantastic, and the DirecTV/TiVo system is a wonderful convenience. Sean and his team did a great job."
With the gear selection and layout design completed, it was time for AVE to tackle the most difficult part of any complex home entertainment system: control. AVE's lead project manager Mike Musgrave handles all of AVE's control systems, including the user-interface component. Musgrave has worked for AVE for nearly 12 years. Over that time, he's developed a formula for designing wholehouse control systems that's based on his extensive experience, intuition, and recognition of technical realities. "As automation systems are relatively new, most people have difficulty articulating what they want," says Musgrave. "Everyone can tell you what they didn't like about their previous system. You can almost design the perfect control system for a client based on avoiding what they didn't like about their last one. Combine their list of grievances with a bit of knowledge about their priorities, review what you've done for a previous client that's comparable and worked well, design accordingly, and you're there. Occasionally, I need to tweak the interface design a bit; but, most of the time, the first design delivers just what the client is looking for."
How did it work this time? McGwire's A/V control system is based on Crestron equipment and includes wireless, tabletop, color control panels. Working with programming company Rolling Thunder Software, the AVE crew fashioned a system and user interface that match McGwire and his family's technical comfort level. "I love how easy this control system is to use. It makes managing everything so effortless," declares McGwire.
For more than five years, the AVE/McGwire relationship has produced one win after another, with no end in sight. "It has always been a joy to work with Mark," says Fields, "and it feels great to me personally to see him so pleased with what we've built for him. Often, when I'm talking with him, I feel so comfortable that I forget who he is and what he has achieved. That's the mark of a true gentleman in my book."
And how does Mark McGwire feel about his latest integrated home entertainment system? "Let's put it this way," he answers, "I hit a four-run dinger with AVE."
* Audio/Video Entertainment is a custom design and installation company located in Laguna Niguel, California. AVE specializes in integrated home theater and audio, automation, lighting control, and structured-network wiring installation. You can reach them at (949) 348-1245 orwww.aveonline.tv.