Home Theater in a Game Room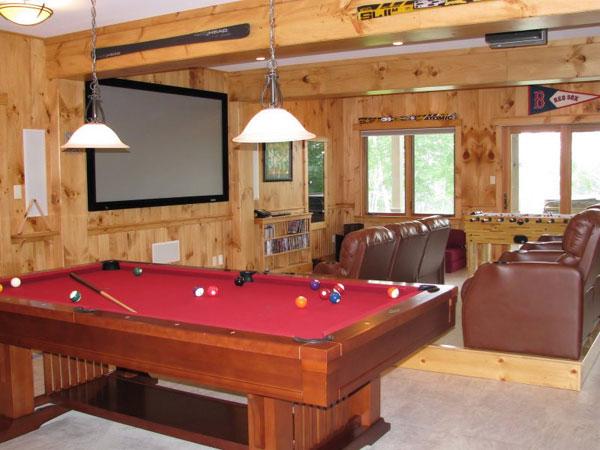 I have a $15,000 budget (display, speakers, components) for a home theater in a 11x14 section of a 16x25 game room. However, I am limited to ceiling-mounted surround speakers. Does anyone make in-ceiling rear speakers that tonally match a killer set of front towers and center channel? I read all the in-ceiling reviews and the Top Picks, but I can't figure out how to blend a system. Also, I've read your reviews of the Marantz components; the AV7005 looks awesome, but maybe it's overpowered for my dual-use game room and home theater? I love the Ask Home Theater column; please send some help this way!
Joe Boyle
Regarding speakers, I looked at our Floorstanding Speaker Top Picks to see which companies also make in-ceiling models—most do, including PSB, Aperion, KEF, Definitive Technology, MartinLogan, Focal, Monitor Audio, and Revel. With a budget of $15,000 for everything, I'd consider the Aperion Verus Grand, KEF Q900, or PSB Image T6 or Imagine T for the front left and right (along with the center and sub specified in the corresponding reviews), then look at the company's in-ceiling offerings that most closely match the fronts in terms of driver sizes and types. For more specific recommendations, contact the manufacturer and ask which of its in-ceiling models tonally match the fronts you are considering.
The Marantz AV7005 (reviewed here) is indeed an awesome pre/pro and an amazing value at $1500. However, I wouldn't call it "overpowered," since it provides no power at all; perhaps you mean "overkill," as in too high-end for a dual-use room. You might be right, especially since you'd need to buy a separate power amp; the matching Marantz MM7055 (reviewed with the AV7005) is another $1200, and you can get a great A/V receiver for less than $2700—for example, the Marantz SR7005 ($1600, reviewed here) or Pioneer Elite SC-57 ($2100, reviewed here).
Getting an AVR instead of separates would free up more money for the display. Seeing as how your space is a dual-use game room and home theater, I suspect you won't always have good control of ambient light. That means you'll need a flat panel or a projector with high light output and/or a special ambient light-rejecting screen, and any of these options can get expensive at large screen sizes.
If you have an A/V question, please send it to askhometheater@gmail.com.
LATEST VIDEO