Home @ the Movies Page 2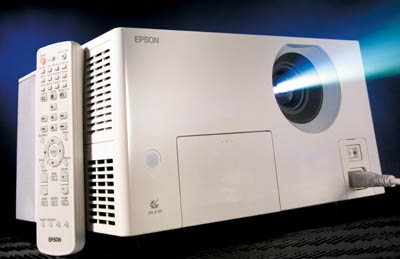 Epson A big picture with big bass
The Short Form
EPSON.COM / 800-463-7766 / $1,499 / 13.5 x 7.125 x 12.25 IN / 15 LBS
Plus
•Most natural out-of-box color. •Bass module and convenient screen. •Best sound of the three combos tested. •Backlit remote control.
Minus
•Prominent "screen-door" effect. •Mediocre picture contrast. •Won't accept high-def sources.
Key Features
•$1,499 •854 x 480-pixel three-chip LCD light engine •Built-in stereo speakers and DVD player •Includes pull-up 80-inch screen and separate 40-watt bass module
Test Bench
Color temperature was noticeably blue from all sources. A +5% red color-decoder error was apparent on all sources. Overscan measured 4% - an average amount. Full lab results
Not long ago, printer-maker Epson set its sites on the living room with its Livingstation LCD rear-projection TVs. Now Epson is offering up the MovieMate 25, an industrial-looking LCD front projector/DVD player with built-in speakers and a standalone bass module (not shown) to give a little extra kick on the low end. The combo also includes an 80-inch (diagonal) screen with a wide, movie theater-like (16:9) viewing area - the only projector here to offer this perk, albeit at a higher price.
SETUP & USE The MovieMate 25 is the largest of the combos we tested, and a 7-foot distance was required to fill up its screen. Unlike the Optoma and RadioShack models, its lens fires forward instead of upward, so you may need to position the screen a little lower than normal. The screen rolls out of a 77-inch-wide metal case that sits on the floor. Just open it, raise the center support bar, pull the screen up, and you're set. The Epson's 1.5x zoom lens and lens-shift controls help you align the picture.
The internal speakers fire straight backward, which means the projector should sit in front of the viewers - on a coffee table, for example. Another difference between this projector and the others tested is that, with only composite- and S-video inputs, it won't accept HDTV signals. But it does have an optical digital audio out to feed a surround sound system. The DVD player loads via a tray on the back. Track, time, and status are displayed on an LCD panel, which you can dim but not turn off. The separate onscreen menus for the DVD player and projector are sparse, and I found the remote control unintuitive, though you get used to the odd layout. On the plus side, it's the only backlit remote of the combos we tested.
PICTURE QUALITY Epson's light engine uses separate LCD chips for red, green, and blue to create pictures, eliminating the need for a color wheel, which can cause some viewers to see "rainbow" trails in the images of DLP-based projectors. What I did see was a gridlike texture superimposed on the image - the "screen-door" effect that's typical of lower-resolution projectors, particularly LCDs. It's caused by the gaps between pixels on the imaging chips. Unfortunately, the effect was visible even more than 10 feet away.
The Epson's colors were reasonably vivid and looked the most natural out of the box among the three projectors tested. However, they weren't as fully saturated as on the Optoma or RadioShack. Watching Chapter 7 of Adam Sandler's remake of the football comedy The Longest Yard, I also noted the projector's mediocre picture contrast. As Sandler, Chris Rock, and Burt Reynolds huddled around a computer monitor, folds in Rock's black cap blended together into a solid patch of darkness. Similarly, white portions of the picture lost detail in bright scenes.
Where the MovieMate 25 really distinguished itself was in its sound. The built-in speakers and outboard bass module provided clearer, fuller sound than the other two projector combos, with convincing explosions and bone-crunching linebacker collisions.
BOTTOM LINE
Epson's MovieMate 25 served up more natural-looking colors without adjustment, and much better sound, than its competitors here. Its prominent screen-door effect - par for the course with inexpensive LCD models - and inability to accept high-def sources might be a turnoff. But with its accompanying screen, Epson makes it easy to enjoy one-stop home theater.
LATEST VIDEO