Ho-Ho-Home Theater's 2012 Holiday Gift Guide!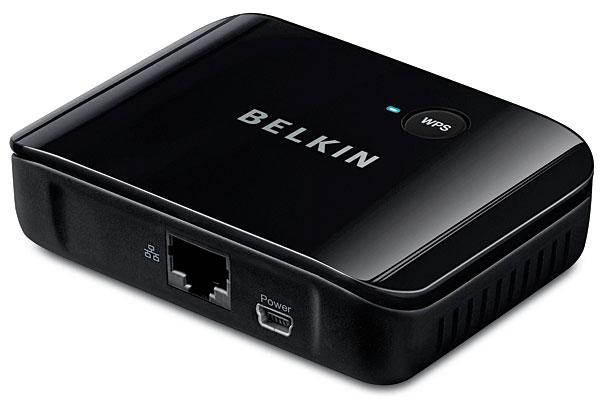 What do you get for the home theater buff who has everything…even if that home theater buff is you? The good news is that there's no such thing as everything, and the better news is that we went out and did the pre-shopping for you. No, we won't be recommending any half-ton speakers or 10-foot flat screens: Those would be an absolute bear to wrap, plus you read Home Theater, so you probably have the basics covered already. Instead, we've uncovered an assortment of add-ons, doodads, and whatnot that will raise the bar on your audio/video rig and beyond, even enabling you to take some of your home theater lifestyle far and wide, outside the man cave. From stocking stuffers to breakthrough accessories to major wow factor, we have you and your lucky gift recipients covered. Heed our suggestions, then just wait for the thank-you notes to tumble in….
Belkin ScreenCast AV 4 Wireless AV-to-HDTV Adapter, $250
Your gear is stacked neatly at point A, your TV is impeccably wall-mounted at point B, and you can't bear the thought of running ugly wires between them or paying an installer to custom-run cables behind the walls. Enter Belkin's two-piece kit that links the two locations in wireless 1080p glory. Connect as many as four HDMI sources to the transmitter box, then the small receiver to the TV, and complete a quick setup procedure that also involves positioning an included IR emitter cable on each component so your original remotes will still work just fine, up to 100 feet away. (belkin.com)
AudioXperts Model 2112 Virtual Surround Console, $2,000
Want to give the gift of step-up sound to go with that HD picture? Designed for elegance, but not at the expense of performance, the Model 2112 Virtual Surround Sound Console is a single-piece 2.1- channel music/surround sound system like no other. New driver technology makes possible a slim enclosure less than 3 inches high, even as the built-in subwoofer cranks bass said to be comparable to a standalone 8-inch kicker. A vision in aluminum and smoked glass, it can sit on a cabinet beneath a wall-mounted TV. It's even better if the TV rests directly atop the 2112, since its swivel base easily rotates the screen and console together to a comfortable angle. The bounteous connectivity is enhanced with Bluetooth and an Apple-compatible USB input. (audioxperts.com)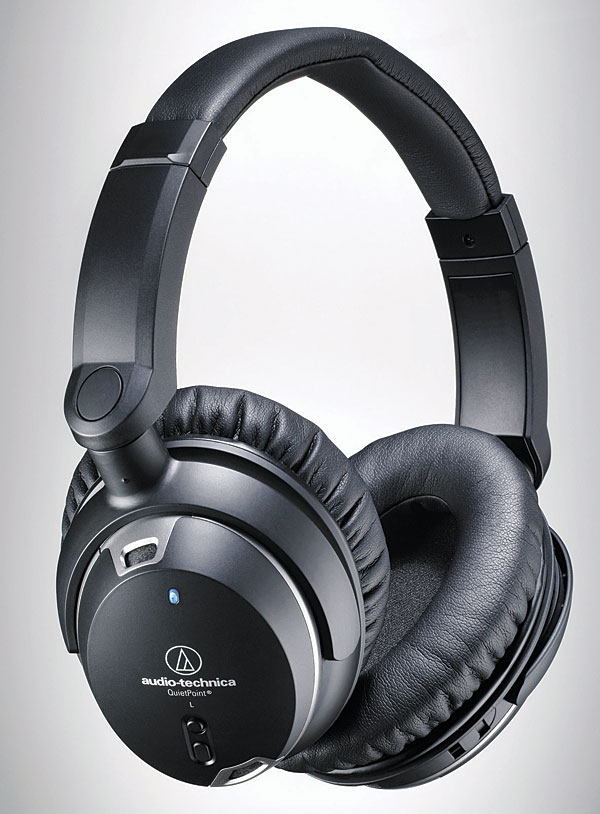 Audio-Technica ATH-ANC9 QuietPoint Active Noise-Cancelling Headphones, $350
The newest noise-canceling over-ears from Audio-Technica give you the three most important things you could ask for: comfort, performance, and quiet. Cushy memory foam padding adorns the headband and earcups for hours of enjoyable wear, while the capable 40mm drivers enable detailed, spacious reproduction. They're a fine air-travel companion with any portable source, the Tri-Level Cancellation technology offering three separate noise-killing modes that customize the sound processing for plane, office, and home environments, cutting the din by up to 95 percent. The ATH-ANC9 folds down flat and stores in its own sturdy case, along with supplied plug adapters and two different cables, one with iPhone-ready inline controls and microphone. (audio-technica.com)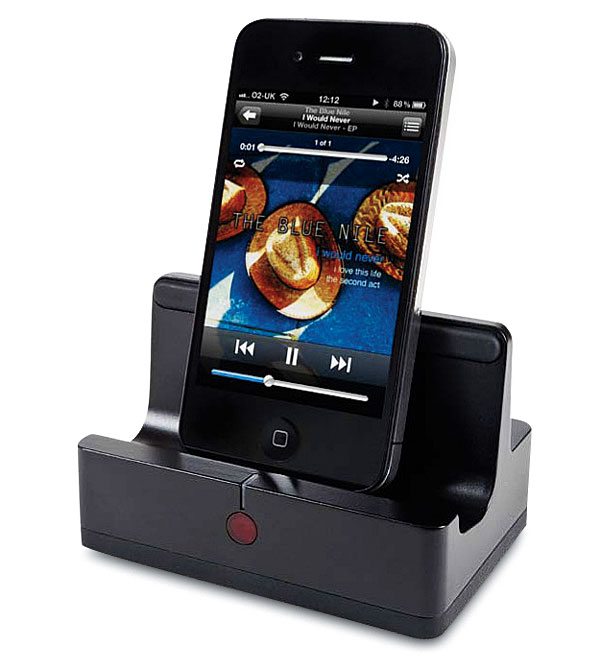 Arcam rSeries drDock, $300
With its cast-aluminum housing in a clever, open design, Arcam's rSeries drDock easily accommodates big iPads as well as the iPhone (up through iPhone 5) and assorted iPods. It's heavy, too, which not only implies exceptional build quality, but also lends stability, particularly welcome when a tablet is attached. Chal- lenging the notion of how well an iDock can perform, it com- mandeers the digital iSignal and passes it through its own built-in TI Burr-Brown DAC with impressive results. Digital audio out is also provided for total home theater setup flexibility, in addition to HDMI for video. A wholly capable remote is supplied, or the drDock can be controlled via Arcam Solo neo music systems and select receivers. (arcam.co.uk)
V-Moda VAMP Headphone Amplifier/Battery Pack for iPhone 4/4S, $650
How can you help loved ones derive superior audio from the millions of iPhones currently in circulation? VAMP starts by ensconcing the iPhone 4/4S with an aircraft-grade, brushed-metal caboose and shock-absorbing silicone. Sure, it adds bulk, but it also transforms the mild-mannered iPhone into an audiophile monolith with a dedicated direct-drive DAC that bypasses the phone's amplifier, relying on its own 150mWx2 (at 32 ohms) amp instead. Elaborate new controls are topped with a rotary knob to fine-tune the volume—now more formidable—while a Hi/Lo Gain switch matches both low- and high-impedance headphones (high-impedance and pro/studio 'phones benefit from a headphone amplifier). The internal bonus battery can double iPhone life off just a one-hour charge, and the minijack doubles as a digital optical audio output, too—cable sold separately. (v-moda.com)
dreamGEAR TriMount for PS3, Wii, and Xbox 360, $30
The Big Three video-game consoles deliver a new level of intuitive, cordless freedom that allows you and the family to interact with your virtual frolics as never before. Unfortunately, each requires user line of sight with a bit of extra hardware that can quickly clutter the home theater. But TriMount gives the Wii Sensor Bar, the Xbox 360 Kinect Sensor, and the PlayStation 3 Eye Camera a new home, all nestled securely atop any flat-panel TV up to 4 inches thick. (The contact points on the adjustable mount are safely foam-padded.) If that setup doesn't work for you, an included bracket can also hang on the wall above and behind the screen. (dreamgear.net)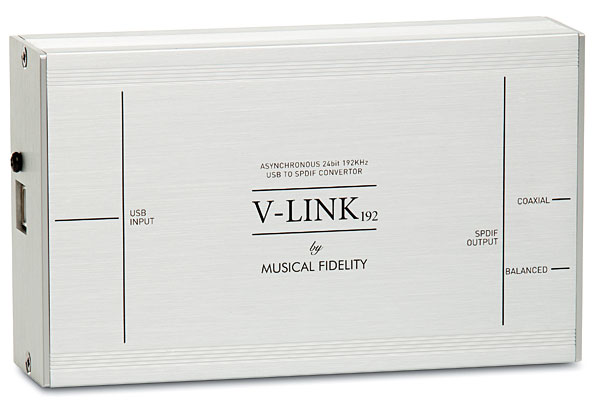 Musical Fidelity V-LINK192 USB/SPDIF Converter, $399
You live in an age of high- resolution audio downloads, copying, and even recording and mixing on the computer. But how do you set these audiophile files free to play in their unfettered sonic glory on a high-end A/V receiver or surround processor that lacks a USB port? Musical Fidelity provides the key with its uncompromising V-LINK 192 converter box, which bridges the gap from the Mac/PC (USB-in on one end) to the serious audio gear (coaxial/optical digital outs on the other). Shrewd engineering down to the selection and placement of the internal componentry further assures flawless data. (musicalfidelity.com)
Blue Aura v30 Blackline Tube Amp/Speakers, $549
In one of those priceless consumer electronics contradictions, vacuum-tube amps run warm, but they're also extremely cool. Blue Aura's v30 bundle combines a funky-looking but oh-so-organic-sounding 40-watt valve amplifier (20 x 2) with acoustically, stylistically matched loudspeakers, all accented with cow-friendly faux leather. You can connect to a variety of sources via RCA stereo, USB, and minijack, utilizing the premium internal digital-to-analog converter as needed. With a Buck Rogers retro esthetic that also works wonders livening up cold MP3s, the v30 is the sort of desktop system you'll love to show off, and maybe even use to toast marshmallows. (blueaura-audio.com)
Logitech UE Air Speaker, $400
Under its prestigious Ultimate Ears banner, Logitech has unleashed a rock-solid stereo speaker that works with Apple's superior AirPlay standard. The iPhone, iPad, and iPod touch can send their audio wirelessly to the UE Air over a Wi-Fi network without additional signal compression, and a physical dock connector can also be found inside a disappearing drawer on the front of the speaker. Logitech's control app aids in the initial configuration, and later to tweak the bass and treble. Piano Black and all curves, the rear-ported UE Air serves up a full-bodied, room-filling soundstage with significant separation thanks to the wide woofer/tweeter array. (logitech.com)
Jody Duncan Jesser and Janine Pourroy: The Art and Making of The Dark Knight Trilogy, $40 (Abrams) Mark Cotta Vaz: Batmobile: The Complete History, $35 Brandon T. Snider: The Dark Knight Manual: Tools, Weapons, Vehicles and Documents from the Batcave, $40 (both Insight Editions)
Christopher Nolan's revolutionary Caped Crusader series has now concluded, and with no successor on the horizon, Trilogy gives a look back, a look deeper, and a look beyond, to the bigger mythos of Gotham's timeless champion. It's an all-access pass with a timely emphasis on the newest film. Batmobile focuses exclusively on The Batman's preferred mode of transportation, with a lavishly illustrated exploration of why this might be the most beloved car in all of pop culture, in all of its varied forms. And the Manual arrives sealed due to its confidential contents, almost like a how-to chronicle amassed by and for Bruce Wayne himself, and for his eyes only. There are secrets galore, including removable blueprints, stickers, cards, and surprises I won't even spoil.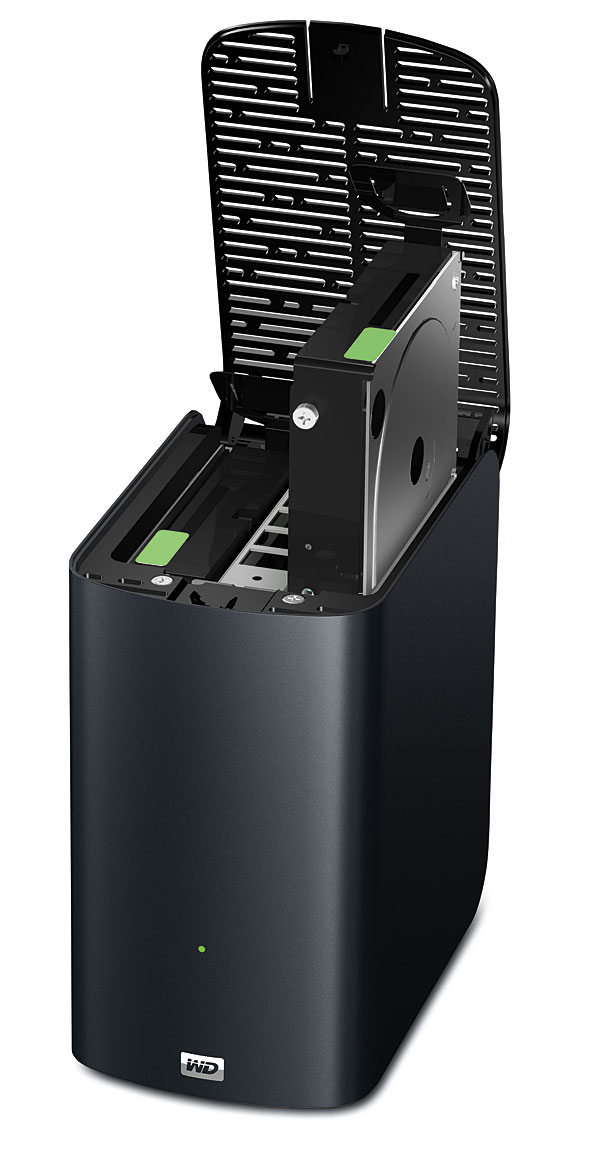 Western Digital My Book Live Duo Personal Cloud Storage, $390 to $490
Extra video/audio storage space is something just about everyone can use nowadays, especially for those big honkin' HD video files living inside the computer. My Book Live Duo is so named because it houses a pair of high- capacity hard drives, starting at 4 terabytes total; but for another $100, you can snag the 6-TB model for even more precious real estate. It goes much further, though, with a powerful integrated CPU and high-speed Ethernet to easily establish your own de rigueur cloud remote server, ready to stream media or transfer files from anywhere, anytime, on PC/Mac, tablets, or even phones. (wdc.com)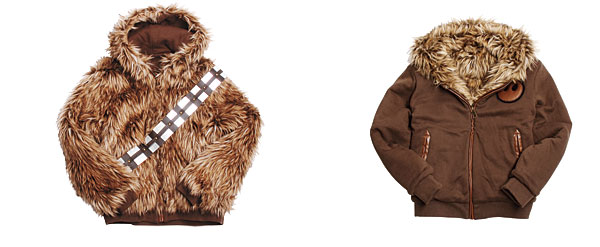 Marc Ecko Choco Covered Chewie Coat, $190
The chilly winter months are upon us, and what character growls "warmth" louder than the hirsute first mate of the Millennium Falcon? (At least we think that's what he's saying.) The head-to-waist-to-cuff fur here is actually 100 percent man-made Sherpa, a more humane alternative to actor Peter Mayhew's iconic costume for the classic Star Wars trilogy, which was constructed from yak hair/mohair…or real Wookiee pelts, depending on who you believe. Chewbacca's signature bandolier is included as a removable accessory. The hooded coat is completely reversible to a mostly cotton, chocolate-colored fleece with discrete Rebel logo, for when you want to go incognito or just feel that soft, fluffy fur against your body. (marcecko.com)
La-La Land Records Star Trek: The Original Series Soundtrack Collection, $225
Without question the most comprehensive assemblage of original series music ever, La-La Land's limited-pressing 15-CD set presents the scores for every one of the classic 79 episodes. You don't need to be a Trekker to enjoy the timeless thrills, drama, and emotion in the works of composer Alexander Courage et al., restored and remastered from archival elements for stellar new sound quality. Most of this music has never been released in any format, while much has never been heard at all: Many cues here were written and recorded for the show but never actually used. An exclusive 100-page guidebook completes this handsome slipcased set. (lalalandrecords.com)
SodaStream Revolution Home Soda Maker, $200
For some folks, a movie at home just isn't a movie without a touch of the bubbly. Fresher is always better, and an assortment of flavors helps spread the cheer, but since a theater-grade soda fountain plus a jerk to operate it would probably overdraw the Christmas Club account, opt for SodaStream's new flagship model, the Revolution. Currently a Williams-Sonoma exclusive, the Revolution boasts a sleek design with a digital display and four different carbonation levels. The dozens of available syrup flavors have nary a drop of high-fructose corn syrup, instead using cane sugar or sucralose or a blend of the two for genuinely tasty sodas that are less nasty for both the body and the environment. (The included 1-liter soda bottles are reusable for years.) (sodastream.com)
Universal 100th Anniversary Blu-ray Collection, $350
A cinematic treasure trove disguised as a book, this 25-movie menagerie sums up why Universal has managed to flourish over the past century. Bringing together the austere majesty of yesteryear (All Quiet on the Western Front) and the goofy fun of today (Despicable Me), it also serves up plenty of game-changers and outright blockbusters along the way (The Sting, Jaws, E.T., etc.). Face it: If you can't find a disc you like here, you just don't like movies. An exclusive bonus disc contains vintage cartoons (some Oscar-nominated) and live-action shorts (Shirley Temple! Babe Ruth!), while a music CD celebrates 15 classic scores. (universalstudiosentertainment.com)