Hitachi DZ-MV550A DVD Camcorder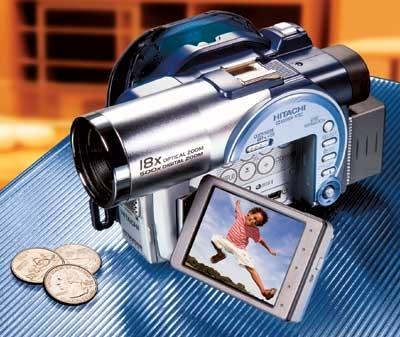 After spending some time with Hitachi 's DZ-MV550A, I've seen the future of camcorders. Unlike its competitors, Hitachi isn't known for professional video equipment or photography. But it is known for disk drives, so it carved out an innovative and forward-looking niche for itself by pioneering camcorders that record directly to DVDs. The very compact DZ-MV550A is part of the fourth generation of Hitachi DVD cams.
One big appeal of a DVD camcorder is that you can pop the small (3-inch) disc out of the camera and load it into your living- room player or send it off to relatives. But you can't assume that a disc recorded on the DZ-MV550A will play on every DVD player. Besides write-once DVD-R discs, which will play on most DVD players, the Hitachi cam also records on erasable DVD-RAM discs, which only DVD-RAM recorders, a few DVD players, and computers with DVD-RAM drives can play.
Both types of 3-inch disc must be placed in a special caddy to be used in the camcorder but can easily be removed for playback elsewhere. The cam offers four recording-quality modes - Xtra (for DVD-RAM only), Fine, STD, and LPCM, ranging from 18 to 60 minutes per disc side - so you can trade off picture quality for recording time. Both disc formats, unlike tape, let you instantly jump to any segment you've recorded. But unlike DVD-R, DVD-RAM allows you to edit your recordings. BASIC OPERATION Recording a DVD-RAM is not much different from recording on a tape-based camcorder. Recording a DVD-R is more involved because the disc must be initialized before you can record on it and also finalized before you can play it back outside the cam. The DZ-MV550A's key controls are in the customary positions, and I found it comfortable to hold and use.
Press the zoom control, and the cam provides a nice, slow, professional-looking zoom. The built-in lithium-ion battery is rated for 115 to 160 minutes of operation, depending on the recording mode and other settings.
LATEST VIDEO