High Seas Home Theater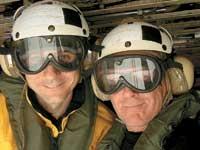 Three years ago, I received an e-mail from my cousin, Chris, who was stationed in the Philippines with his team of Navy SEALs. His message described life in the village where they were staying, the people he was "working" with, the unusual local cuisine, and so on. Then he mentioned that his squad had just watched the movie Black Hawk Down in their tent - on a large-screen front-projection system.
Author John Sciacca (left) and photographer Jim Raycroft.
I'd watched this movie myself in a theater just days before - how'd they get it so soon? And what was a front projector doing in the middle of the jungle with a bunch of Navy SEALs?
Intrigued, I made some calls and eventually reached Mike Maus, the deputy public affairs officer for the Naval Air Force U.S. Atlantic Fleet, who explained that it's important to the Department of Defense to keep troops entertained when they're off duty. For instance, there's the American Forces Radio and Television Service (AFRTS), which provides a mix of news, sports, and regular U.S. network shows on three TV and radio channels, plus a data channel for news and information. This programming is available to members of the armed forces virtually anywhere in the world, including aboard nearly every Navy ship. Letting soldiers in Tikrit, Iraq, or sailors off the coast of Korea "play along" with Super Millionaire , or watch the Super Bowl or World Series live, helps them feel closer to home.
A program called First Run Overseas provides prints of new films to overseas bases, normally within two weeks of their theatrical release. Another program delivers new movies on 8mm tape to "hot zone" forces, typically 30 days after their theatrical release. Troops also receive 8mm tapes of movies new to video from 30 to 60 days before their scheduled stateside video release.
To facilitate viewing in the field, troops are supplied with "cinema in a box" systems that include a front projector, a screen, an 8mm player, and a sound system. And all ships in the fleet are equipped with a Shipboard Information, Training, and Entertainment (SITE) system to handle onboard audio/video distribution.
Sensing the opportunity of a lifetime - and a great story! - I told Maus that I'd love to see the SITE system in action. But, with many of the Navy's ships committed to fighting overseas, months passed with no news, until one day the phone rang:
"Can you be at Norfolk Naval Base on April 15?" Maus asked. "I've got you scheduled to go out on Truman ." USS Harry S. Truman is the second-newest aircraft carrier in the the U.S. Navy and is outfitted with all the latest technologies. "Tax deadline be damned," I told myself, "I'm going to sea!"