HiFiMan Unveils Headphone Amp, Wireless Earbuds with Dual ANC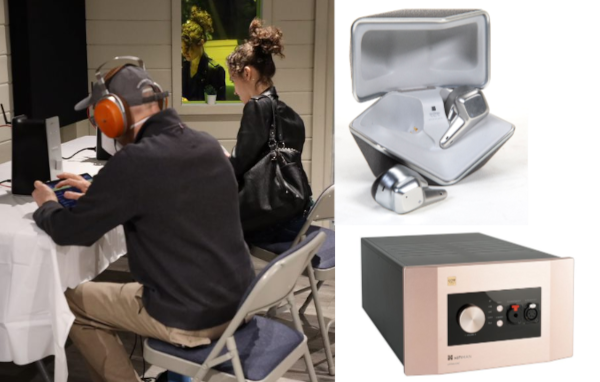 It is not uncommon for an audio manufacturer to hold a product launch at a recording studio. Although the newly released products at these events often have little or no relevance to pro audio, such a venue is undeniably cool.
The pro audio tie-in was readily apparent at the HiFiMan press event held on Wednesday (April 26) at Quad Recording Studios NYC in the always-bustling Times Square area of Manhattan. Company founder and CEO Dr. Fang Bian and numerous recording and mastering engineers were in attendance as HiFiMan announced the Svanar Wireless true wireless earbud ($499) and the EF1000DAC desktop digital-to analog (DAC)/headphone amplifier ($15,000), both due out in June.
The company also featured the Audivina closed-back headphone ($1,999) introduced in February at CanJam.
The Svanar Wireless features an on-board amplifier, HiFiMan's Hymalaya R-2R ladder DAC, and 10mm (0.4-inch) neodymium dynamic drivers for sonics "typically associated with wired models." Taking advantage of HiFiMan's patented Topology Diaphragm technology, each of the earbud's two diaphragms are coated with nano particles said to allow for a detailed and organic sound.
The earbud supports Bluetooth 5.2 and is designed for a wide variety of applications — from quiet and focused critical listening sessions to athletics. It offers the choice of two active noise canceling (ANC) technologies — ANC Deep Noise Cancellation, which is said to eliminate noise up to –35dB and ENC Deep Voice Cancelation, which relies on artificial intelligence to preserve the sounds of the human voice while removing noise.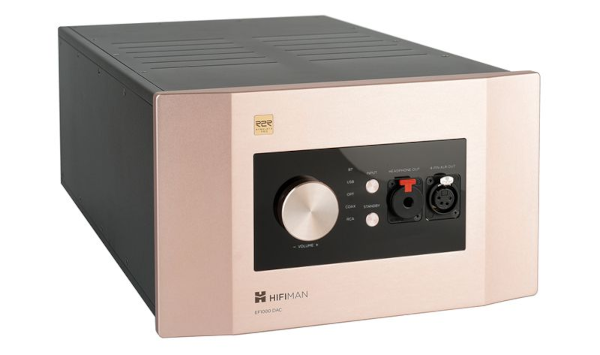 The balanced EF1000 DAC contains an amplifier section that delivers 13.7 watts of power, likely enough to drive even the most power-hungry headphones. Quad matched transistors are used for each channel's output stage, and the DAC section features HiFiMan's proprietary Hymalaya Pro Ladder DAC, an update of the Hymalaya DAC released in 2021. HiFiMan says the EF1000DAC is extremely energy efficient while delivering "unmatched sonic performance" with very low distortion. It supports LDAC and aptX HD Bluetooth wireless transmission.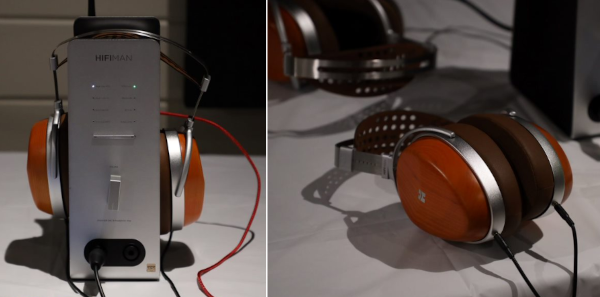 The Audivina headphone uses a new NEO Supernano Diaphragm, which at 1 to 2 microns thick is 80% thinner than previous designs and said to deliver extremely fast and detailed sound. HiFiMan's Stealth Magnets, which are said to be acoustically apparent, allow sound waves to pass through them without generating sonically degrading reflections.
The Audivina's resonance chamber was inspired by the design of the Beyreuth Festival Theater in Germany, which uses multi-stage attenuation to create a wide soundstage despite its small size and enclosed nature. The headphone's ergonomic headband and earpads are made of hand-polished CNC (computer numerical control) metal and a silky, eco-friendly, leatherette, respectively.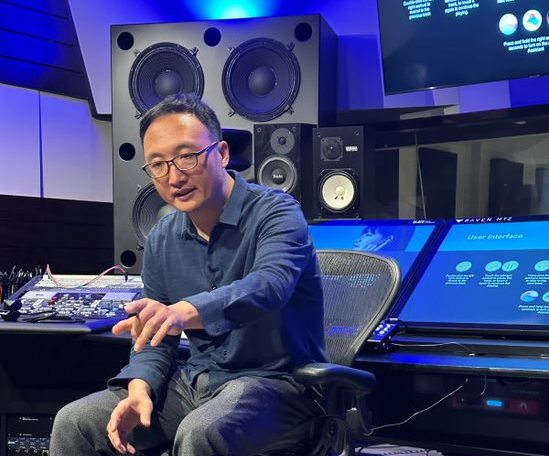 A presentation given at the launch event featured several speakers, not the least of which were Fang Bian (above) and drummer, producer, songwriter, and engineer Rich Pagano (below). Fang discussed the multi-year effort to introduce the company's latest round of products and the many technical breakthroughs that made them possible. He noted, for example, that the Svanar Wireless' design does away with power hungry switches and instead directly connects the controller to the resistors. To correct signal errors that may be created by the design, HiFiMan created innovative software. The result, Fang stated, is a great sounding and highly energy efficient earbud.
He also discussed the Hymalaya Pro ladder DAC's significant contribution to the Svanar Wireless' performance, saying he prefers ladder DACs to those of a Delta-Sigma design.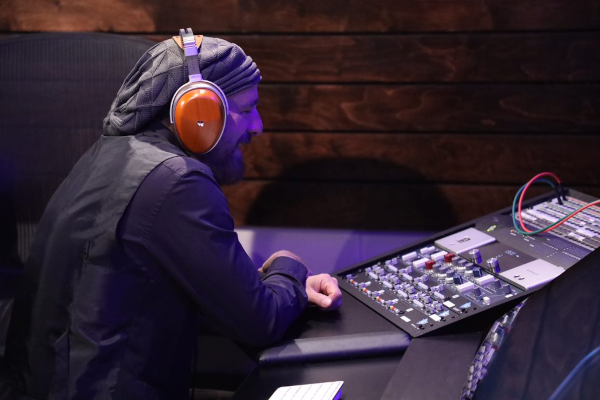 Fang called the EF1000DAC a low-distortion "monster" that forgoes a tube-based design in favor of several clever solid-state solutions. Fang noted that one of his goals in designing the Audivina was to make it closed-back so that engineers could use it without introducing noise into the studio, but still experience the sense of space that can be provided by open-back designs.
Pagano said his favorite headphone is the HiFiMan Ananda, but that he requires something with a flatter frequency response for his engineering work and believes the Audivina will fit the bill.
First Impressions
When it came time to audition these products, I discovered that the EF1000DAC was not present at the event due to a snarl in the customs process that occurred after shipping from the factory. However, I did give the Svanar Wireless and Audivina a spin. Both models boasted extremely linear and detailed sound with the Svanar Wireless also sounding clear and punchy.
The Audivina created a soundstage that is very wide for a closed-back headphone. Unsurprisingly though, the size of that width does not compete with some open-back headphones, including HiFiMan's own HE1000se and Susvara. On the other hand, most of those open-back models cannot match the Audivina's deep bass output. If I had one quibble with the Audivina, it was with soundstage depth, which felt slightly constrained.
All-in-all, the Svanar Wireless and Audivina are excellent performers. Their numerous sonic strengths, particularly those of neutrality and detail retrieval, will appeal to pro audio and audiophile crowds alike. Undoubtedly, these products offer stiff competition at their price points.