HDTV Update 2008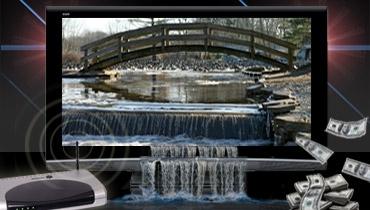 After two straight years of heady double-digit price drops, it's sometimes hard to get beyond the fact that high-def TVs of all stripes are far more affordable than ever. But to just focus on price misses the bigger picture, so to speak: TVs haven't just gotten cheaper, they've also gotten better.
For example, each of the flat-panel technologies - LCD and plasma - have taken huge strides in addressing their traditional weaknesses. Even rear-projection microdisplays - moribund from a sales perspective - continue to show surprising signs of innovation, particularly in areas such as cabinet size, backlighting, and 3-D capability. The result is that many TV buying decisions are now being driven as much by lifestyle choices as they are by the technological superiority of one display type over another.
So maybe it's not surprising that in a world where most step-up models from the major brands now sport all the latest features - 1080p resolution, advanced video-processing circuitry, and the ability to access home networks or even the Internet - some manufacturers are turning to fashion and design to differentiate their products. Increasingly stylized shapes and bold splashes of color - such as those found in Samsung's Touch of Color sets and in LG's distinctive-looking Edge and Scarlet models - are helping to separate these TVs from the now-standard piano-black offerings from their competitors. Fortunately, many of these TVs offer performance that matches their striking good looks.
Here are some of the key HDTV trends we've seen shaping the industry during the past year, as well as a few we expect to be meaningful in 2009 and beyond:
More Screen, Less Green
While it's unlikely that many S&V readers are still pondering their first HDTV purchase, those now in the market for a second or even third set will find they can get a lot more screen for their money today than they could have just a year ago. While it's unlikely we'll see the 30% to 40% year-to-year price drops of the past two years, larger sets could be 15% to 20% less expensive this holiday season. The best news: The biggest price cuts will be on larger-sized (40 inches or more) 1080p plasma and LCD sets.
The average selling price of 40- and 42-inch 1080p LCD TVs is expected to be just over $1,000 by the end of the year, down 24% ($1,380) from a year ago. Prices on even bigger 46- and 52-inch 1080p LCD sets should drop 21% by this Christmas, with average selling prices falling to $1,455 and $2,163, respectively.
While the market is increasingly dominated by LCD, some of the hottest action will actually be in plasma, particularly 50-inch 1080p models, as suppliers play catch-up with LCD in the "Full HD" race. The average selling price of these sets is expected to be just over $1,700 this holiday season - about $1,000, or 30%, less than last year.
More than 80% of the TVs shipped to stores are LCDs. That's due to the greater number of LCD brands and to the fact that plasma hasn't been an option for those looking for a TV smaller than 42 inches (though Vizio now sells a 32-inch plasma, a screen size popular in Asia). In 2008, LCD TV shipments in North America will likely approach 30 million units, compared to just 3.7 million plasma sets.
The outlook is less sanguine for rear-projection HDTVs, as the market has essentially shrunk to just two players: Samsung and Mitsubishi. RPTV sales estimates for 2008 range from 400,000 to 650,000 sets - a sharp drop-off from the more than 3 million rear-projection TVs sold in 2006. These sets best compete at the very largest screen sizes - 60 inches and larger - where flat-panel models are either limited in supply or prohibitively expensive.
The Thin Get Thinner
Compared to older CRT-based sets, even the chubbiest flat-panel TVs seem positively svelte. But taking a page from the fashion-industry playbook, models are finding ways to get even skinnier. Hitachi upped the ante earlier this year with its series of 1 1/2-inch-thick 32- to 47-inch LCD models, which sport new power supplies and backlighting technology, plus outboard digital tuners. JVC now has a pair of super-slim 1 1/2-inch Procision-series LCD TVs - in 42- and 46-inch screen sizes - that include built-in tuners, plus a new, 40% smaller CCFL backlight. Just barely deeper is LG's flagship LGX Super Slim LCD TV, a 42-inch model (with a distinctive red back plate) that's just 1 3/4 inches deep.
Although plasma is an emissive technology - since it produces its own light, no external backlight is needed - creating an ultra-thin model is apparently no easy task. But based on prototypes shown at CES back in January, slimmer sets are on the way. Hitachi says it will have a 1[1/2]-inch-deep plasma in 2009, while Panasonic showed a model that's less than an inch deep, which could arrive in 2010. Pioneer wowed the CES crowds with a Kuro prototype that was less than a half inch thick.
But to really see where thin is at today, look no further than Sony's $2,500 11-inch XEL-1 OLED TV - it's just 3 mm thick, or three times thinner than even the Pioneer prototype. But making OLED sets thin is apparently far less challenging than making them bigger. While several companies, most notably Sony and Samsung, have demonstrated 27- to 31-inch models, OLED sets with home-theater-sized screens are still products of the future.
TVs are also getting narrower, allowing bigger screens to fit in smaller spaces. An early trick was moving the speakers from the sides to the bottom of the TV. Some models now use down-facing speakers that fire at a curved sound reflector, which pushes sound out and into the room. Others are simply making the speakers disappear. LG, for example, offers "invisible speaker" systems that use actuators around the bezel. (The system in its PG60 "Edge" plasma models has been tuned by audio guru Mark Levinson.) Philips' Aurea LCD models also feature an invisible speaker system that has arrays of multiple tweeters integrated into the frame, plus midrange/woofers nestled in the bottom of the TV.
Manufacturers are also carving inches off the TV's bezel itself. Toshiba led the charge with the 1-inch bezel on its Regza models, with Sharp, JVC, and other companies following suit. Maybe the most dramatic effort to date is LG's above-mentioned PG60 "Edge" plasma sets, which use a single-layer glass design to essentially eliminate the screen's frame so the TV looks like a single, seamless sheet of black glass.
LATEST VIDEO