HDTV at Large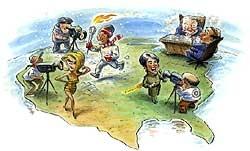 There were long periods over the past few years when it seemed like the transition to digital television had slowed to a crawl - or might not happen at all. But the news has been almost all good so far in 2002. The prices for sets and tuners continue to fall and are beginning to come in line with what a lot of people spend for analog rear-projection TVs. More local stations are coming on board, bringing more cities and towns into the digital fold. And the amount of programming being shown in high-definition continues to increase.
What follows are three reports that, together, offer a look at the current state of digital TV. Al Griffin describes how the CBS affiliate in Raleigh, North Carolina, is bringing a new dimension to its local newscasts by shooting and broadcasting them in high-def. Michael Antonoff reports on his visit to the Winter Olympics in Salt Lake City, where he watched HDNet and NBC join forces to cover that sprawling and complex event. And Leslie Shapiro attempts to figure out why Fox is the only major broadcast network to shun high-definition TV.
Homegrown HDTV: WRAL-DT delivers the first newscast produced entirely in high definition
Raleigh, NC - There's a break in the City Council meeting at the Raleigh courthouse, and the concerned citizens who piled in earlier for a hearing on the Bickett Place project - a block of townhouses slated for development in the city's historic Five Points neighborhood - are spilling into the hallway. The group is swooped upon by the local news media, a mass of microphone-wielding reporters and their camerapeople. But there's something a bit different about the crew from Raleigh's CBS affiliate WRAL-TV: they're using a high-definition video camera to record their interviews. This sets them apart not only from the other journalists on the scene, but also from TV news organizations all around the country.
With a digital broadcasting history that extends back further than any other U.S. station, Raleigh's WRAL has racked up a number of HDTV firsts. It was the first commercial broadcaster to file an application with the FCC to operate a digital television station and the first to experimentally transmit digital signals (in July 1996, more than two years before the official U.S. DTV launch). And on October 13, 2000, WRAL's digital channel, WRAL-DT, did an experimental newscast that was the first produced with all high-def equipment.
In a time when most TV stations are doing only the bare minimum to comply with the federal government's decree to change over to digital broadcasting, WRAL has displayed a remarkable commitment to DTV, and high-definition in particular. In addition to carrying the full slate of HDTV programming that's been offered on CBS's national feed, the station has delivered its own high-definition newscasts every day since January 2001. WRAL-DT also produces high-def programming, including public-service announcements and documentaries on a variety of topics ranging from NASCAR auto racing to exhibits at the nearby North Carolina Museum of Art. HDTV-equipped viewers can access these offerings either with an over-the-air antenna or through the digital service of Time Warner Cable's division in Raleigh.
HDTV: A New Breath of Life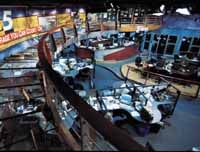 Why all the interest in HDTV at WRAL? Although the staff members I spoke with expressed genuine enthusiasm for the new TV format's incredible picture quality, their reasons aren't completely altruistic. "HDTV is the technical advance that will keep over-the-air broadcasting alive," explained Craig Turner, the station's chief engineer. "A new breath of life" is how Jimmy Goodmon, Jr., WRAL-DT's programming associate, assessed the impact of HDTV, adding that only "by offering the highest-quality product" can broadcasters effectively compete with both satellite and cable down the road. Goodmon claimed that the station's location - near North Carolina's Research Triangle Park, an affluent area with a high concentration of engineering PhDs - is also a factor. "We have a lot of guys out there who are nuts about HDTV."
Maintaining a dialogue with the area's early HDTV adopters - Goodmon estimates the number of HDTV-owning households in the area to be between 6,000 and 7,000 - is one of WRAL-DT's priorities. Along with taking HDTV-related calls and answering e-mail, Goodmon circulates a newsletter with programming updates and has offered free antennas to viewers who send in a receipt from the purchase of a set-top HDTV tuner. The station also uses local-interest programming to increase its digital viewership. Last December, Raleigh-Durham-area HDTV owners had the chance to tune in WRAL-DT's high-def broadcast of the city's annual Christmas parade. And visitors to the nearby North Carolina Museum of Natural Sciences get to enjoy another of the station's high-def productions, Wilderness North Carolina, which is screened several times daily in the WRAL-sponsored Digital Theater.
Between newscasts and the weekly news and sports programming WRAL-DT produces, the station generates a total of 30 1/2 hours of original HDTV programming a week. And when viewers tune in WRAL-DT, they almost always get to see actual HDTV. The station fills gaps between regularly scheduled high-def network programming with content from its own high-def archives as well as programs it acquires from other producers, including PBS's Tribute to Muddy Waters and HD Vision's Extreme Sports. This sets it apart from other broadcasters, many of which air upconverted "simulcasts" of analog programming on their digital channels during non-prime-time hours.

DTV Spectrum Allowances
---