HDTV Goes Head-to-Head with HDTV+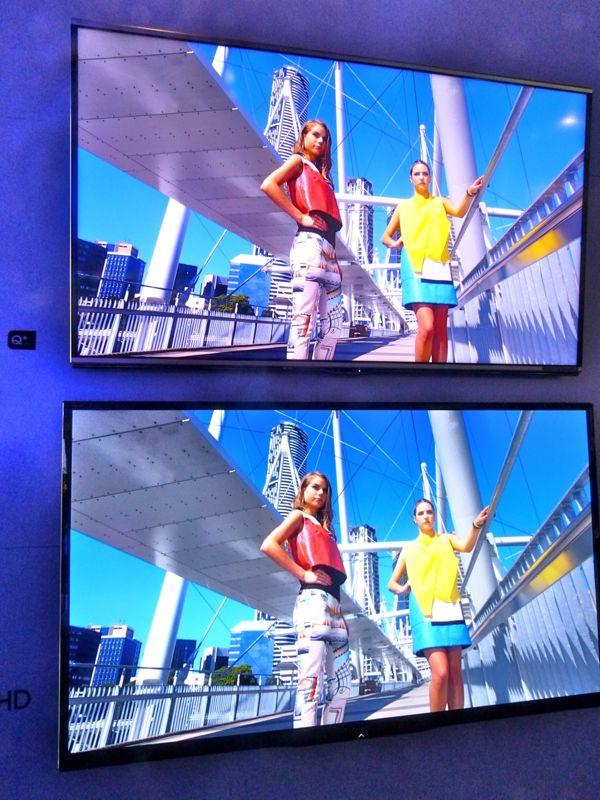 Sharp's new AQUOS Quattron+ TV line is being pitched as the company's solution for consumers who want a new set capable of handling Ultra HD content, but don't want to pay a premium price for it. What Quattron+ brings to the table is added resolution: By dividing up subpixels in the display, Sharp is able to double the vertical pixel count.
A demo in Sharp's CES booth showed the benefits of the feature. A Quattron+ model (top) and regular Quattron HD set (bottom) were both displaying the same high-def content, but the Quattron+'s picture was clearly crisper-looking. The Quattron+ being demo'd was one of the company's UQ Series sets, which is THX Certified—a factor that could account for the impressive quality of its upscaled picture. With prices starting at $2,999 for 60-, 70-, and 80-inch models, UQ Series HDTVs aren't exactly cheap. But right now they're considerably less expensive than the company's 4K-rez models, so there may very well be a niche for HDTV+.
LATEST VIDEO
WHERE TECHNOLOGY BECOMES ENTERTAINMENT