HDTV: Full Throttle
ANNOUNCER Tonight on American Chopper , a journalist explains HDTV to the Teutels in plain language.
CUT TO author MIKE METTLER in the Orange County Choppers office, flanked by PAUL TEUTEL SR. and PAUL TEUTEL JR.
METTLER It's like when you're watching sports, you can really see the sweat, the blood, and even the veins of the players.
PAUL SR. So what you're saying is that, in high-def, you'll be seeing the veins in my neck pop out?
PAUL JR. We don't need high-def for that! [ laughter ]
Fade in : It's an overcast day in rural Rock Tavern, New York , which sits in the foothills of the Catskill Mountains about 80 miles north of New York City . Cars and trucks line the long, hilly, puddle-strewn driveway that serves as the entrance to Orange County Choppers (OCC), the motorcycle shop that's home to the Discovery Channel's hit reality show American Chopper . In a genuine example of appointment TV in the time-shifting age, every Monday at 10 p.m. finds 3 1 / 2 million viewers tuning in to follow the actions and antics of the Teutel family - a.k.a. "the Teutelheads," as Chopper fan and occasional guest/customer Jay Leno likes to call them.
From left to right: Paul Teutel, Sr. and Paul Teutel, Jr.
For gearheads who devour Monster Garage and Pimp My Ride like popcorn, Chopper is packed with bike-building goodies. But what makes it so compelling is the often hotheaded interactions between hulking patriarch Paul Sr. and the two sons who work with him at OCC: chief bike designer and main foil Paul Jr. and comic relief/jack-of-all-trades Mikey. On Chopper , sparks fly out of mouths more often than they do from acetylene torches, but that only makes the Teutels more endearing to their fans. As Paul Sr. summed it up toward the end of a quintessential episode: "Sometimes we get crazy or whatnot. But that's because we're passionate about what we do. Bottom line: We're a family that builds great bikes."
On the day of my visit, a few of those fans - a pair of young guys in baseball caps and a closely huddled trio of father, teenage son, and mother - are wandering the damp parking lot, somewhat tentative, a bit wide-eyed, and hoping for a glimpse of their heroes. (They won't get it.) I've been granted on-set access, so I cross the line that's clearly marked "Do Not Cross," hang a right, and go inside the shop through the open garage door behind a trailer stuffed with OCC merchandise - hats, shirts, bandannas, mugs, you name it.
The Discovery Channel uses high-definition gear to tape an episode of its hit reality-TV show American Chopper . Left: owner Paul Teutel Sr. (right of the camera), designer Paul Jr., and professional golfer Davis Love III in the barn where the Teutels store their finished bikes.
Now I'm inside the infamous office where the two Pauls usually discuss how they plan to attack their latest project. But today's topic is the presentation of the second season of American Chopper in HDTV. (After an episode has its first run on Monday, the high-def edition is shown on Discovery HD Theater that Wednesday at 10 p.m.) And just what do the Teutels think of high-definition TV? In repose at his desk, swathed in sunglasses, Paul Sr. is his typically blunt self. "To be honest, I know very little about it. When they were here to show it to us the first time, we saw it with HD and without, and the 'with' was much nicer. And the sound was awesome, too. We used to have sound problems on the show, and I think it's important to make the sound more real."
Across the room, Paul Jr. nods in agreement. "You get a much cleaner, clearer picture," he says, leaning forward with his hands clasped. "There's no question that you see more in high-def, especially when it comes to our bikes. I don't think you can really appreciate them until you see them in person. And it seems like high-def is the best thing between seeing them on regular television and seeing them in person. You can't get that 360°, all-the-way-around thing, but the high-def definitely brings you closer to the real thing."
Paul Jr. in the Orange County Choppers garage.
The Teutels were concerned that shooting in HDTV might interfere with the way they work and how the show is shot around their work. While lighting has never been a problem - American Chopper is filmed with natural light, both inside the shop and out - a third camera had to be added to the rotation. "High-def hasn't changed the speed at which we do our show," says Paul Jr. "That was our biggest concern. Having had no previous experience with high-def, we wanted to know that if we went somewhere outside the shop, would the shooting requirements slow down the pace of how we do things?"
Nothing bogs down the day I'm on set as the Teutels meet with professional golfer Davis Love III and his wife, Robin, to discuss a custom bike they're building for him. The Teutels suggest going across the road to the barn where they store some of their better-known handiwork, and the four of them take off up the driveway in (naturally) a golf cart as rain begins to fall. (The wandering fans are nowhere to be found.) The cameras (and your humble reporter) follow in hot pursuit, not missing a beat as the "bike tour" is captured in all its glory (and subsequently featured in the final cut of the Davis Love episode, which first aired in August).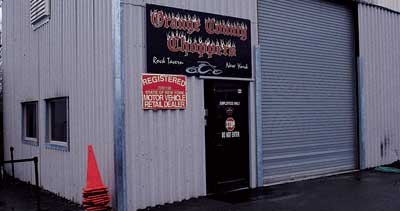 Outside the Teutel's famous Orange County Choppers garage.
Back at OCC, I mention to Paul Jr. that his fabled Black Widow bike from Season 1, renowned for its intricate spider-web detail, would look fabulous in high-def. "The Black Widow would be incredible in high-def," he agrees. Then he gets more excited thinking about capturing the bikes on the road: "Listen - if you're shooting in high-def on a sunny day, and you're doing riding shots from a helicopter, those shots are just gonna explode off the screen. They'll look bigger than life, like we're coming out of the TV." In fact, the new title sequence for Season 2, which features dizzying helicopter shots and has the bikes riding right at the viewer, comes pretty close to doing just that.
LATEST VIDEO