Harmony SST-768 Remote Control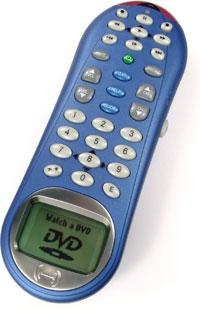 The quest for the perfect remote control has earned a place in the pantheon of noble but futile human endeavors alongside those for the Holy Grail or a fabulous "undiscovered" wine under $10. For some people, remotes are a necessary evil, creating clutter and increasing complexity until it seems you have to solve a puzzle like Rubik's Cube just to watch a movie or play a CD.
Enter the Harmony SST-768 ($299), which aims to make it easy for any member of the household to use a home theater system by organizing its commands in terms of activities - like watching a movie or playing a CD - rather than specific components. In addition, this little gem does a few tricks that aren't found in other remotes at any price, most of them related to its Internet connectivity.
In fact, you can't program the Harmony remote without a computer - at present only USB-equipped Windows PCs, though software for Macintosh and other platforms is in the works - and an Internet connection. The instructions that come with the handset are pretty sparse. In a nutshell, there are two steps: 1) insert the four supplied AAA batteries, 2) connect to the Internet and go to the company's Web site.
Once you're at the Web site, you're instructed to connect the remote to your PC with the supplied USB cable and run the supplied installation CD. My Windows XP laptop locked up several times during this process, but the install went without a hitch using my Windows ME desktop PC. Another try with my laptop went smoothly.
Programming the remote is almost as simple. First you enter your devices: TV, A/V receiver, DVD player, and so on, along with their brands and model numbers. If the model is recognized, no further action is needed. Head-to-head learning is also possible, with a user-friendly twist. Once you "teach" the Harmony remote just one control from the old remote, it compares that code with an online library of codes looking for matches. After just two button pushes, my 12-year-old VCR's codes were found and programmed in.
Next you configure your Activities: things like Watch a DVD or Watch Television. You tell Harmony how you use your system. Are you an Input 1 or Channel 3 man? What input does the receiver use? Should lights be dimmed or turned off when you're watching a DVD movie?
Tell Harmony who your cable or satellite provider is, and it will download not only a list of channel names but also a programming guide for up to 14 days. It's a TV Guide in the palm of your hand!
When you finish the setup, you're asked if the remote is working as expected. If you say no, you'll receive an e-mail from Harmony asking what's wrong and promising a response within 48 hours. When my TV was directed to Antenna B instead of A, the folks at Harmony had a fix for me to download within 24 hours. In my experience, this is an unprecedented level of support. And when you consider that a custom installer could easily charge over $60 an hour for programming a sophisticated remote, it's phenomenal added value.
As a custom installer myself, I have programmed many remote controls, but this one was definitely the easiest. I had it operating my system in less than an hour. With Harmony's help, anyone should be able to set up this remote.
Ergonomically, the remote is totally suited for one-handed (actually, one-thumbed) operation. After using so many touchscreens, I found the tactile feedback from real buttons quite welcome. Because of its contrary LCD-on-the-bottom layout, however, I still catch myself grabbing it upside down even after living with it for a month. And lefties might be challenged by the right-side location of the scroll wheel, which is integral to operation.
But using the Harmony is a snap. In fact, this is the first remote that passed the "Here, try this" test with my wife. With virtually no instruction, she was able to operate our system. A built-in tutorial explains operation in about 30 seconds, and a brilliantly designed Help system gets you back on track if something is out of sync. The remote walks you through your system's status, asking questions like, "Is the TV on?" and "Is the receiver on DVD input?" As you answer, the remote makes adjustments until the problem is solved. A Zap button keeps track of shows you like and then provides links when you reconnect to the Internet.
I had some minor gripes. While the LCD screen was backlit, having glow-in-the-dark or backlit buttons as well would be nice and isn't asking too much at this price. (Harmony tells us that by the time you read this, remotes shipping to dealers will have glow-in-the-dark buttons.) A more powerful infrared output would have been helpful for lackadaisical aiming, and accessing some "deep layer" functions via the scroll wheel could have been less tedious.
If you can afford a custom-programmed touchpanel remote control costing $2,000 and up, go for it. If you're a power user who likes to spend hours tweaking your remote, the Harmony probably isn't for you. But if you're looking for a single great remote that's easy enough for the whole family to use, you should seriously consider the Harmony SST-768. Overall, it's an amazing product.
Harmony, www.harmonyremote.com, 866-291-1505