Harman Kardon TC30 Universal Remote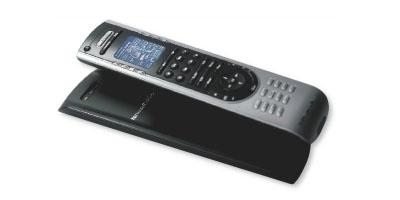 The Short Form
$299 / 8.9 x 2.1 x 1 IN / 4.6 OZ / harmankardon.com / 516-496-3400
Plus
•Replaces all other remotes •Good design and hand feel •Harmony-based programming and "activity" buttons
Minus
•No Harmony tech support •Costs $50 more than Harmony 880
Key Features
•Operates up to 15 devices, etc. •2.5 x 2 in color display •Includes charging cradle and Li-Ion battery •Internet-based programming (Windows 98 or Mac OS X or higher)
There's an old saying: If you can't beat 'em, join 'em. Carving out a niche in the sub-$500 universal remote control market is no easy proposition, and Logitech's Harmony brand remotes are the reigning king of that hill. So, instead of trying to reinvent the wheel, Harman Kardon wisely decided to license Harmony's technology for their latest Total Control remote. The result is the Harman Kardon TC30 universal remote, which looks like the result of a Harmony 550 and 880 getting together and making sweet, sweet love.
Do I really need to tell you the benefits of buying a universal remote? Basically, if you own a receiver, a DVD player, and a TV - let alone a cable box, CD player, satellite radio receiver, media server, Xbox 360, VCR, TiVo, and so on - you need one. It will take the pain and frustration out of operating your system. Period. If you buy Harman's latest flagship receiver, the AVR745 ($3,499), you'll be pleased to find the TC30 included. For everyone else, see your Harman dealer.
SETUP Programming the TC30 is a breeze, but a computer with an Internet connection is required (a high-speed connection will accelerate the process). The instruction booklet gets you through loading the software and connecting the remote to your computer via the supplied USB cable. One drawback - Harman and Harmony software can't coexist on the same computer, so I had to uninstall my Harmony software before installing the Harman version. While this won't affect most users, it will be a real burr for installers who routinely program both.
After creating a login ID and password, the programming software walks you through adding devices by type, manufacturer, and model number. The Harmony database is huge, and constantly evolving to add new components as they're introduced. That means that it will likely have the codes and configurations (inputs, power settings, and the like) to everything in your system. Then you answer questions about how you've set up and use your system - which TV and receiver inputs are occupied by your sources, how channel selection is made.
Start to finish, I had the TC30 controlling my system in under an hour. And that included tweaks like adding buttons, changing timing and input commands, and others.
LATEST VIDEO