Hard-Disk Camcorders Take Off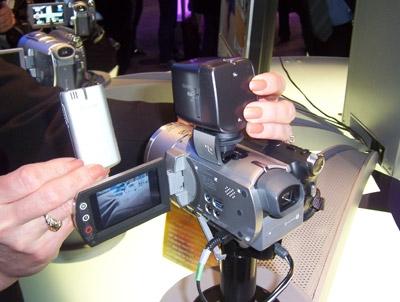 Sony DCR-SR100 hard-disk camcorder with ECMHW1 wireless microphone
JVC may have started a trend with its Everio line of hard disk-based camcorders. Toshiba and Sony at CES on Wednesday announced models that banish the tapes and discs home video enthusiasts tote like Kleenex and equipped the cameras instead with internal hard drives.
Toshiba introduced two Gigashot camcorders: the GSC-R30 with a 30-gigabyte drive ($799) and the GSC-R60 with 60 GB ($999). At its highest-quality setting of 9.6 Mbps (megabits per second), the R60 can record 13 hours of video; at its lowest setting of 2 Mbps, it stores 55 hours. Both versions, which should be available in February, have 1.8-inch drives and 2-megapixel CCD image sensors. The R60 comes with a docking cradle that includes USB and Ethernet ports as well as A/V outputs.
Sony unveiled the DCR-SR100, a 30-GB camcorder expected in May for about $1,100. Fitted with a 3-megapixel CCD, it stores up to seven hours of video at 9 Mbps, its highest quality setting. So why didn't Sony make its first hard-disk camcorder HD-capable like some of its tape-based models? "Everything will come with time," said a Sony spokeswoman.
A novel option for the SR100 is a Bluetooth microphone capable of feeding the cam center-channel audio channel wirelessly from up to 90 feet away. Since the conventional way audio is picked up is from a mike in the camcorder itself, home videos typically feature sound from the operator's perspective. A Sony presenter quipped that the Bluetooth microphone could solve the problem of dramatic shots always being accompanied by someone nearby shouting, "Did you get that?!"
The approximately $200 Bluetooth accessory is the ECMHW1, which consists of a wireless microphone/transmitter (pictured in the Sony rep's hand) and a receiver/Dolby Surround encoder attached to the top of the camcorder. Available in February, it is also compatible with some of Sony's DVD-based camcorders.
Check out more CES news. Back to Homepage What's New on S&V
LATEST VIDEO