Hands On: YouTube Red Premium Service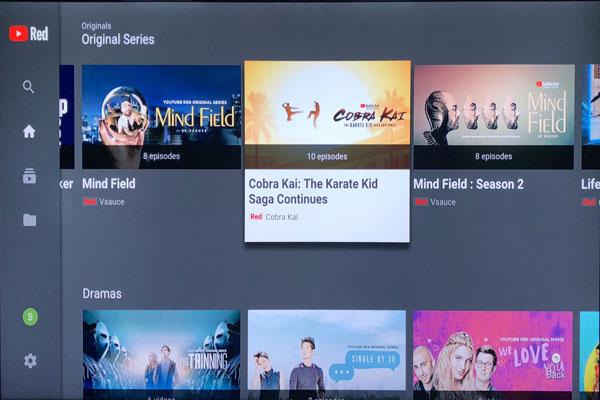 Launched in 2015, the YouTube Red subscription service has been getting recent interest with the release of its original series
Cobra Kai
. Fans of 1984's
Karate Kid
might recognize the name of the series as that of the studio of Danny LaRusso's (Ralph Macchio) nemesis, Johnny Lawrence (William Zabka). The YouTube Red series revisits the rivalry 34 years after the fight where good boy LaRusso beat bad boy Lawrence.
Cobra Kai
is just one of a few dozen original series, movies, documentaries, and reality TV shows exclusive to YouTube Red. I'm a big fan of
Karate Kid
so I decided to check out YouTube Red to see if it's worth paying a premium for the service.
Beyond the original programming, the $9.99/month fee removes the commercials from all YouTube videos watched on the website or app. In the past, it was easy to skip the ads at the beginning of a YouTube video but now that commercials interrupt videos in the middle of playback, it can be annoying to get through a video that's more than a couple minutes long. I could get used to watching ad-free videos.
The service launched in November 2014 as Music Key, so its roots are in ad-free music videos. In 2015, it was renamed YouTube Red and the ad-free feature was extended to all YouTube videos. Recently, Red added another music benefit to its premium service. When listening on the mobile app, you can play audio from music videos in the background even when you leave the app or your device's screen turns off. Subscribers also get a fully unlocked subscription to Google Play Music.
As music streaming services go, I've always been a fan of Google Play Music. While Red subscribers can listen through the Google Play Music app, the service also has its own mobile music app, "YT Music," which lets you add music videos to a library in the app and create playlists that can be downloaded to mobile devices for offline playback. Like Google Play Music, YT Music also offers a curated mixtape playlist based on your favorites and listening habits. In my experience, Google's excellent algorithm — which is used by the YT app — created a personalized playlist of songs, artists, and suggestions that truly matches my taste in music. Like the "I feel lucky" radio stations from Google Play Music, these "radio" stations list upcoming music videos and playlists can be edited so you only hear the songs you want.
While I like the YouTube Red music features, the original programming is what inspired me to do this review. And it was the original series and movies available through the service that proved to be the most disappointing, with the exception of Cobra Kai. Co-produced by Ralph Macchio and William Zabka, the show is packed with "flashback" clips from the original movie and offers a refreshing take on how the lines between heroes and villains are blurred. Where the young LaRusso was the good guy and Lawrence was the bully in the original, both exhibit a mix of good character traits and bad behavior as adults, so this is not a family show like the original Karate Kid franchise. Bad language and sex talk will make parents think twice before watching with kids younger than high school age.
The thing is, Cobra Kai is uniquely well produced compared with Red's other original programs, which are aimed at a younger demographic of YouTube users and rely on knowledge of current pop culture. While there are a few recognizable actors, most of Red's original programming features YouTube stars whose acting abilities fall short when they are cast in leading roles.
Clearly, with only 1.5 million subscribers, YouTube Red cannot justify big budgets or afford to hire big-name actors the way that Netflix, Hulu, and Amazon can. While the movies and series don't reach the standards of original programming from those competing streaming services, they are not as bad as many of the B-movies made by lesser-known streaming services. Sing It, a comedy about an American Idol type competition, was marginally watchable, and The Thinning, an original movie starring YouTuber Logan Paul, suffered from a weak script and weak performance by Paul. In short, most of the fictional series and movies I watched were abysmal. Ryan Hansen Solves Crimes on Television, a show about an LAPD task force that partners homicide detectives with actors, was particularly bad. In all fairness, though, I'm not the intended audience.
Documentaries were better than YouTube Red's fictional content but they are aimed squarely at the YouTube audience with shows like Katy Perry: Will You Be My Witness, Vlogumentary, featuring the YouTube family, the Shaytards, and Lindsey Stirling: Brave Enough, a documentary about Stirling's artistic violin performances and personal struggles. None of the documentaries I watched were groundbreaking, but they were not bad either.
Don't expect the quality of the YouTube Red originals to get better any time soon. According to Motley Fool, there is more money to be made from ads in YouTube videos than through YouTube Red subscribers, which is why YouTube is investing more money in free, ad-supported original content on the basic YouTube site than they are in the "premium" YouTube Red originals. Kevin Hart, Ellen DeGeneres, and a number of other A-list stars are working with YouTube to develop ad-supported originals.
YouTube Red has its appeal. If you are looking for a good music streaming service and enjoy watching music videos without ads, I recommend the service. Or, if you are a YouTube fan who can forgive poor acting and limited production value to watch your favorite YouTube celebrity, Red's original programming might appeal to you. And, although production value is low, at least most of the movies and series stream in 4K (on Nvidia Shield and native smart TV YouTube apps, but not Apple TV).
If you're unsure, YouTube Red offers a one-month free trial subscription. That should give you enough time to sample the service and decide whether you think it's worth paying $9.99 a month. Go to YouTube Red to check it out.