Hands-On: Vidgo Live TV Streaming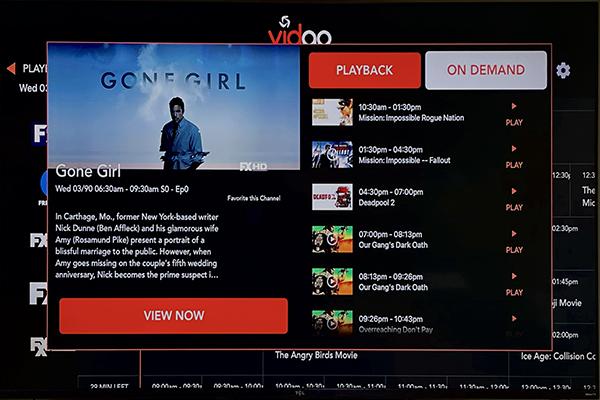 The Vidgo Live TV streaming service launched at the end of 2019. Similar to lesser-known PhiloTV and FuboTV, it is holding its own against the popular YouTube TV and Hulu+Live TV. The experience is not as robust as what you'll get from YouTube, Hulu, AT&T TV, or Sling TV, but it may be enough to give basic cable channels to those who've cut the cord.
The Vidgo app advertises over eighty-five channels and runs $55 per month with no commitment, so you can start and stop your subscription whenever you want. Compared to other Live TV options, Vidgo's subscription pricing and channel offering are the middle of the road. YouTube TV starts at $65 but has a more complete list of channels, including local network TV. Philo TV is $20 per month but offers almost no sports channels nor network TV. It's better for those who use an antenna for the local channels. Vidgo does not offer add-ons premium channels like every other service. Still, its offering is one of the best for college sports.
Subscribers can stream to up to three devices simultaneously. It's available on Amazon Fire TV devices, Apple TV, Roku devices, Apple TV, Apple phones and tablets, Android TV, and Android phones and tablets.
While the app has the same design across platforms, it performs differently on different devices. It was slower on the Roku app than on Apple TV, but moving to the top menu was easier on Roku. Performance matters for Vidgo as the user interface is less than ideal.
Vidgo uses a channel grid guide. Channels are listed alphabetically, starting with AWE ("A Wealth of Entertainment") and ending in Viceland. There are no channel numbers. On Roku, the guide loops around back to "A" after reaching the end. On Apple TV, you must scroll back to the top. Luckily, the Apple TV scrolls very fast.
There are five categories to filter the channel guide—All, Favorites, Sports, Entertainment, and Family, but it's hard to reach the top menu. In the Roku app, pressing the back arrow will bring you to the top categories. On Apple TV, typically, you'd press the menu button to go back. It didn't work that way in the app. Instead, I had to scroll to the top above the first guide channel.
The filter for Live TV versus Playback is even more confusing. An arrow indicates that you scroll left to see what has previously aired on a channel, but first, you need to click on Live TV to toggle it to Playback. Shows that aired in the past 24 hours are available to play from the beginning. You can find the available shows by scrolling left on the grid, but the navigation is squirrelly.
Playback also allows you to start live shows from the beginning if you tune to a program after it has started. Clicking on a live title in the grid, brings up an info page with a brief one-sentence description. You can choose to "Watch Live" or click on "Playback" to watch from the beginning.
The show description page is also the only way to view available On Demand shows. Clicking the "On Demand" button displays a list of about twenty episodes. It may be other episodes of the same show or similar programs. It appears that this is a new feature that still has bugs. Some channels showed an error message when I tried to play On Demand episodes.
When playing Playback or On Demand shows, you can pause, rewind and fast forward. Unlike ad-supported streaming content, fast forward works to skip commercials. Live TV can be paused then rewound or fast-forwarded past commercials.
In testing the app, I found the search feature did an excellent job. When I searched for Drama Club, a new Nickelodeon show, it displayed an available episode On Demand. As there is no main menu for On Demand shows, this is a way to discover a title that would be otherwise hard to find in the channel grid. I compare this to a search I did on DISH for the same show. The DISH search could not retrieve the teen title, requiring that I scroll through the channel grid to find it.
Along with the lack of On Demand content, another drawback is that Vidgo does not offer a cloud DVR. Even $20-per-month PhiloTV has a cloud DVR to record programs to watch when you want. If it's important to you to record shows to watch at your convenience, you can subscribe to the Stremium cloud DVR service. When paired with Vidgo, you can watch or record the channels in Stremium.
Vidgo is part of TV Everywhere. This allows you to log in to several individual channel apps using Vidgo as your TV provider. You don't have to pay a separate subscription for Disney Channel, Hallmark Channel, National Geographic, ESPN, Fox and Fox News, NFL Network, or Paramount Network.
Channels include many Viacom/Paramount channels you'll find in Paramount + as well as the discovery+ channels. Since Paramount Plus and Discovery Plus don't stream current episodes or current seasons, Vidgo gives you the live stream of those channels. Discovery plus channels include Discovery, History, Investigation Discovery, DIY Network, Food Network, the Cooking Channel, and the Travel Channel. From Paramount+, there is Comedy Central, MTV, Nickelodeon, and BET. Vidgo may not be the only Live TV app that has Disney Channel, Disney Jr., and Disney XD along with the Nick suite of channels. Still, it is a good offering for families.
Vidgo shines for those who enjoy sports, particularly college sports. It has the full suite of regional Pac 12 channels, the Big Ten Network, ESPNU and the SEC Network. NFL can be found on ESPN, Fox, and the NFL Network. MLB is on ESPN, ESPN2, FOX, FS1 NBA on ABC and ESPN.
While it has your local ABC and Fox channels, it is missing CBS, NBC, and PBS.
Other missing cable channels include AMC, Bravo, USA Network, Cartoon Network, MSNBC, TBS, PBS, Syfy, TNT, the Weather Channel.
Vidgo is missing some desirable channels, is awkward to use, has few Video on Demand programs, and lacks a DVR. The service is excellent for those college sports fans who also want a variety of basic channels. Otherwise, you'll probably prefer other Live TV streaming options.