Hands On: Trying Out the TiVo Bolt Vox with Alexa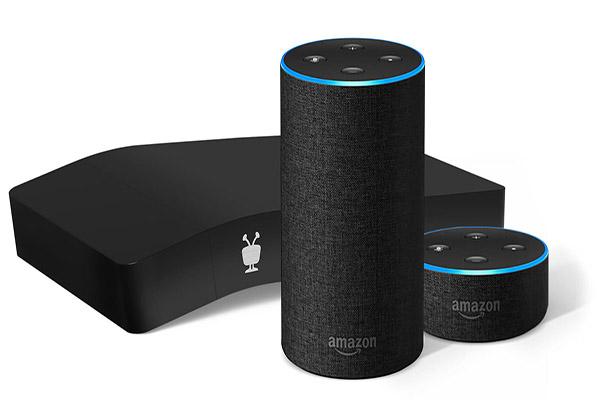 TiVo recently added Amazon Alexa voice control to the
TiVo Bolt Vox we recently reviewed
. While the media streamer/DVR combo already has voice command capabilities through TiVo's Vox remote, control via an Alexa-enabled speaker or device brings a truly hands-free experience.
In the past few years, TiVo's DVR has integrated streaming content with over-the-air live TV and cable TV recording. When I had to sign up for basic cable to get high-speed internet I opted for a CableCard. Good thing because TiVo needs one to receive digital/HD channels. With the CableCard in place I had what I needed to see how the new Alexa-enabled TiVo Bolt Vox measures up with other streaming media players.
TiVo was arguably the first digital video recorder when it launched at CES in 1999. (ReplayTV came out the same year but ultimately didn't keep up with TiVo.) The first TiVos were known for their uncluttered menus and intuitive control. Testing the TiVo Bolt was nostalgic as I heard the same menu clunks and dings as the original TiVo from almost 20 years ago. But that was the extent of the similarities. Today's TiVo has a new interface and it's not the same intuitive menu system I remember. So much for strolling down memory lane.
Many cable and satellite DVRs have roots in TiVo's features and over the years TiVo has likewise adopted features from cable and satellite boxes. Among them are the ability to record a full season of a favorite show, go back 10 seconds to replay a missed line, and skip forward through commercials.
TiVo still has a few unique and useful features. When you change channels, the DVR continues to record the channel you were watching so you can go back and see what you missed. Most other DVRs dump this temporary memory when the channel is changed. TiVo also automatically records "suggested TV shows" that are similar to what you've been watching. And when you use TiVo's signature "Thumbs Up" and "Thumbs Down" buttons to rate the shows you watch, it helps the system refine its suggestions and increase the chance that you'll actually like the shows it records.
One of the more interesting features is the way TiVo's One Pass recording option integrates Season's Pass option, which records all episodes of a show, with streaming content from Netflix, HBO Go, Amazon Prime, Hulu, Epix, Vudu, and Yahoo. Having a One Pass of Frasier, for example, let me choose Season 6 as the point from which I wanted to start recording and include streaming content so everything is available from one screen.
While the TiVo Bolt Vox has a few dozen streaming apps, including Plex and Vewd that provide a decent variety of streaming options, its focus is clearly on TV, movies, and web videos. Music and sports app offerings are paltry in comparison with other media streamers. Only Pandora and I Heart Radio are available along with any music you have in your Plex library, and the choices for sports streaming apps are limited to MLB and the World Wrestling Network.
Like many streaming players — Roku, Fire TV, and Apple TV — the Tivo Bolt Vox remote adds basic voice control and voice search. TiVo's voice search is more conversational than that of other manufacturers. I could say "Show Me James Bond movies with Sean Connery" to see a list of Bond films that were coming up on live TV as well as streaming options from other integrated apps. Similar searches for TV episodes showed no results, but it may be more a function of the metadata for the TV shows than a shortcoming of the Vox search. When I asked for "Grey's Anatomy episodes with Patrick Dempsey," I received the message: "Sorry. I didn't get anything for you."
The Vox remote was able to handle navigational commands like "Go Home," "Show Guide," and open Netflix (or any app) but other commands were hit and miss. TiVo did best when I asked it to record or create a One Pass for the show I was watching but I wasn't able to use voice commands such as pause, play, or rewind to control playback. The DVR/streamer did, however, do a good job fast forwarding through commercials on the top 20 TV stations when told to "Skip It."
You can't control playback using TiVo's Vox commands but you can use Alexa for that. A little setup is required to make this happen. You have to go into TiVo's setup menu and assign a name to the DVR so you can specifically direct Alexa to pause or play the TiVo (as opposed to controlling media playback on its own speaker or another device). Actually, naming TiVo is a matter of choosing the room where it's connected. If you chose living room, all you have to do is say "Pause on Living Room" to pause playback or "Go back on Living Room" to rewind the video, for example. While the system generally worked well, Alexa would sometimes respond, "I can't do that on TiVo." For a full list of commands, visit explore.tivo.com
When I asked Alexa to "Tune to channel 605," she replied that she could do that on TiVo or on Dish (as I have Alexa linked to my Dish Hopper). From that point, saying "TiVo" was all it took to change the channel. Alexa is also able to change channels by station name — NBC, the Hallmark Channel, etc. And when I said "Go Home," Alexa displayed the TiVo home screen but I was unable to use voice commands to the guide up on screen.
Overall, I found having voice commands to be useful, especially with Alexa since you don't have to first find the remote to issue a command as you do with TiVo's Vox system. I found myself wishing I could fast forward or rewind a specific amount of time as you can do on Apple TV using Siri, but had to remind myself that the system is still in its early stages and will be refined in the future.
Another new TiVo feature is the TiVo mobile app (iOS and Android) that lets you control the DVR from your phone or tablet, find a show you want to watch, and then decide whether to watch it on the mobile device or on the TV connected to TiVo. The app also lets you search for upcoming episodes of TV shows and choose which ones you want to record. Once recorded, shows can be downloaded to the mobile device for viewing offline at the video quality you specify. To help you decide, the app displays files size and tells you how much space is available on your mobile device.
If you still have cable, the TiVo Bolt Vox is likely a much better choice than the DVR provided by your cable company. The 500-GB TiVo (75 hours of HD video) is a good deal at $200 but 1 terabyte (TB) and 3 TB models are also available for $300 and $500, respectively. In addition to the cost of the box, there's a monthly service charge of $15 per month or you can pay a flat $150 for the whole year. The other option is to pay $550 for lifetime service.