Hands On: Roku Ultra 2019 Streaming Player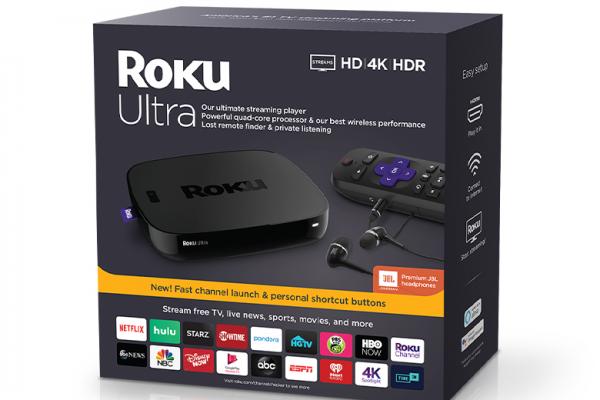 At first glance Roku's newly updated Ultra streaming player doesn't appear to be much different than its predecessors. Its top panel is now textured and the remote has a couple new shortcut buttons. Tech-wise, it's built around a new, faster quad-core processor that Roku says is 17% faster at opening apps than the previous player.
Like that earlier generation model, the new Ultra has a microSD slot that can be used to offload channels that have huge libraries. When I clicked on Starz, for example, a pop-up message said, "To avoid reloading channels, a microSD card is now recommended." I obliged, wondering what I would have to do to set it up. Turns out, not much: The Ultra automatically formatted the card I inserted and updated the channels to take advantage of the expanded memory.
Roku calls the feature "Fast Channel Launch" and it lived up to its name. The PLEX channel that houses my personal library of movies, music, and photos opened several seconds faster than in the past.
Roku has also streamlined setup to the point where it's virtually automatic and takes less than 10 minutes. Once the Ultra was plugged in and powered on, it spontaneously updated to the new OS 9.2 operating system. Setting up the remote to control TV power and volume is automated as well. The TV starts playing music and a display asks if you hear music. I confirmed I heard music. Then the music stopped and I was asked to confirm that it had stopped. This simple Q&A was all it took to make sure that the HDMI CEC (consumer electronics control) system was working properly.
I already have a Roku account so when I signed in the 150 some-odd channels I had previously downloaded to my other devices were automatically added to the Ultra. And when I signed in using my computer, I was able to link my Hulu and other accounts to the Roku Ultra so when I launched those channels I wouldn't have to sign in separately. I was also able to activate the Ultra on my phone by simply entering a code.
During setup, the Ultra detected the resolution of my 4K TV and prompted me to connect the device to the TV's HDMI port. An onscreen message advised that the TV input is "capable of playing video up to 4K HDR except for channels that require 4K HDR at 60fps."
In addition to upscaling 720p and 1080p content to 4K, the Ultra supports HDR10 high dynamic range (HDR). On the audio side, it can handle DTS Digital Surround and Dolby Atmos surround as well as just about any other audio or video file format, including FLAC and MKV. The picture and sound quality rivals my other favorite streamers — the Apple TV 4K, Amazon Fire Cube, and Nvidia Shield.
While usually only available on TVs, Roku OS 9.2 provides volume leveling and a Night mode that elevates whispers and low-level sounds while quieting loud sounds. The feature is accessed by pressing the star ("*") button on the remote.
The updated remote has two shortcut buttons that can be programmed to perform a task that typically requires several button presses. Programming is accomplished by saying a voice command and pressing the desired shortcut button. I programmed Button "1" to "play James Taylor music on Pandora." A neat feature. The manual says a shortcut button can be reprogrammed but repeated attempts at doing so were unsuccessful. Instead of accepting a new command (to launch another app like CBS All Access or Plex), the buttons turned the Roku and TV on and off.
Roku has also improved voice control to the extent that speaking commands into the remote is now a viable way to navigate through content and control the Ultra. Commands to "Turn off TV" or "Launch HBO Go" were quickly executed. Even so Still, Roku has not yet caught up to Apple TV and Amazon Fire TV, which allow you to use voice commands to play a specific video in a specific app — "Play Handmaid's Tale on Hulu."
Roku's latest round of updates also makes it possible to use Amazon Alexa and Google Assistant to search for content and control playback on Roku devices by simply adding "on Roku" to the spoken command — saying "launch Netflix on Roku" instead of just "launch Netflix."
Voice control through the remote is all well and good though I still prefer hands-free control where you don't need to press a button (which is the case with Roku). Having said that, it's important to note that Roku has made great strides in improving the accuracy of voice commands and in displaying unbiased search across many channels, including subscription channels like Hulu and Showtime, ad-supported free channels like the Roku Channel and Vudu, and rental options on Amazon and Google Play. Search results are sorted by price with free options listed at the top of the list. When I searched for This is Us, I found that I could watch it for free on NBC — with ads, of course.
With the Roku OS 9.2 update, search results now include a Zones subcategory. Asking for "Comedies" or "Halloween movies," for example, displays Comedy Zone or Halloween Zone at the top of the search results. Within each Zone, titles are categorized as free or available to rent and in some cases according to specific actors. I was disappointed that the Zones didn't include subcategories like romantic comedies or slapstick.
Quote search is another fun voice option Roku has come up with. When I asked, "Who said, 'There's no crying in baseball,'" A League of Their Own popped up along with other search results. And if I wanted to watch the movie, all I had to do was click on its name.
More good news: The Apple TV channel is now available when you update to Roku OS 9.2, allowing you to watch free episodes and buy or rent content from Apple, including titles from the Tastemade to HBO subscription service. But the experience is limited: You don't get recommendations from Hulu, CBS All Access, Amazon, and other streaming apps as you would if you were going through the Apple TV app.
In another neat twist, Roku's default screensaver turns your TV screen into an aquarium instead of being limited to floating graphics or that goofy bouncing Roku logo. The aquarium is hypnotic and addictive and just one of many reasons why the Roku Ultra will continue to be my primary streaming device.