NVIDIA Shield TV: My New Favorite Media Streamer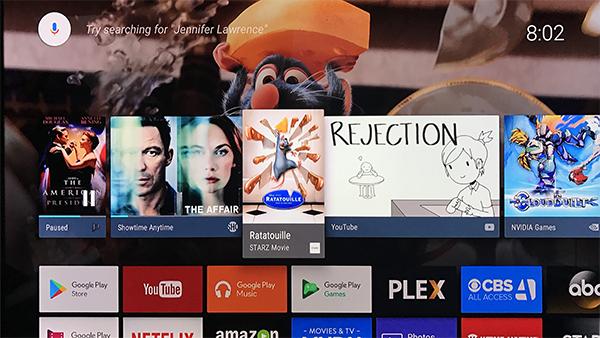 When the second generation NVIDIA Shield TV was demonstrated at CES 2017, the company made a lot of promises. I've had a chance to check one out over the past couple weeks and it appears they've succeeded in exceeding my expectations. While the NVIDIA Shield TV 2 is without a doubt the best streaming player for gamers, it's also a streamer that is all an Android TV should be—easy to use, feature rich, a cord-cutters dream. It includes everything from broadcast TV with DVR to Sling TV for cable channels, to most movie streaming services. Its powerful processor handles all of it smoothly and a new menu system makes it easy to get around.
From the first time you turn it on, it is clear that the Shield has an Android operating system. If you have an Android phone or tablet, you can fully set up the shield with your Google account. In the phone's Google app say "set up my device." Although it found the Shield, this was one of the few experiences that didn't work as it should. Thera are a few bugs that need to be squashed (NVIDIA is working on this) as it stopped working we had to go back to manually setting up the wifi and Google account. Still, setup was straightforward and relatively quick.
The home screen is easier to use than previous generations. The top line shows videos, games, music and photos that you've recently accessed along with recommendations of what you might to check out in other apps based on what you have been viewing. Below that is a couple of lines of the installed apps. All lines are continued in a horizontal carousal. Whatever title you have highlighted appears as a backdrop at the top of the screen.
The Shield comes pre-installed with the usual Android fare— Google Music, Google Movies and YouTube— as well as Netflix, Vudu, Amazon, and Plex. UHD, 4K content is available from the four services along with 4K HDR from Netflix and Amazon and it is simply an amazing picture quality. (Note that I don't have a TV with HDR, but the 4K picture quality and HD streaming was some of the best I've seen.)
Audio match the video quality as the Shield has more surround sound capabilities than any other streaming player to date. It supports AC3, EAC3, Dolby 5.1, Dolby 7.1, DTS-HD, DTS-HD MA, Dolby TrueHD, DTS-X, and Dolby Atmos pass through to add incredible sound to the clear, rich picture.
For personal media streaming, Plex is so well integrated into the Shield that you would think that it was part of the operating system (it isn't). It can be set up to use the Shield as a Plex server. With the Shield acting as a Plex Server, I was able to access my media from home or away without leaving a computer powered on. The review unit I received included a Samsung USB 3.0 128 GB flash drive that could be set up with the Shield as "internal storage." This extends the 16 GB of storage on the Shield to add media libraries. It was very easy to add the flash drive as internal storage as the option pops up as soon as the drive is connected to one of the two USB ports. Setting up the Plex server is more straightforward than setup on other devices when creating movie and TV show libraries on the drive (or presumably on the internal storage of the 500 GB model).
For those with a PlexPass premium account, Plex offers a live TV and DVR beta. Live TV is available on the Shield by connecting an HDHomeRun tuner with attached antenna to your router. I've tried tuners before, but the HDHomeRun with a Mohu Antenna seems to be able to bring in more channels from various directions than previous attempts I've had in trying to get live TV. While I wasn't able to setup the DVR feature in Plex (I'm still trying to find answers and will update when I do find out tips to setting it up), I was able to access live TV through both the HDHomeRun View app and the Android Live TV app.
Any kind of content I could want is available on the Shield without having to change inputs— live broadcast TV with DVR, live pay-tv channels from Food Channel to Comedy Central and sports through Sling TV, and everything from Hulu to Netflix, to Amazon and Vudu (and many more streaming apps through the Google Play store). Voice searched helped me find what I wanted to watch quickly. The voice search feature on the Shield brought up results in more apps than the agnostic Roku search. It displayed results for titles in more apps including Sling TV, Vudu (including my Ultraviolet movies) and Plex libraries (the first device that is able to find titles in Plex). When I clicked on the results, it was inconsistent. Sometimes it would take me directly to the title where I could start playing immediately. Other times it opened the app where I would have to search for the title in the app—usually Vudu and Sling TV. While the voice commands can launch apps, find and play titles, it cannot be used to control playback—pause, play, fast forward or rewind.
The Shield has Google Assistant. Google Assistant can do some of the features of a Google Home with the added benefit of video. This is similar to Alexa on Fire TV. When asked it could show traffic, weather, and answer questions—simple math problems, the distance to the moon or the distance to drive to San Francisco, or what time it is in Tokyo. It's still a bit fussy as many questions I asked showed results of YouTube videos on the subject. Voice command can launch an app but unlike Siri on Apple TV, it doesn't search for apps that are not on the device. NVIDIA has announced that the fully functioning Google Assistant will be available in the coming months. When the feature is officially launched the Shield will have full Google Home skills to turn on lights and control a smart home as well as other tips and tricks. Still, it's a pretty good start.
Because the Shield has Google Cast— with 4k Chromecast capabilities— it works with the Google Home in the same way as other Chromecast devices. When I told my Google Home to play songs by James Taylor or to play oldies (from the Google Music app), it would wake up my Shield that has HDMI CEC control enabled. This means it also turned on my TV and receiver and switched to the right inputs. When I had chosen Spotify as my default music app (in settings on my Google Home phone app), it could not turn on the Shield or play music automatically unless the Spotify app was open on the Shield. The Google Home app had an option to link Netflix to the Google Home, but it's not ready to be used yet.
A first for the Shield is the ability to ask Google Home to show specific photos. As I back up my iPhone photos to Google Photos, I could command, "show my photos of waterfalls on the Shield." It also to show dogs, beaches, trees, pictures of my son, and photos taken in Kenya. Unfortunately, the music stops playing when photos are shown as both require "casting" from the Google Home.
To activate voice commands on the Shield, press the microphone button on the remote or the NVIDIA button on the controller. Both the remote control and the game controller have been redesigned in the new NVIDIA Shield. The sliding volume channel in the center of remote and on the controller remain the same as the first generation. It's very sensitive and easy to accidentally turn up the volume when pressing the navigation button which is used to play/pause, fast forward and rewind videos. The Shield is Bluetooth enabled so I could to pair my headphones or plug them into the game controller so I didn't have to worry about inadvertently blaring the volume when the household was asleep.
While I don't usually focus on gaming, I would be remiss to leave out the gaming capabilities of the NVIDIA Shield. Gaming on a streaming device is usually pretty basic—only mobile gaming or choppy experiences of other games. Only game consoles like the Xbox or Playstation have been able to offer a latency-free gaming experience. The Shield's powerful quad-core Tegra X1 mobile processor brings true PC gaming to the TV. It can stream games directly from a PC, play Android games, and stream online games from NVIDIA GE Force game service.
My son (who worked for years at a video game store) tests the games as I observe and get insights. First, he used the Gamestream feature to play games on his PC. The detailed lands of The Witcher looked beautiful on the big screen. Although the first time he played, there was a bit of a hiccup as the frame rate dipped (possibly due to home network issues), subsequent play was smooth and absolutely latency free. Low or no latency is essential to a good gaming experience. The experience of playing Batman-Arkham City from NVIDIA's streaming GE Force service was equally smooth and beautiful.
The new Shield is about thirty percent smaller than the previous model. It includes a Gigabit Ethernet port, full-sized HDMI 2.0 port with HDCP 2.2 (required for 4k video), and 2 USB 3.0 ports. The processor is claimed to be twelve times faster than any other media streamer on the market. Both the remote control and the game controller are included. The 16 GB model runs $200, and the Shield Pro with 500 GB of internal storage is $300.
While the game controller might be off-putting to the average viewer, the NVIDIA Shield TV is an excellent choice for anyone who wants to stream media, and ideal for cord-cutters. As features continue to be added, you'll be able to control your lights, Nest, and other connected home devices like a Google Home device. It has the capabilities of a 4K Chromecast. And it can stream and access any kind of content you could want, playing it at the best audio and video quality. The Shield has gone to the top of the list of my favorite media players.