Hands-On: Quibi Short-Form TV Streaming App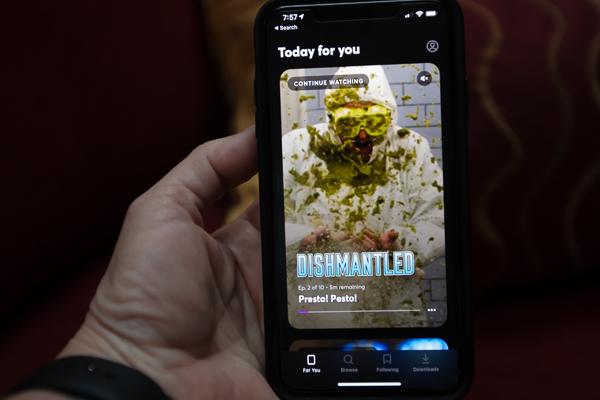 It's ironic that Quibi, a short-form streaming-video mobile app, launched during the coronavirus lockdown. It was designed for a busy lifestyle, for those times when we are on-the-go and only have short snippets of time to kill. Instead, we are now home with plenty of time to binge-stream shows in 4K on our bigscreen TVs. Nevertheless, I've spent several days checking out Quibi's all-original content and found the shorter-length videos fit into my schedule.
Whether I'm working at home or merely catching up on home projects, I often find myself wanting to take a short break. Stopping for 10 minutes lets me turn off my brain and stream a video without committing myself to a half-hour or longer show that might stop my momentum. And while I could turn on a Netflix series and turn it off after 10 minutes, Quibi content is more than just a long-form video cut into pieces. Each Quibi is a complete episode that was written with a beginning, arc, and cliff-hanger end.
The most annoying aspect of Quibi is that it is only available for smartphones—Android OS 7.1 and higher or iOS 11.0 and higher. The Quibi smartphone app can play on a tablet. Still, you must zoom-in to fill the tablet's screen. While it loses a little picture quality, the larger size is preferable to watching on my smaller smartphone. The FAQs on the Quibi website state that additional supported devices (TV, computers) may be available in the future if there is demand.
The app's user interface is easy enough to navigate, but isn't convenient. The app opens to a home screen called "For You." Suggested shows are displayed in a vertical carousel along with new episodes and shows to continue watching. It would be easier to make selections if the shows were displayed in a list or a cover-art grid. The navigation bar at the bottom of the screen includes menus to browse categories of shows, and to access the shows you are following or have downloaded.
When you find a show of interest, you tap on the three dots at the bottom of the screenshot. Here is where you can access show info and choose an episode. You can also follow shows in order to receive notifications when a new episode is released. Shows can be downloaded for offline viewing. You can also play directly from this menu.
Another issue I had with the app was during playback. You can't skip to the next or previous episode. Instead, you need to close the video and go back to the three dots to bring up More Info and Episodes. Playback controls are available onscreen when viewing a video and they change depending on how you are holding the device. Quibi's revolutionary "turnstile" feature allows a user to view a video in either landscape (horizontally holding the phone) or portrait (vertical) format. The scrub bar control is at the bottom of the screen when in landscape mode, and it appears on the side of the screen and can be controlled vertically when in portrait-viewing mode. Left-handed users can go into the settings to move the controls from the default right location.
Turnstile was created to show different angles of a scene so you can switch from horizontal to vertical as you view a video while maintaining continuity. The feature works seamlessly, never missing a beat in telling the story. While each episode is considered a complete story, at times the short videos make it harder to get hooked into a show. With Quibi, you may have to slog through four or five episodes before getting to the action.
For example, in The Most Dangerous Game, starring Liam Hemsworth and Christoph Waltz, the "game" doesn't begin until the fifth episode. In Survive, with Game of Thrones star Sophie Turner, the pivotal plane crash (depicted in previews of the show) doesn't come until the end of episode 4.
Throughout the first three episodes of Free Rayshawan, it seems the police are framing the young black man. As I started episode 4, I still didn't know what he'd done or why the police chief (Lawrence Fishburne) is on his side.
Typically, a streaming app launches with a couple of stellar original shows. There is so much Quibi content, I couldn't sample it all in a week. New episodes are released every weekday and a new show premieres weekly. Quibi offers shows for every demographic. Genres include action-packed dramas, horror, romance, comedy, psychological drama, news, feel good animal shorts, reality shows, a cooking competition, a meditational series, entertainment and late-night roundups, talk shows, documentaries, sports, and daily entertainment and news.
Three comedy series are available. Flipped stars Will Forte, Kaitlin Olson, Andy Garcia and Eva Longoria. When an unemployed couple starts demolishing a house to remodel as they film a home makeover show, they come upon a wall full of money that belongs to the mafia. In Dummy, Cody (Anna Kendrick) finds her boyfriend's (Donal Logue) sex doll comes to life. And lastly, Agua Donkeys is a moronic comedy about two pool cleaner employees who are in love with a co-worker.
I laughed hardest during a series hosted by Will Arnett. Memory Hole shows old bad videos that I'm sure the participants hope could just be forgotten.
Not being a horror fan, I never got past the first episodes of The Stranger or 50 States of Fright. Nor did I check out the testosterone-laden Elba vs. Block , where Idris Elba and Ken Block perform insane stunts "to see who's the best behind the driver's seat."
At the other end of the spectrum are lifestyle shows like The Rachel Hollis Show. Formatted like a daytime segment show, motivational speaker and author Hollis (Girl Stop Apologizing) gives tips on organizing, cooking, fashion accessorizing, and how to be happy. Another "lifestyle" title, Sexology, features certified sexologoist Shan Boodram, who has 40 million followers on YouTube offering sex and dating tips.
Quibi features several reality shows, including the offbeat Dishmantled cooking competition. Each episode starts when food is blown up in a room with blindfolded contestants. The contestants have to recreate the dish based on the bits of ingredients they taste that just landed on their clothing and surroundings. "I tasted cheese on my boot," said one contestant in the first episode.
There is also the Punk'd redo of the 2003 MTV series. And, while Chrissy's Court parodies shows like Judge Judy, this sorry takeoff supposedly has real court cases where model Chrissy Teigen makes binding court decisions.
Along with entertainment, there is headline news and other daily essentials. Entertainment news includes Fresh Daily, which informs viewers of the day's best shows to stream or watch on network TV. Last Night's Late Night replays highlights of the previous night's late shows that are introduced by an annoying hostess.
When you've had enough of the news, you can switch to some feel-good shows. There are sweet animal videos produced by The DoDo website. Or try Thanks a Million, where a popular celebrity gives $100,000 to someone who has touched their life. I couldn't make it through one of the episodes without tearing up.
When it's time to relax, there is The Daily Chill. Beautiful videos of places around the world are paired with calming music and hypnotic narration to create an open-eye meditation experience. I watched a tea ceremony in Taiwan. While I wasn't initially convinced of the idea, I did find my breathing calmer and slowed when I finished the video.
Quibi is offering a 90-day free trial to start. You may as well choose the $8 ad-free option to start as you can change it once you are charged. A $5 ad-supported version is also available. T-Mobile customers get a free year of Quibi if redeemed by July 7, 2020. Quibi is not set up to be shared like other streaming apps and can only stream to one device at a time.
There is so much Quibi original content, and it can be overwhelming to decide what to watch. As the app is free for 90 days, why not give it a try and see if the short-form videos work for you? Hopefully, it won't take Quibi too long to realize that it's ridiculous to limit the app to a smartphone and offer users the option to watch on bigger screens.
For more information, visit quibi.com.
Related:
Does Launching During a Pandemic Help or Hurt Quibi?