Hands On: Philo Live TV Streaming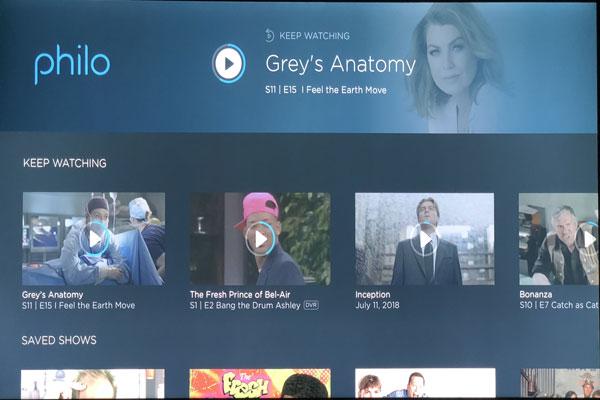 The Philo live TV streaming service recently launched apps for Apple TV and Amazon Fire TV so I decided it was time to check it out. Previously available on Roku, the iPhone, smart TVs, and computer web browsers, Philo's expansion is evidence that users are looking for an inexpensive way to stream basic cable channels. Overall, I found its interactivity and features to be user-friendly and a good solution for those looking to add basic cable channels.
Philo, whose name is borrowed from TV pioneer Philo T. Farnsworth, launched in fall of 2017. The service offers a 40-channel package aimed at cord-cutters who are looking for a relatively inexpensive way to supplement local TV channels they get over the air with programming available on basic cable. More than just live TV, Philo offers a number of VOD and free DVR features.
Because the focus is on basic cable, Philo is able to keep the price down to $16 per month — about half the price of other live TV streaming options. There are no sports or news channels and the service has fewer popular channels than its pricier competitors. The lineup includes TV Everywhere networks like A&E, AMC, Animal Planet, BBC America, BET, Comedy Central, Discovery, DIY, Food Network, HGTV, IFC, Lifetime, Lifetime Movies, MTV, Nick, OWN, Paramount Network, Sundance TV, Nick Jr. , History, TLC, Travel Channel, TV Land, VH-1, and WE. For an extra four bucks you can add AHC, BET Her, Cooking American Heroes Channel, Discovery Family, Discovery Life, Logo, MTV Live, and Nicktoons.
What Philo lacks in channels, it makes up in features and usability. The Home screen displays shows that are popular with other Philo users and, unlike most live TV apps, available channels do not appear in a timeline grid. At first I thought that would be a problem, but I quickly learned that there are a number of ways to view or find a TV show or movie.
With other streaming services, clicking on the show you want to watch brings you to the live program in progress whereas Philo starts it from the beginning — unless you select Live TV.
DVR functionality is unique and useful. On Apple TV, swiping down displays a Save option, which stores the entire show. Like a typical DVR, you can also opt to save all future airings or choose specific episodes for later viewing. There's no restriction on watching recent episodes and no limit on the number of shows you can save, although episodes are only available for 30 days from their air date.
Previously aired episodes are available on demand, which makes it easy to binge shows you might not find on other streaming services. But unlike Netflix and others, you can't search through all seasons and episodes — only recent episodes are available. And in the case of reruns, only the season and episodes currently airing are available.
Philo's search function makes it easy to find specific TV shows. As noted earlier, you can choose a show that is currently airing or go to a channel page for a list of recently aired shows that are available for on-demand viewing or opt to save shows for later viewing.
One downside to Philo is that TV shows are laden with commercials but at least you have the option of fast forwarding through them.
Philo is a great option for cord cutters who want to watch basic cable channels without having to spend the $35 or more a month it costs to subscribe to YouTube, Hulu, Sony PlayStation Vue, and other streaming services. At $25/month for 40-plus channels, Sling TV approaches the low cost of Philo but lacks its extensive DVR functionality.
You can take Philo for a 48-hour test drive with just your phone number or add five days to the trial period by adding credit card information. If you are looking to expand your TV viewing experience beyond local TV broadcasts, Philo is definitely worth a look. For more information, visit try.philo.com.

SPONSORED VIDEO