Hands On: New Amazon Fire TV with Amazon Channels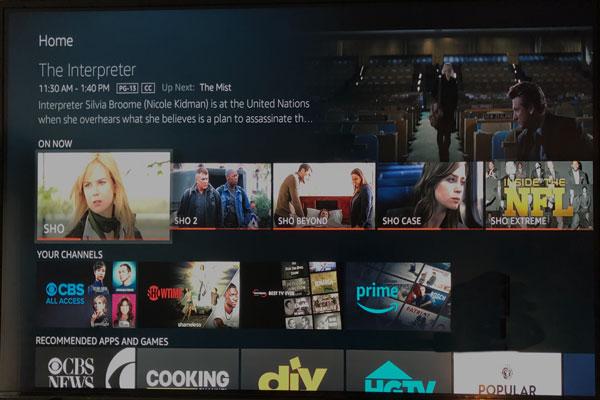 The newest Amazon Fire TV model was released before the holidays. Though it's as powerful as the top-end Amazon Fire TV 4k before it, it's been both reduced in size and in price and has brought HDR10 to the media player's 4K capabilities. A recent update to the Fire TV OS brings with it an expansion in the number of Amazon Prime subscription channels. There are now over 100 niche and popular streaming channels that have been added. The original offering of HBO, SHOWTIME, Cinemax, and STARZ premium channels now offer live TV guides making the Fire TV more appealing to cord cutters. For the past few weeks, I've put the new Fire TV to the test and found it to be a feature rich media player that gives the other popular 4K HDR players—Apple TV, Roku Streaming Stick + and Nvidia Shield—some real competition.
The new generation Fire TV has shrunk from the previous boxy form factor of the 4K Fire TV. It's now a directly connected device that fits behind the TV. Its built-in cable connects directly to a TV's HDMI port. Slightly larger than a Chromecast dongle, it has only a single micro-USB connection that is used to connect the Fire TV to power. Typically a dongle can be connected to the USB port on the TV for power. When I connected to the TV's USB port, I received a message saying that there was insufficient power for the Fire TV; that I should connect to a (included) wall plug adaptor. I didn't heed the Fire TV's notice, nor the advice on the Fire TV product page that recommends that the player should be connected to an electrical outlet in order to stream 4K content. Nonetheless I've had no problems with streaming 4K HDR content over the past few weeks. While my Netgear Nighthawk X10 provides enough bandwidth to handle 4K streaming without lag, for users who have slow home network Wi-Fi issues, Amazon offers a wired Ethernet adaptor ($14.99) to connect the Fire TV directly to a router.
Today, most 4K HDR capable media players provide an excellent picture quality. Streaming 4K is compressed and therefore not as good as an Ultra HD disc, but the Fire TV is every bit as good as its competitors with one exception. The Fire TV can't play DolbyVision HDR which might limit the available HDR content. As for audio, it does have Dolby Atmos surround capabilities.
Originally called the "Streaming Partners Program," the now-named "Amazon Channels" offering has been expanded to include over 100 channels, some with live TV viewing. The original launch included Curiosity Stream, Lifetime Movie Club, Shudder (AMC's horror channel), SHOWTIME, and STARZ. The new lineup is vast and varied. From CBS All Access to PBS channels, Sundance Now, Tribeca Shortlist, Eurocinema, Cinemax, Mubi, Sports Illustrated TV, Doc Club, as well as fitness channels, kids channels and more. Each channel has a monthly subscription price. The premium channels and CBS All Access cost the same as the stand-alone app subscription at $9.99 per month. On the other end of the spectrum, Best TV Ever that streams old shows like Bonanza and Petticoat Junction runs 99 cents per month. Clearly, the idea is to let users create their own cable line up. Subscribing through Amazon rather than as a stand-alone app streamlines login and monthly payments. Fees are charged to your preferred Amazon payment option and subscriptions can be cancelled on your Amazon Account subscription page. On the other hand, streaming from a Amazon Channels subscription channel means that you must view all of your subscription channel content to the Prime Video app when streaming to non-Amazon devices like Apple TV.
Some of the channels have added live TV streaming. A menu row entitled "On Now" displays what shows can be watched live. This is a new feature that is only available for HBO, SHOWTIME, STARZ or Cinemax through Amazon Channels. While the CBS All Access Amazon Channel had local live programming, it is not yet listed in what is On Now. On Now doesn't include any live stream programs to stand-alone apps like the Travel Channel.
Amazon Channels are only part of the streaming options on Fire TV. Like other streaming players, there are numerous streaming apps— from PLEX to NBC, ABC, and Netflix. Stand-alone streaming apps SHOWTIME, STARZ, HBO Go and more are available for those who prefer the stand alone app or authenticate through their TV provider. For the cord cutter, there are numerous live TV streaming apps including Playstation Vue, Sling TV, Hulu Live TV, Dish Anywhere and more. Music apps include Spotify and Pandora. Notably missing from the FireTV is Vudu, Google Play Movies and Videos and YouTube. Instead of a YouTube app, the Fire TV offers a Firefox or Silk Web browser. From either browser, I could search Google Videos for YouTube videos. As in the past, these web browsers are awkward and limited.
Rather than listing a separate Amazon Prime video app, the movies and TV shows available from Amazon are listed on the home page along with recently used apps. Watching videos or listening to music directly from Amazon has the advantage of the Xray feature. For videos, Xray will show the names of the actors in the current scene and you can click on an actor to see what else they've been in. The name of a song playing in a scene is also displayed on Xray along with other trivia. For music, Xray shows trivia and details of the song. Lyrics can be displayed as a song plays.
As Amazon is all about shopping, the Fire TV offers streaming apps that allow you to purchase directly from Amazon during the show. I watched a couple of camera review shows on the DP Review (Digital Photography Review) channel. Pressing the up navigation button on the remote displayed the gear that was used in the show so I could quick buy that $5000 camera or $20 accessory, directly from the video app on my Amazon Fire TV.
While other streaming devices are becoming voice controlled, only the Google Assistant on the NVIDIA Shield can compare with the Amazon Fire TV's Alexa integration. Not only does the Fire TV work as an Alexa device, it can be controlled by other Alexa devices. In other words, by pressing the mic button on the Fire TV remote, I had access to all skills and abilities that is available on any other Amazon device—Echo, spot, tap, or third-party Alexa control devices. I was able to turn off my lights, and could change my thermostat or lock my door (if I had those devices in my home), or order pizza. The Fire TV works like Amazon's Echo Show screen when asking Alexa for information. When asked for weather, your calendar, shopping list, or facts from the internet, the Fire TV will display the information. Photos or the text of the answer will be displayed when asking for facts. For example, the text of information about Paris was displayed next to a photo of the city as Alexa rattled off relevant facts.
Still, finding the remote and holding down the mic button isn't handsfree. A no-remote, handsfree option is always my preference. I have an Amazon Tap that I've paired with the Fire TV. Once I turn on the TV and the Fire TV, I can ask the Tap to play a video title, launch apps, control playback,— including rewinding and fast forwarding— ask to hear the news headlines, look up my shopping list so I can see all the items onscreen, or search for genres, actors or titles of movies on the Fire TV. On occasion, I will need to navigate or press the OK button on the remote, but often I can just tell Alexa, "Watch the Librarians on Hulu" and it will immediately start playing the next episode.
The new Fire TV is packed with features and content. It's got everything you need as a cord cutter including apps for live TV DVR streaming. But it's also Amazon and at its core it's about selling you things and making money. If you can stomach the sponsored ad in the center of the menu, or that they are now a middle man for your streaming services, or that it organizes its menus to tempt you to try new subscription channels, or that you can buy items directly from videos, then the Fire TV is for you. For all the obvious money making tactics, it still offers convenience , both in shopping from an app and in subscribing to most services from one account. This year's model drops to under $100. At $69.99, it is one of the least expensive 4K HDR streaming devices available.