Hands On: HDHomeRun TV Tuner and DVR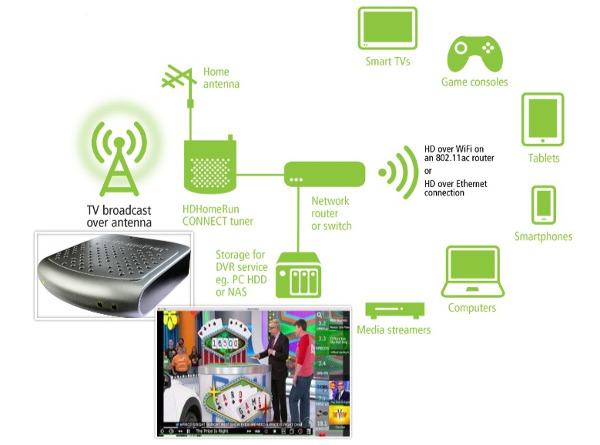 In the search for ways to free ourselves from the escalating costs of pay TV, the missing piece of the puzzle is the ability to stream and record live local TV broadcasts. We can stream movies, previous TV seasons, and many cable channels—from Food TV and A&E to Cartoon Network on Sling TV— but getting local TV is another matter.
At CES 2017, I kept hearing about a live TV streaming device from SiliconDust called HDHomeRun Connect that makes live TV channels and DVR features available to a number of different devices and apps in addition to working with its own TV and DVR app.
HDHomeRun is a "network attached tuner"—that is, a TV tuner that receives off-air signals via an antenna and connects to your router so it can stream live broadcast channels to apps on devices connected to your home network. It's reasonably priced at $99 and has a $60 one-time fee if you want to add DVR functionality.
The HDHomeRun streams to its own app for computers, Android TVs, NVIDIA Shield, Fire TV, and Xbox One and to third-party apps (Channels and InstaTV) for iOS. The iOS apps are pricey as far as apps go ($14.99) and the Channels app must be purchased separately for mobile and Apple TV so It'll cost almost $30 to get Channels on all of your devices. The Insta TV app is "free" but you have to upgrade to Pro ($14.99) if you want to stream to your iPhone. (Yes, that's a little crazy—they should just charge for the app.)
I tested out the HDHomeRun with a number of devices. It requires an antenna so I connected the Mohu Leaf 50 amplified HDTV antenna to the HDHomeRun. The HDHomeRun is designed to connect directly to a router but I connected to a network bridge in a room where I was able to get better reception from the antenna. I downloaded the HDHomeRun app to my Mac and it scanned for local channels as part of the initial setup. It found all of the TV stations in my area without a hitch. In fact, it was able to pick up more stations than other tuners I've used.
The DVR functionality is still in Beta but it seems to be close to final. As noted, there's a one-time charge of $60 to add the DVR, which includes a programming guide ("EPG") and the ability to schedule recordings and pause, rewind, or fast forward live TV.
Using the HDHomeRun app on a Mac is not ideal. While it can tune to channels and schedule or play back recordings, there is no way to access preferences or settings. This may not be an issue if you're okay with having your recordings saved to the HDHomeRun folder on your computer. But if you don't want to fill up your computer's hard drive with half-hour recordings that gobble up 4 GBs each, you're out of luck—there's no option to save to an external hard drive. This is also true for the Xbox One app, which saves to the internal memory on the console.
Setting up the HDHomeRun on a Windows 10 computer gives you more options. When you set up the HDHomeRun app, you can direct the recordings to be saved to a NAS drive or connected external hard drive. The HDHomeRun app for NVIDIA Shield can also save to an external hard drive as long as the drive is set up as "internal storage" prior to installing the HDHomeRun app.
Setting up HDHomeRun was fast and easy and, for the most part, I found the apps to be smooth running and easy to use. I would occasionally get an error message that said the app couldn't find the TV tuner, but hitting "Retry" corrected the problem. Connecting HDHomeRun to my network bridge instead of directly to my router could have been the culprit.
The HDHomeRun may not be your first choice to fill your local TV streaming and DVR needs but it's an option to consider if you have an app that requires it. For example, the Plex DVR feature on the NVIDIA Shield needs the HDHomeRun for recording TV—just be sure you are comfortable fiddling with code and having to press the Play button numerous times to bring up settings.
If you are looking for an easier way to stream and record live TV, consider Simple.tv, which streams to an app that's available for most platforms—from iOS, Android, and Windows to Roku and Kindle Fire. The basic cost is $200 but for $250 you get programming-guide updates for a year, which makes it easier to schedule recordings. And, unlike HDHomeRun, which only works within the home, Simple.tv can stream to its mobile app wherever you are.
Tablo is another TV tuner and DVR streaming solution worth checking out. There's a two-tuner model for $220 and a four-tuner model for $300. The device streams to the Tablo app on computers, mobile and other streaming devices so you can watch live TV anywhere.
For more information on HDHomeRun, visit silicondust.com.