Hands On: Dish's AirTV Combines Sling, Local Channels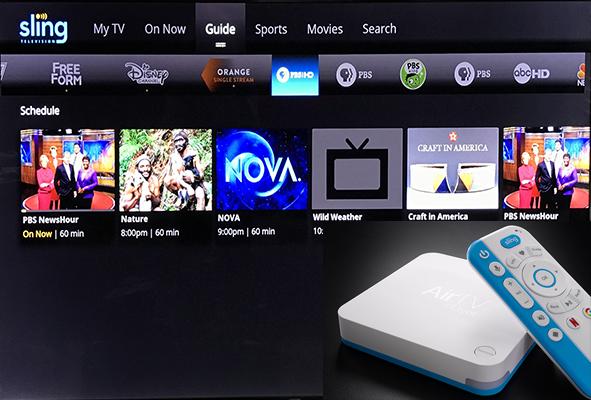 Designed for cord-cutters, Dish's AirTV combines premium and local channels with online streaming and attempts to mimic the experience of watching cable or satellite with the convenience of program guide you can scroll through to find channels you want to watch.
AirTV was conceived as a device for Sling TV, which offers live basic cable/satellite TV channels from ESPN to Comedy Central, Food TV. Dish calls its new streaming service app "a la carte TV" as it offers basic cable stations for as little as $20 per month with additional channels available for $5 per category, and premiums channels such as HBO, STARZ, Showtime, and Cinemax running $10 or $15. Part of the over-the-top (streaming) service's appeal is that channels can be added or dropped at any time.
Unlike most of today's streaming devices, AirTV has eschewed the piano black exterior for white and blue. It stuck out among the black devices in my media cabinet. The sky blue and white remote is also a standout among my remotes; its large buttons and icons are reminiscent of a toddler's first tech toy. Clearly, it is designed with the most technologically challenged user in mind and meant to be the only remote you'll need. During setup, it asked if I wanted to set it up to control my TV and Audio receiver. I went through the setup routine and everything seemed okay except that the remote didn't work when I was playing a video, suggesting that it had chosen the wrong code for my TV.
At the heart of the AirTV's operating system is the latest version of Android TV. It starts with the typical new Android TV setup. If you have an Android phone, you can open the Google app and say "set up my device." This adds your Google account to the AirTV and sets up the Wi-Fi connection. Unlike Roku TV, which automatically downloads your channels when you sign in, AirTV only adds details from your Google account.
The AirTV comes pre-loaded with Sling TV, Netflix, Google Play Movies and Music apps, and YouTube. Chromecast is built-in for streaming from smart phones, tablets, and the Chrome web browser on a computer. Because the AirTV is a full Android TV, you can download any compatible apps from the Google Play app store, including Hulu, Plex, Vudu, Spotify, and more. Although the NVIDIA Shield is an Android TV, the company has a special agreement to include the Amazon Video app so Amazon is not available on AirTV.
The AirTV's specialty is combining Sling TV with local TV programming. To get local channels you have to have an antenna (or basic cable) connected to the optional AirTV adapter (tuner). AirTV detects when an antenna and adapter are connected and asks if you want to scan for channels. Local channels are then added to the Sling TV channel guide and to Sling TV's My TV menu. Clicking on the local channels in the guide shows what is currently being broadcast and which shows are coming up. For now, AirTV doesn't support Sling TV's Cloud DVR functionality but it will surely be rolled out soon.
When I signed into Netflix, a list of recommended programs and shows to continue watching was added to the My TV menu, which provides a quick and easy way access a variety of content without having to go through several menus. The AirTV's guide is not the first to consolidate content from various sources. Xbox's OneGuide combines online content with your cable or satellite guide and uses a conventional grid format whereas Sling TV uses a horizontal carousel of channels and TV shows.
The Sling TV app has another menu that displays what's "on now" so you can choose live TV programs. Unfortunately, it doesn't include local channels so you can't peruse all available content options. While current local TV is listed in the Sling TV guide, it would be nice to also see it in the menu where I like to look when I just want to see what's on TV.
AirTV supports 1080p HD and 4K Ultra HD streaming and Dolby Digital/Dolby Digital Plus audio formats. The AirTV Player bundle that includes the (antenna) Adapter is $130 but an antenna is not included. The AirTV player alone is $100. Both options come with $50 of SlingTV program credits.
For a limited time, Dish is offering discounts if you pay for your Sling TV subscription in advance. To get the AirTV player and Adapter for $50: prepay three months of basic Sling TV service ($20 and up), four months if your monthly payment is between $15-$20, or six months if your payment is under $15.