Hands On With 5 New iPod Docks Page 3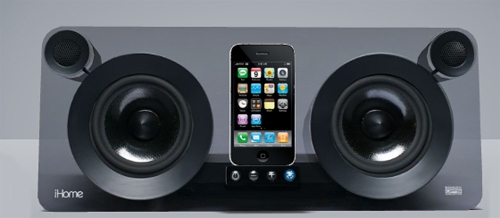 Key Features
$300 ihomeaudio.com
• Speakers two 4-in woofers, two 1-in tweeters • Amplifier 100 watts • Connections minijack analog input; component-/compositevideo output • Dimensions 161?2 x 7 x 81?4 in • Weight 8 lb • Compatible With: All docking iPods
iHOME IP1
The iHome IP1 is a straightforward, no-nonsense iPod/iPhone dock. There's no radio or snooze button - it's just a dock. But such a mission statement doesn't preclude style, and the IP1 makes quite a splash there. Instead of the usual boxy iPod dock cabinet, a sheet of thick, smoked plastic holds its parts together. The actual dock sits front and center, with a minimal button count. Two big rear-ported tubes hold a pair of 4-inch glass fiber woofers, and two smaller tubes hold 1-inch silk-dome tweeters. Discreetly tucked around back are the amplifier and the input/output panel. All in all, it's a very neat design - my favorite of the bunch.
Popping off the IP1's removable grilles reveals the system's nice-looking woofers; in fact, you might want to keep the grilles permanently removed to show off the speakers. Interestingly for such a spartan design, the rear panel provides a component-video output (and composite-video using the center jack only) to display videos on a connected TV.
The remote duplicates the IP1's front panel controls and also adds a few tricks. For starters, you can use it to control the iPod, navigating with the menus on the iPod's screen. Although there are bass and treble controls, there's no indicator to see these adjustments, but you can return to normalcy using the EQ reset button if you get in over your head.
The IP1's designers didn't waste much time adding useless features, but I bet they spent lots of time selecting and voicing the speakers. The sound quality is quite remarkable. The woofers pump out a respectable amount of bass. Moreover, it's not tubby or boomy, but instead compact and tight. The high end is smooth and unforced, and the midrange has lots of detail and sounds very natural on vocals. A DSP button engages an enhancement algorithm that adds kick to the low end and some sizzle at the top, improving performance without sounding gimmicky.
I really liked the iHome IP1. I admired its simple and stylish design, and its ease of use. Best of all, I liked its sound. No, this little guy won't blow away your home theater speakers, but its warm, clean sound is a welcome surprise for this product category and price point.
LATEST VIDEO