Half-Atmosed: Is the 7-Channel AVR Obsolete?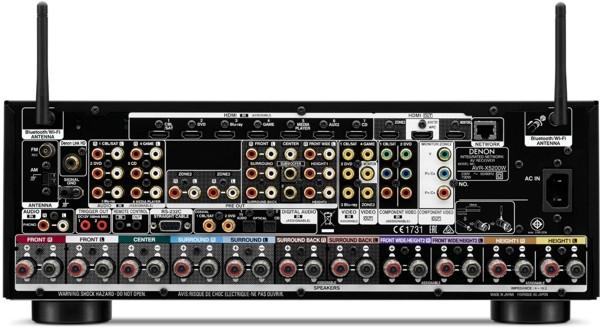 Most receivers have seven amp channels. I've just reviewed several of them in a row: the Onkyo TX-NR545, Pioneer VSX-1130, and Sony STR-DN1060. Our October issue will collect them in a roundup, with a review of the Denon AVR-X1200W following in November. All list for $600 and include Dolby Atmos height-enriched surround in a 5.1.2-channel configuration. That is a couple of height channels short of the 5.1.4 configuration Dolby Labs recommends for Atmos in the home. And that in turn prompts an uncomfortable question: Is the seven-channel receiver obsolete?
Just in case you've been living in a lonely media-free mountain retreat for the past year, Dolby Atmos—and its upcoming competitor DTS:X—are object-oriented surround technologies that govern the movement every object in the mix with metadata and add height channels to the usual array of floor speakers. This allows mixers to expand the traditional flat horizontal soundfield into a three-dimensional space. Done right, it's pretty darned impressive. What I'm wondering is whether 5.1.2 qualifies as doing it right. Are two height channels in the front of the room sufficient for Atmos? Or do we need height channels in all four corners of the room? That 5.1.4 configuration would require more than seven amp channels. Thus the nine-channel receiver (like the Denon AVR-X5200W pictured here) might become the new normal.
The first seven-channel receivers arrived in the late 1990s to support THX Surround EX, which added a single monaural back-surround channel supported by one or two speakers. Two back-surround speakers became the standard practice when THX Surround EX was renamed Dolby Digital EX and augmented by DTS-ES. If you don't want back-surrounds, the extra pair of amp channels can be repurposed for a second zone, biamping of the front channels, or other uses including the simulated height channels of Dolby Pro Logic IIz and Audyssey DSX. There are still five-channel receivers at the bottom of some lines, and nine- (or more) channel receivers at the top, but seven channels have become the norm for mainstream surround receivers at the most popular price points.
Admittedly, I'm still building a frame of reference for Dolby Atmos (and haven't demoed the forthcoming home version of DTS:X at all). My one exposure to 5.1.4 in my own listening room came with the Pioneer Elite SC-89 receiver and Pioneer Atmos-enabled speakers including the SP-EBS73-LR monitor and SP-EC73 center. I'm especially keen to try more Atmos-enabled speakers in both 5.1.4 and 5.1.2. And I will not be trying any form of Atmos with ceiling speakers at home due to the limits of my rented space. My nascent Atmos aesthetics may evolve over the next few years. But I must say my first four experiences with 5.1.2 have been underwhelming.
Visualize along with me. With either dedicated ceiling speakers or upward-firing Atmos-enabled speakers, 5.1.4 generates a three-dimensional bowl-shaped soundfield. In 5.1.2, the front of the bowl remains intact but the back flattens out. Because height effects—when the mixer uses them at all—are usually prominent in the front, you can still discern height effects in 5.1.2. But objects panned overhead between front height and back height, as in the Dolby fluttering-seed video, end up either audible in the front only, or fluttering between tall front and low back.
In Dolby Atmos vs. Dolby Atmos, my colleague Darryl Wilkinson conducts and summarizes Atmos demo sessions in every possible configuration. With ceiling speakers, he describes 5.1.2 as "being on the edge of the action," whereas 5.1.4 offers "a sense of total sonic openness"—clearly an improvement. Likewise, with Atmos-enabled speakers, 5.1.2 offered "solid front-stage width and height that collapsed at the listening position," whereas 5.1.4 mustered "a large but limited bubble"—perhaps a subtle improvement, but an improvement nonetheless.
Will Atmos and DTS:X will encourage a new norm among receiver manufacturers? Adding a second pair of amp channels requires a difficult tradeoff: either make the receiver bigger, heavier, and more expensive to accommodate two additional channels, or just fit nine less powerful channels into the existing chassis size and design budget. It's that old dilemma: Which matters more, quality or quantity? Which is a better way to spend your money?
For the home listener, should 5.1.4 be the minimum, as Dolby recommends? Do you want the whole Atmos experience, not just an expedient fraction of it? That would point in the direction of a nine-channel (or more) receiver.
But what if you want to stick with seven-channel receivers, at least for the time being? Maybe you are happy with your existing speakers. Maybe you'd rather not spend more money for more channels. Maybe Atmos, while interesting, is not a deal maker or breaker in any configuration.
At this point I need to stop pontificating and start listening. To you, that is, not just to Atmos. Because I really have no idea what my readers think of Atmos 5.1.2. Are you so into Atmos that you're willing to live with a limited version of it? Are you willing to spend more for 5.1.4? Or would you just prefer to let the market shake itself out and revisit the topic in another few years? I would love to read anything you have to say.
Audio Editor Mark Fleischmann is the author of Practical Home Theater: A Guide to Video and Audio Systems, now available in both print and Kindle editions.