Groovy Tubes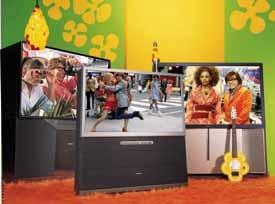 Photos by Tony Cordoza
Action heroes come in many styles and sizes. Sober, masculine figures like Batman and James Bond were once the rage, but they're now only part of an expanded, multicultural universe that includes X-Men and the vampire-hunting Blade. And then there's the genre's goofy side, represented by the swinging Austin Powers and Galaxy Quest's Capt. Jason Nesmith. Serious or not, these characters provide great fodder for movies, many of which have been turned into equally admirable DVDs.
---
Check it out:
In the Lab
Features Checklist
---
Like action heroes, HDTVs also come in different forms and have a wide range of capabilities. The most common are direct-view sets with a single cathode-ray tube (CRT) and rear-projection models that use three CRTs (one each for video's red, green, and blue primary colors) to beam pictures onto screens measuring 40 inches diagonal and up. Both types can have either a traditional squarish screen or one with a wide, 16:9 aspect ratio that resembles a movie theater screen. And a few also have built-in digital tuners that let them receive both standard and high-definition broadcasts over the air.
To further our never-ending quest to promote better video and discover what level of performance you can expect from a TV, we called in a diverse trio of widescreen rear-projection sets. Each model is based on CRT technology, which for my money still delivers the best image quality available, but the similarities pretty much end there. The screen sizes and prices are very different, and each manufacturer took a different design approach. If you're in the market for an HDTV, but not sure what you want, you should have a much better idea by the time we're through here.
Toshiba 50H82
| | |
| --- | --- |
| | |
| Toshiba 50H82 DIMENSIONS: 46 1/8 inches wide, 50 3/8 inches high, 21 2/3 inches deep WEIGHT: 193 pounds PRICE: $2,500 www.toshiba.com/tacp | |
At $2,500, Toshiba's 50H82 will strongly appeal to anyone who wants a big-screen HDTV monitor without a big, fat price tag. The design is simple, and the cabinet is surprisingly slim for a rear-projection TV (RPTV). Even so, there's enough room on top to accommodate most center speakers. The set lacks a built-in HDTV tuner and digital connections, like FireWire and DVI (Digital Visual Interface), but it does offer native 1080i (interlaced) and 480p (progressive) display capability on its 50-inch screen via a pair of wideband component-video inputs.
A strip of large buttons directly below the screen includes controls to navigate menus, adjust volume, change channels, and select video inputs. There's also a TouchFocus button that automatically converges the set's three CRTs when pressed. Rounding out the front panel is an A/V input with composite- and S-video connections for easy camcorder or game-console hookups. The remote Toshiba supplies has a fully backlit keypad and can be set up to control both a VCR and a cable box. The backlighting is a nice touch that makes it easy to find the button you want when the lights are turned low. With the exception of the input-selection key, which is tucked away in the top half of the remote, the buttons you'll use most often are located within easy thumb reach. These include arrow keys for menu navigation and a Pic Size button for changing display modes to accommodate widescreen or standard 4:3 images. Switching video inputs is a two-step process: you have to first hit the TV/ Video button and then select the desired input from a pop-up menu.
Toshiba provides a generous number of setup options for tweaking the set's picture. In addition to TouchFocus, you get a nine-zone manual convergence control for touch-ups, four picture presets, including a Preference mode that lets you store custom picture settings for each of the video inputs, and a Film mode that engages 2:3 pulldown processing to ensure smooth images with film-based programs.
After I chose the Warm color-temperature preset and adjusted the picture controls, the set's grayscale was still pretty far off the NTSC spec - though I was able to fix it with a few service-menu tweaks. After adjustment, I checked it out with my trusted reference DVD The Fifth Element: bright colors like Leelo's orange hair looked fully saturated, and skin tones appeared completely natural. In a gory scene from Blade II, also on DVD, the entrails of a dissected Reaper came across as a squishy, realistic pink. The only complaint I had was that a small amount of video noise tended to blur fine details.
The 50H82 displayed many of the same positive qualities with HDTV programs. In a scene from a high-def D-VHS transfer of X-Men where cops confront Magneto outside a train station, the green grass and flashing red lights looked extremely vivid. However, in this and other dark scenes, the Toshiba tended to obscure shadow details, which got swallowed up in the dark backgrounds. The problem was particularly evident in Blade II, most of which takes place at night or in dark interiors.
Toshiba's 50H82 is a reasonably priced HDTV monitor that offers above-average picture quality and a few cool features. With a little tweaking, it can be made to look even better. If you're looking for a set to mate with that new HDTV satellite tuner, or even just a widescreen model for watching DVDs, the 50H82 is a bargain.
Sony KP-57WV600
| | |
| --- | --- |
| | |
| Sony KP-57WV600 DIMENSIONS: 53 5/8 inches wide, 55 inches high, 27 1/8 inches deep WEIGHT: 216 pounds PRICE: $3,300 www.sonystyle.com | |
Rear-projection TVs have historically been big, clunky boxes that dominate any space, but Sony was obviously thinking outside the box when it designed the $3,300 KP-57WV600. The stylish, silver-toned TV sports a 57-inch (diagonal) screen covered with a protective shield that extends past the cabinet's borders to create a "floating," flat-panel feel. Sony probably went a little too far in trying to visually slim down this set - the cabinet's top surface is too narrow to support most center speakers, which means you'll need some kind of shelf above it to accommodate a surround sound system. But if you're searching for an RPTV that breaks with traditional design conventions, this is definitely the one.
A thin vertical strip bisecting the Sony's front panel holds the volume control and buttons for selecting channels and inputs. There's also a Flash Focus button that automatically converges the set's CRTs when pressed. One additional item - we'll probably be seeing similar features on more TVs in the future - is a slot for inserting Sony's Memory Stick flash media. The idea is that you can pop in a Stick from your Sony digital camera or camcorder and view JPEG still pictures on the TV, rotating images and even arranging slideshows. Pretty cool.
An A/V input is located under a panel near the bottom of the set for quick camcorder hookups. Connections on the back panel include two sets of wideband component-video inputs and a DVI port for plugging in one of the new HDTV-capable satellite receivers that has a DVI output. The Sony can accept 1080i- and 720p-format HDTV programs - it converts the latter to 1080i for display.
The smallish remote fits comfortably in the hand and sports a clean, well-organized button layout with a joystick in the middle for navigating menus. The keypad isn't backlit, but some of its buttons glow in the dark. To select one of the set's four display modes - Normal (4:3), Full (16:9), Zoom, or Wide Zoom - you press the Wide Mode button located right above the joystick. There are no direct input-selection buttons, but you can turn off the unused inputs in the TV's setup menu to cut down on the time it takes to flip through to the one you want.
Sony offers extensive options for adjusting the KP-57WV600's picture. In addition to Flash Focus, there's a 63-point manual adjustment, which lets you really fine-tune the convergence, and a variable scan-velocity modulation control with High, Medium, Low, and off settings. You can't exactly create custom picture memories for each of the set's various inputs, but you can modify its four picture presets and associate each one with a specific input. For example, you could tweak the Pro preset and link it to the set's DVI input for HDTV and link the Movie preset to the component-video input for DVDs. Sony's Digital Reality Creation (DRC) menu offers several options for improving the look of interlaced video sources. Its CineMotion mode upconverts standard images to a progressive-scan format with 2:3 pulldown for film-based programs. The Interlaced and Progressive modes optimize the display for interlaced programs shot on video and still images, respectively. DRC Palette, a feature Sony is introducing in the KP-57WV600, lets you manually adjust both detail and noise- reduction levels for lower-quality video sources like cable or VHS and store up to three custom presets.
With the Pro preset and Warm color-temperature setting selected, only a little additional tweaking was required to make the Sony TV's picture look good (see below for details). In the scene from Blade II where Nyssa's father demonstrates his vampire-breeding "fetus machine," the girl's skin looked completely natural next to the machine's amber-colored jars, which had a warm, vivid glow. And the set's stiff power supply helped to preserve detail both in the omnipresent dark backgrounds and in the vampire team's black, leathery outfits.
The Sony also did a good job handling HDTV. In a high-def D-VHS tape of Galaxy Quest, blacks looked solid, and the texture of Sigourney Weaver's red costume came through clearly in the scene where the entire "crew" of actors is beamed up to the starport for the first time. The high-def image was fairly crisp but not as detailed as on some other sets I've seen in this size range. The screen also had a problem with beaming - when I moved my head up, down, or to the side, the image looked brighter in the center of the screen than at its edges. The problem wasn't as evident when I sat directly in front of the screen. Sony's stylish KP-57WV600 HDTV monitor has two forward-looking features: a DVI input and that front-panel Memory Stick slot. It also offers a bevy of video adjustments that will make inveterate tweakers very happy. If you crave the big-screen image that rear-projection TVs deliver, but aren't a fan of the usual boxy design aesthetic, this silvery Sony could be just what the doctor ordered.
Mitsubishi WS-65711
| | |
| --- | --- |
| | |
| Mitsubishi WS-65711 DIMENSIONS: 58 1/4 inches wide, 61 3/48 inches high, 28 1/4 inches deep WEIGHT: 365 pounds PRICE: $6,500 www.mitsubishi-tv.com | |
In the movie Videodrome, TV producer Max Renn discovers a satellite TV program of the same name that's used to control people's minds. I don't know if TV will ever get that powerful, but there's a surprising number of things you can control with Mitsubishi's WS-65711 ($6,500).
First off, it comes with a built-in HDTV tuner, letting you pull in over-the-air digital broadcasts and display them on its huge 65-inch (diagonal) screen without adding any additional hardware. But what's most intriguing about the WS-65711 is its NetCommand 2.0 system, which lets you operate your entire home theater via the TV's screen. Mitsubishi does this by combining the HAVi (Home Audio/Video Interoperability) and AVC (Audio/Video Control) protocols of FireWire digital connections with the conventional infrared (IR) component control you get with most remotes.
With NetCommand, controlling a FireWire-compatible device is plug-and-play: you attach the component - such as a digital VCR, digital camcorder, or HDTV tuner - to a port on the TV's back panel, and the TV automatically configures the interface. Setting up the Mitsubishi to operate your A/V receiver and DVD player requires a little more work, however. In the NetCommand setup menu, you enter information about each IR-controlled component and how it's connected to your system. Once this information is gathered, all you have to do is specify which component you want to control via the TV's device menu, and your commands are sent out over a network of IR repeaters, duplicating the functions of each component's own remote control.
NetCommand aside, the WS-65711 is a traditional looking RPTV. Its cabinet has a classy woodlike finish that Mitsubishi calls "high-gloss burl," and there are lots of front-panel controls, including a reset button that will "re-boot" the TV if NetCommand crashes (yes, TVs are becoming more computerlike). A front A/V input with composite- and S-video connections allows for easy camcorder and X-box hookups. Jacks on the back panel include three component-video connections (one wideband and two 480i/480p only), a VGA input, and three FireWire ports.
Mitsubishi supplies a large remote control with a thoughtfully laid-out, partially backlit keypad. Pressing the Video button calls up a selection of video settings that you can adjust without having to dig through layers of onscreen menus. To switch inputs, you hit the Device button and use the arrow keys to select the component you want from an onscreen list. This is the list you created during initial NetCommand setup, so what you see reflects the inputs that are actively being used and includes the names you entered - like "Mitsubishi" for a DVD player connected to component-video input No. 1 or "Dish Network" for a satellite receiver connected to S-video input No. 2. To get this level of customization with almost any other TV, you'd need a dedicated home theater control system costing thousands of dollars.
The Mitsubishi's convergence was almost perfect right out of the box - an extremely rare situation. I made a few minor touchups using the set's 64-point manual control, and the CRTs were tightly aligned. Video setup options on the WS-65711 include Low, Medium, and High color-temperature presets, scan-velocity modulation on/off, and an Image Type setting that lets you optimize the set's line doubler for Video or Film programs. With Film selected, the TV's 2:3 pulldown feature ensured that the pictures from the DVDs I checked out looked smooth and clean.
Mitsubishi's manual labels the Low color-temperature preset as "Low/6500K," and my suite of measurements proved that to be almost dead-on accurate. I did have to do a little service-menu tweaking to compensate for the color decoder's red bias (see "In the Lab" for details). With adjustments made, skin tones looked natural and color rendition was greatly improved. In a scene from Blade II where Blade and crew trudge through a sewer system in search of Reapers, a female vampire's red hair had an intense glow, yet it was still clean and crisp. I could also tell that the set had a very strong power supply from the wide range of shadow details that were visible in these and many of the movie's other dark, difficult scenes. Watching the high-def tape of X-Men on a JVC D-VHS recorder connected to the set's FireWire input was a revelatory experience. The image was so perfectly crisp that for a moment I forgot I was looking at a TV screen. In a scene where Dr. Jean Grey examines Wolverine on the operating-room table, the shiny metallic surfaces came across with eye-popping contrast. And an amazing amount of texture was visible in the close-up shots of skin, clothing, and the X-Man's wild hair.
Although I was impressed by the Mitsubishi's handling of HDTV and pretty much everything else that I fed it, one glitch requires mention. When I watched CBS's digital broadcast with the set's mute control on, closed captions came across as a jumble of nonsensical words and characters. Both the text and the background graphics were bunching up on top of one another. It looked like some type of spontaneous, self-generating surrealist poetry. According to Mitsubishi, the problem was with CBS's New York City station, which at the time of my testing was sending out nonstandard digital closed-caption streams (apparently they figured nobody would be looking at them). Yikes! It's been four years since the official start of digital broadcasting. You'd think they'd have ironed out stuff like this by now.
With its great performance, built-in HDTV tuner, NetCommand feature, and FireWire connections, which will allow you to hook up a digital VCR for HDTV recording, Mitsubishi's WS-65711 should be high on the list of anyone who's serious about HDTV image quality and system integration. A few minor tweaks were needed to get the Mitsubishi to look its best, but when I was finished, the results were stunning.
As our diverse trio of widescreen sets proves, there's plenty of heroic activity going on at the HDTV front lines. Given that Toshiba's low-priced 50H82, Sony's slick-looking KP-57WV600, and Mitsubishi's feature-packed, envelope-pushing WS-65711 are only three models among the mind-expanding range of HDTVs and HDTV monitors now available, you won't need superpowers to find one that will be a good fit for your home theater. Whether you're watching Goldfinger or Goldmember, a widescreen HDTV is the best way to bring the movie action home.