The Great High-Stool Debate Page 2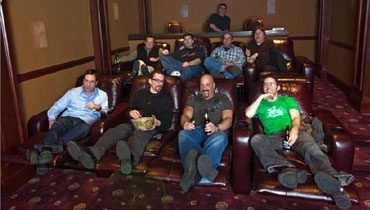 And so it was decided: One weeknight in early spring, Gary's gang would descend to his basement, linger in his "man cave" (the rec room, complete with bar, billiards table, and multiple flatscreen TVs), and devour chicken wings, pizza, chips, and suds before filing into the new screening room to sample Blu-ray Discs, Vudu, TiVo (by way of Cablevision), DirecTV, and DVD-Audio. There would be snark, sports, song, and bonerattling plane crashes. And if Vinnie Favale didn't shut up, there would be blood.
It's the night of the March 26 "clip" party, and Gary is sprawled across a cushy leather chair in Row One of his home theater, with family dog Murphy by his side. (See Murphy "in charge" on page 50.) He recalls the installers who did his whole-house A/V upstairs - the guys he didn't ask back to do his home theater. "The thing about the first guys was that their work was really good," he says, "but the journey was f---ing miserable. I still love my great room setup, and I still love the all-room audio in my house. But they were hard to get on the phone! The comfort level wasn't there."
And so Gary once again had to play the installer dating game. "I went through a lot of people," he recalls. "One A/V guy comes in and I say to him, 'Here's my budget: I want to do about $50,000 or $60,000 tops. I want the room to be both fun and functional.' And he goes, 'Okay, okay.' So I spend, like, an hour with the guy. A week later, I get a proposal from him giving me three potential levels. The absolute rock-bottom level was $110,000. And I'm going, here's a guy who just clearly did not listen to me. If he's doubling the price for me on proposals, God knows what I'll end up with. So I threw the proposal in the garbage. I wanted to find somebody who would listen to me."
Enter installer Craig Shumer and his New Jersey-based company, Theatermax (theatermax.com). "I told him the second he walked in the door, 'I'm your worst nightmare,'" Gary says. " 'I know exactly what you're doing. I just can't do it myself.' Craig knew I'd be very involved, and he was really willing to work with me."
Says Craig, "I'm not the kind of guy who says, 'We have to do it my way or we can't do business.' I'm very flexible - and it's not just because of who Gary is. That's just the way I treat my customers. And it's come back to me 100 times in very good ways because I give them what they want. We'll say, 'Here's stuff that will work in your room.' But he really was within a budget. I showed him how to get there without a lot of money."
"We did butt heads a couple of times," Gary adds, "because Craig was really big on wanting me to get the best of everything. And he was so great to work with because what he wanted had nothing to do with him making money. He'd be like, 'This is the carpet you have to get.' The worst it got between us - which was never bad at all - was, I said, 'Craig, you're trying to sell me a Maserati and I'm perfectly happy in a BMW.' And he's like, 'I get it.'"
To start, Gary and Craig looked through photos to nail down the home theater style Gary wanted. "I wanted it to be almost like an understated version of a screening room you might see in a '50s movie," Gary says. "I wanted it to just look classic. So the builder, Craig, and I sort of hashed it out, and the builder - who had never done a home theater before - built it as Craig directed."
LATEST VIDEO