GoldenEar Demos Invisible Dolby Atmos System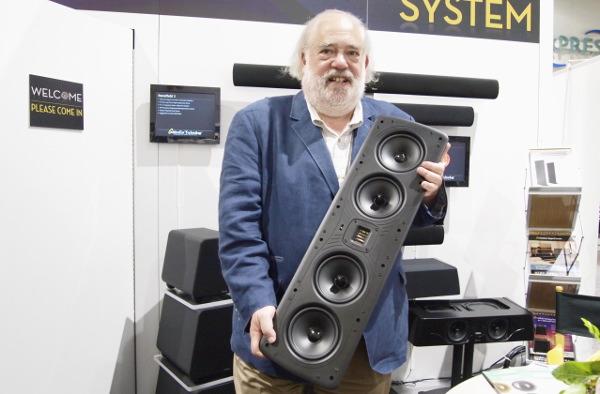 GoldenEar Technology's Invisa in-wall and in-ceiling speakers are taking center stage in a Dolby Atmos home theater demo that includes the company's first Invisa in-walls intended for use as the main front speakers in a stereo or home theater system.
Demonstrated at the CEDIA Expo, the Invisa speakers lack bezels, leaving only their grilles visible so they can blend in inconspicuously with walls and ceilings, especially if the grilles are painted to match the walls.
Three $999-each Invisa Signature Point Source (SPS) speakers up front joined four $499-each Invisa HTR 7000 speakers in the ceiling, two $499-each Invisa MPX in-walls used as surrounds, and four powered GoldenEar in-room subs. They consist of two $1,999-each SuperSub XXL subs and two $1,249-each SuperSub X models, each in different corners of the demo room. They were powered by Parasound amplifiers rated at 200 watts per channel, bringing total system power to 7,500 watts.
The Invisa SPS models are notable for being "significantly smaller" than competing models with similar-size drivers and delivering the impact and dynamic range of in-room cabinet speakers, though not with the depth of bass that in-room speakers can deliver, said GoldenEar founder Sandy Gross (pictured above with an SPS speaker). An SPS speaker measures 28.2 x 8.6 inches and packs a High Velocity Folded Ribbon (HVFR) tweeter flanked by two 5¼-inch woofers on each side.
Another key differentiating feature is a design that delivers the point-source radiation benefits of a concentrically mounted woofer and tweeter — improved dispersion and imaging — without the sonic drawbacks of mounting a tweeter in front of the woofer, Gross said.
The Invisa SPS can be mounted horizontally or vertically, thanks to a rotatable High Velocity Folded Ribbon (HVFR) tweeter that is used in all GoldenEar speakers to extend frequency response to 35kHz without the break-up modes and distortion common to other tweeter types, the company said. The tweeters are also said to deliver the dynamic range and smooth extended response of larger flat ribbons.