Giveaway: Smashing Pumpkins' Mellon Collie and the Infinite Sadness Box Set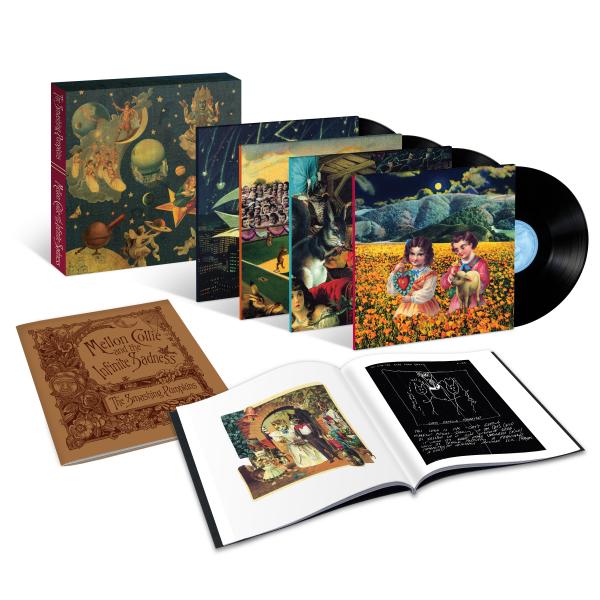 Happy New Year, S+V friends! What better way to break in that new turntable you got over the holidays than with a nice big vinyl box set that we're giving away?
Up for grabs is the Smashing Pumpkins' 1995 masterpiece, Mellon Collie and the Infinite Sadness. Originally released October 24, 1995, Mellon Collie (produced by Billy Corgan, Flood, and Alan Moulder) debuted at #1 on the Billboard 200 Top Albums chart and has been certified 9x platinum by the RIAA. You already know a number of the major tracks by heart, such as "Bullet With Butterfly Wings," "1979," "Zero," and "Tonight, Tonight."
A brief lowdown on what this box set contains:
* 4 LPs / 8 sides (180-gram), original album remastered for first time, 28 tracks
* Never before released on vinyl in the U.S. (original vinyl previously released in the UK)
* Housed in 12x12 rigid slipcase with 2 books containing personal notes, new collage artwork, lyrics, and more
You want? Of course you do. As per usual, to qualify to win, all you need to do is share your thoughts with us. This week's topic - what was your favorite new LP purchase in 2012, and why? Let us know what got you in the groove last year (literally).
One winner will be chosen randomly from among those who leave on-topic comments. Remember, please feel free to say what you like, so long as it's on our wholly vinyl-centric topic.
You will have to register as a user of our site (If you haven't commented before, head on up to the top of the page to the "Register" link, or go straight to the registration page) - no anonymous commenters, as we need a valid e-mail contact address to inform you of your win. For shipping reasons, we can only accept entrants with shipping addresses in the contiguous 48 US states (apologies, international readers and intrepid residents of Alaska and Hawaii). We'll take entries until midnight (Eastern Time), on Wednesday, January 9, and notify the winner via e-mail by Friday, January 11.
Good luck, and happy 2013 spinning!