Getting the Most Out of MightyTV's Movie Discovery App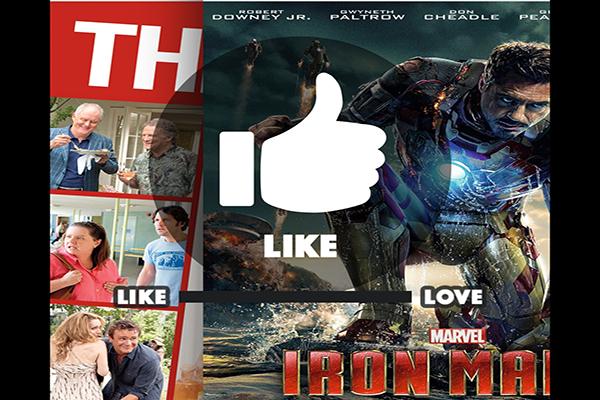 The MightyTV streaming movie and TV discovery app launched today for iOS. It may bring peace into my household once and for all. Until now, when we sat ourselves down to watch a movie, we could spend an hour browsing apps, as each of us takes turns vetoing titles. Now, the MightyTV app can create a mashup of movies we want to watch offering suggestions that will appeal to every MightyTV user in the room.  
But that's only one aspect of MightyTV. Its main feature is that you can assemble a library of movies you want to watch with shortcuts to streaming directly from apps like Netflix, Hulu, HBOGo, and more.  It's easy, fun to use, and has a social aspect so you can see the movie titles that are loved by your friends, co-workers, and family.  
During the initial launch, you'll need to sign up using your Facebook login. This is how MightyTV can connect you to friends who also use the app (similar to the way Netflix and Spotify help you find your friends). Next, you will be presented with one movie or TV title after another. How you swipe through the list determines whether you like, dislike, love, or want to add the title to a watch list.  
Many have likened this kind of user experience to the dating app, Tinder. But its similarity stops with the individual cards displayed and swiping to indicate if you like or dislike the title. Swiping left to right shows that you like the title. Swiping left to right and holding your finger onscreen says this is a movie you love and would watch over and over. Movies that you love appear in your main watchlist library. Swiping right to left indicates that you dislike the title. Tapping the plus icon adds the title to your watchlist for fast access, and swiping upward just skips the title.
It didn't take long for me to realize how to benefit from the judging process. I tapped the plus icon on titles that I haven't seen, but would be interested in watching. This puts the title in my watchlist. I slid right and held my finger to "love" titles that are my go-to movies that I like to watch over and over. These are also the movies that I want to recommend to my friends and family. I swiped left for movies I wouldn't want to watch, or that I didn't like and skipped movies I didn't want to judge at the moment.  
To make it easier to judge an unfamiliar title, tapping on the page displays metadata—cast, director, and a short summary. It also displays any badges that indicate if the movie was a box-office hit, an audience favorite, won awards or was otherwise critically acclaimed, and so forth. On more than one occasion, I was able to judge if I wanted to see the movie based on the trailer that begins instantly when the metadata page is shown.  This page also shows from which services the movie or TV show is available for streaming.  
What makes MightyTV truly mighty is that it searches a number of services that allow you to stream instantly. At any time, you can check off the subscription services that you want to search@mdash;Netflix, Amazon Prime, Hulu, HBO, Showtime and Cinemax@mdash;as well as indicate if you want to search for rentals and purchases (Amazon or iTunes). A slider lets you choose the maximum price you'd want to spend on a rental or purchase. Tapping on the service from the metadata page in the title stack, or in your watch list library, lets you play the movie or TV show instantly.  
Once you have judged a number of titles, your library is ready. To access your loved shows and watch list, tap the bottom-center person icon.  Here, you can also see a bar chart of your activity@mdash;how many titles you liked, disliked, skipped, loved, or added to your watch list. Tapping on a bar displays a list of these titles, so you can change your mind and add it to your watch list or tell the app you dislike the title.  
To play a movie, tap the cover art in your watch-list library to display the metadata screen. Then tap the service to launch the app and start the title playing instantly. Most of these apps can stream to your TV, either using Airplay or Chromecast/GoogleCast.  
I tested playing from the MightyTV app by tapping on The Hundred Foot Journey on Showtime. This opened the Showtime app. But I had to do a search to find the movie. The same thing happened when I tapped Hector and the Search for Happiness on Netflix. Salmon Fishing in the Yemen played instantly on Amazon Prime, as did Book of Life (a find I hadn't heard of before) on HBO Go. To watch a TV show required first choosing the season and episode on the MightyTV page, but it then instantly played from the streaming service once chosen.  
I discussed this issue by phone with MightyTV's Founder and CEO Brian Adams, who assured me that the button on the metadata page usually starts the movie playing immediately in the chosen app. He said the MightyTV team is working on any broken links.  
The social aspect of MightyTV takes its cue from the success of apps like Spotify, but goes a step further. Once you connect to your friends' movie lists, they appear in the "friends" library screen, so you can see the movies they like or love. Unfortunately, at launch, it simply displays the top ten titles that your friends (as a whole) liked, disliked or loved. I hope they'll show it by friend in the future so you know the source@mdash;a quirky friend or someone whose taste you trust. By knowing who likes a title, you could also discuss it with your friend later.  
Adams told me that he and his team tested the idea of seeing a list of movies that were loved by their social community. The focus groups confirmed that "they would choose a movie based on what their co-workers or friends were watching," Adams said. "When they didn't know what a movie was, one of the best things was to have an opinion of a friend."  
Tapping on the list icon brings up "My Watchlist." Along with the movies you have chosen for your watchlist, this is where you can find the option to mashup your list with that of your friends. Pressing Mashup and choosing a friend reveals a list of movie titles that you might enjoy watching together.  
MightyTV's unique algorithms for suggesting movies that you might like makes it stand out from other discovery apps. Adams discussed the theory behind this. "Putting recommendations into broad buckets doesn't work," he said. "People are multi-dimensional in personality. You can't paint people with one brush."  
He explained that MightyTV has taken a different approach from the typical way apps recommend movies@mdash;by plot lines or genres@mdash;because we often don't know why we like what we do.  
He described his own experience: "While I like Saving Private Ryan, I don't like war movies in general," he said. MightyTV's movie recommendations are based on what you love and what is exceptional@mdash;which, in Adams case, is really good war movies. "It's qualitative, not just the content," he said. "We assume that you will be unique. Unpredictable is the normal."  
This discovery algorithm makes MightyTV a good search-and-recommendation app, whether or not you have friends who also use it. The app has an ambitious number of features, but its impressive team should be able to get it running smoothly. One of the initial bugs is that the link to share the app with friends isn't working. If you want to download it search for MightyTV in the iTunes app store, or go to Mighty.tv If it can gain the popularity of Spotify, and can offer the ability to follow a friend's watchlist and see any updates@mdash;similar to the Spotify model@mdash;it could be the first all-around video go-to app.