The Gadget Girl: Travelin' Gear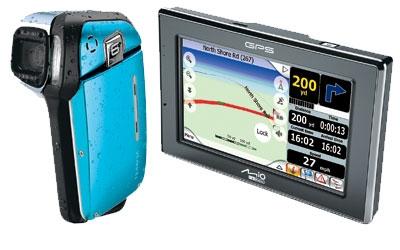 There's no shortage of camcorders or portable navigation devices out there, but here are a few that offer the basics plus a few unique perks. Available in surf-inspired colors like yellow, white, and a turquoise-blue, SANYO's Xacti E1 camcorder (right, $500; us.sanyo.com) is truly waterproof - and minus any bulky casing. Shooting 640 x 480 video at 30 frames per second (as well as 6-megapixel stills), it can go 5 feet underwater for up to 30 minutes. A 2.5-inch screen flips out from the camcorder and rotates 285º for added maneuverability. A speedy start-up time of 1.7 seconds lets you get wet right away.
For action-oriented landlubbers, TWENTY20's wearable "hands-free" camcorder, the VHOLDR ($350; vholdr.com), is due in stores this fall. Not much larger than a cellphone, it mounts to nearly any object, so you can automatically record and store video to SD while biking, hiking, or motorcycling.
GPS gadgets have evolved dramatically since being introduced primarily for boaters and hikers. MIO TECHNOLOGY's DigiWalker C520 (above right, $400; miogps.com) not only gives spoken directions but stores music and movies in its 2-GB memory (or to SD). Hot feature: The 4.25-inch screen can either display a full map or be split to show a map on one side and information on the other (say, an upcoming gas station or pizza place). It's preloaded with maps of the U.S. and Canada plus 6 million points of interest. Pair this device with your Bluetooth-enabled cellphone for hands-free calls from the C520's integrated mike and speaker.