The Gadget Girl: iPod Madness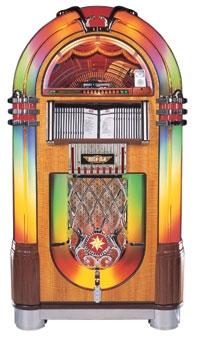 I'm one of the few people on the planet who isn't iPod-obsessed, but for those who are, the next wave of related gadgets has arrived. ROCK-OLA's iPod Bubbler jukebox (right, $6,000; rock-ola.com) was a head-snapper at CES, where I first saw it. The machine has the classic design - with eight lighted bubble tubes and four rotating color cylinders - but it's outfitted with an iPod dock and remote, so you can access and control your play­list from anywhere in the room. The jukebox also holds 100 CDs, which it spins old-school style while pumping out 360 watts through its five Peavey speakers.
To send your music to other rooms, CREATIVE's Xdock Wireless ($200; creative.com) houses your iPod and streams music to the company's X-Fi Wireless Receivers ($100 each), which can be set up in the bedroom, kitchen, or anywhere else (but must be no farther than 100 feet from the base station). The dock has composite- and S-video outputs for playback of photos and video on your TV.
Poolside with your 'Pod? Dive in with ATLANTIC's EGO Waterproof Sound Case ($200; atlantic-inc.com). Winner of a 2007 CES Innovations award, the case actually floats (it's resistant to pool- or sea-water corrosion) and houses 4G and 5G iPods as well as the Nano and the Mini.
The PHILIPS DCP850 Docking Entertainment System ($200; philips.com), a portable DVD player with an iPod dock, is the perfect combo for any room or road trip. Enjoy movies and videos on the laptop-style player's 8.5-inch swivel widescreen.
For more great iPod gear, check out our iPod Info Center.
Read Last Month's Gadget Girl Back to Homepage What's New on S&V