Gadget Gary: Powermat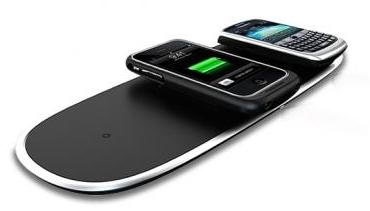 | | | If you're a follower of this column, you know that two of my recurring themes are 1) gadgets are fun and 2) they make my life easier. So I'm always on the hunt for things that are new and different. During my maiden visit to the Consumer Electronics Show in Las Vegas last January, I saw some very cool products that fell under that umbrella. One item that really caught my eye was the Powermat ($100; powermat.com), a charging pad for all of your wireless devices. |
| --- | --- | --- |
Plug it in to any electrical outlet, place your devices on the pad, and see them charge - and charge fast. Nice.
If you're a follower of this column, you know that two of my recurring themes are 1) gadgets are fun and 2) they make my life easier. So I'm always on the hunt for things that are new and different. During my maiden visit to the Consumer Electronics Show in Las Vegas last January, I saw some very cool products that fell under that umbrella. One item that really caught my eye was the Powermat ($100; powermat.com), a charging pad for all of your wireless devices. Plug it in to any electrical outlet, place your devices on the pad, and see them charge - and charge fast. Nice.
As great as this is for my wireless devices, the applications seem limitless. At the 2009 CES, Powermat had a large demo area that showed the scope of this technology. Using a KitchenAid mixer on top of a decent-size kitchen counter, it showed how you no longer have to be a slave to an outlet by freely moving the mixer all over the counter space without a cord. The device was powered by magnetic induction.
Powermat also showed how this technology could be embedded directly into a piece of sheetrock. It demonstrated this benefit by using two sconces with magnets on the back. And if you don't like the placement of the sconces, you're not stuck; you can move 'em. Just bought a 60-inch HDTV? No problem. Move the sconces farther apart.
Now back to the charging at hand. The Powermat comes with a universal Powercube that enables charging for hundreds of devices, but there are also a few specific adapters known as Receivers (ranging from $30 to $40) for use with Apple, Nintendo, and BlackBerry products. For instance, I have a BlackBerry Bold. Once I attach a Battery Door Receiver ($30) to the back of it, all I have to do is place it on the mat and it starts charging. How do you know you're connected? The sound you'll hear when the device and the mat make the special "magnetic handshake" is a blip not unlike the sound the Communicator makes when flipped open on Star Trek.

The Powermat allowed me to finally throw that clump of spaghetti wires under my desk in a drawer. With the mat, I can charge an iPhone or iPod touch as well as my iPod. Apple's docking device, which retails for $40, sits right on it.
I'm currently using three different Powermats. I have one in my work office, one in my home office, and one in my kitchen that my family shares. Travel a lot? There's a portable mat (also $100) that folds up into a very nice carrying case. Throw it in your travel bag. Now you don't have to stuff four or five different chargers into your luggage.
And if you're concerned about being green, one Powermat uses less energy than if all your other chargers were plugged into the wall. It also charges your devices about 20 percent faster than a regular charger. I can see these mats being used in hotels and other large businesses as a way to save energy (and money).
All of this is very Jetsons. It's fascinating to see how things I watched as a kid that seemed like fantasy are slowly becoming reality. You might even say I'm charged up about it.
Read more about Gary and his gadgets at soundandvisionmag.com/gadgetgary