Free Arts & Culture Streaming: From Shakespeare at the Globe to the Met, and More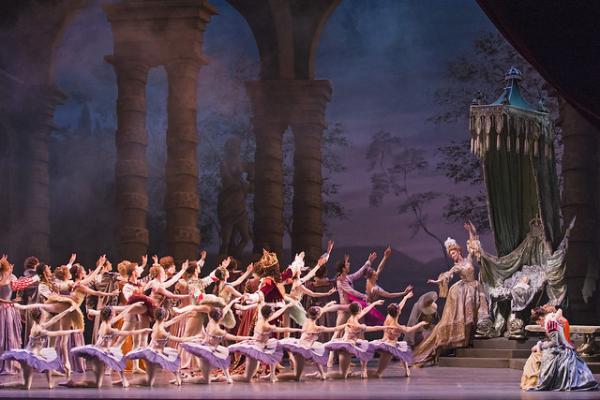 After bingeing
Tiger King: Murder, Mayhem, and Madness
, you might be ready for some art and culture. As many of the world's famous venues have been temporarily shutdown due to the coronavirus pandemic and social distancing requirements, they are turning to streaming of classic performances. To satisfy fans, and perhaps attract those who haven't attended a show, the theaters are offering free streaming of videos for a "limited engagement." There's never been a better time to experience a Shakespeare play from the Globe Theater, a performance of the Royal Ballet, or to check out the Metropolitan Opera.
Theater (or "Theatre")
From London's National Theater to Broadway plays, it's never been easier to stream past live performances. Some plays are offered for free on the theater's YouTube channel. Others can be streamed via Netflix, Amazon, Google Play, iTunes, or Vudu.
If you have a specific play in mind, you can search for it on Filmedonstage.com. The website works to find plays similar to how Reelgood finds movie and TV titles. Once you find the title you want, you can watch a trailer or click to go directly to the site where you can stream it. Several listed titles are video-on-demand rentals. For example I found Springsteen On Broadway on Netflix. Click on the "Free Shows" menu to discover which plays and musicals are available for free during the coronavirus shutdown.
BroadwayHD is an app that is available on Roku, Amazon FireTV, iOS, Apple TV, and Android devices. Here, you will find many new and classic plays that have been filmed on stage. Broadway HD is offering a 7-day free trial. After the trial period, a subscription runs $9 per month.
Andrew Lloyd Webber is streaming his megahits in partnership with Universal. The program started last Friday (April 3) with Joseph and the Amazing Technicolor Dreamcoat and will feature a different Lloyd Webber musical each week on The Show Must Go On YouTube channel. The shows will go live on Friday at 2 p.m. ET (11 a.m. PT) and be available to view for only 48 hours. The next musical in the lineup is Jesus Christ Superstar available on April 10.
Though the National Theatre Company in London is closed, the venue is streaming a different play each week from the National Theater at Home YouTube channel. Each play has a limited engagement, premiering at 2 p.m. ET (11 a.m. PT) on Thursdays and is available to watch until 3 hours before then next play premieres on the next Thursday.
The schedule for April is:
Jane Eyre, April 9-16
Treasure Island , April 16-23
Twelfth Night, April 23-April 30
Perhaps you want to watch a classic Shakespeare play starring accomplished Shakespearean actors on the Globe Theater stage. Every other week The Globe Theatre is streaming one of the Bard's classics. You can watch for free on the Shakespeare's Globe YouTube channel.
The schedule of free titles is:
Hamlet (2018), April 6-19
Romeo & Juliet (2009), April 20-May 3
A Midsummer Night's Dream (2013), May 4-17
The Winter's Tale (2018), May 18-31
The Two Noble Kinsmen (2018), June 1-14
The Merry Wives of Windsor (2019), June 15-28
Opera and Ballet
Now that you are a captive audience, and possibly have time on your hands, this may be your opportunity to see an opera or watch a ballet. If you are an opera fan, Peter Gelb, general manager of the Metropolitan Opera in New York, understands that you might be missing this spring's Opera season, "We'd like to provide some grand opera solace to opera lovers in these extraordinarily difficult times."
Gelb continued, "Every night, we'll be offering a different complete operatic gem from our collection of HD presentations from the past 14 years." The Metropolitan Opera is streaming encore presentations from their Live in HD series. Each title is available free on their website for 23 hours. Go to the Metropolitan Opera's home page for links to this week's operas. If you miss the free nightly opera, it will be available to rent for $5.
London's Royal Opera House YouTube Channel is streaming operas and ballets each Friday through April. They call it the #OurHouseToYourHouse initiative.
The schedule is:
Così fan tutte (Royal Ballet, 2010), April 10
Metamophosis (Royal Ballet 2013), April 17
Gloriana (Royal Opera, 2013), April 24
The Winter's Tale (Royal Ballet, 2014), May 1
For more ballet, check out Moscow's Bolshoi Ballet YouTube channel. Each week a new full-length performance will stream. It is uploaded at noon ET each Tuesday. The next ballet will be The Nutcracker on April 10. The videos are only available for 24 hours.
If you like what you see, you may want to subscribe to the Marquee TV app that offers streaming of opera, ballet, modern dance, and theater from around the world including videos from the American Masters, Royal Opera House, Zurich Opera House, Teatro Real of Madrid, The Bolshoi Theatre, and the Royal Shakespeare Company. Watch Akram Khan's Giselle performed by the English National Ballet or A Swan Lake performed by the Norwegian National Ballet. Right now, you can get a 30-day free trial. It runs $9 per month after the trial period.
On April 12, Easter Sunday, you can catch Andrea Bocelli's Music for Hope. Bocelli will be singing in the empty Duomo Cathedral of Milan. It will stream live on April 12 at 1 p.m. ET (10 a.m. PT) on Bocelli's YouTube channel.
During this shutdown, there is a plethora of content, from the ridiculous to the sublime. Watch in good health.