Focal Vestia No.3 Surround Loudspeaker System Review
PRICE
$5,500
AT A GLANCE
Plus
Strong and clear sound
Excellent imaging
Made in France
Minus
Best with a subwoofer for action films
2-way center speaker
THE VERDICT
Unless it happened in the long forgotten, misty days of my earliest reviews, I can't recall ever before reviewing a Focal loudspeaker. But years ago, I did visit the Focal factory in France and was impressed by the company's forward, creative thinking. That remains true today, as the new Focal Vestia lineup clearly demonstrates.
Focal is a long-established, high-end French loudspeaker manufacturer that invests heavily in R&D to stay ahead of its competitors. While its flagship models have always commanded nosebleed prices, the new Focal Vestia line (three floorstanders, a bookshelf model, and the Vestia Center) tops out at $4,400/pair in the U.S. for the Vestia No.4. Not exactly white van prices, but more than competitive in the international loudspeaker market.
Many brands with Western names and ownership opt to manufacture their products in China or countries in East Asia to minimize expenses. Although this isn't necessarily a downside—many of these designs are excellent—Focal stands apart by designing and manufacturing all of its loudspeakers in France. This commitment to local manufacturing extends even to their key components, such as cabinets and drivers. While some smaller elements like resistors, capacitors, and inductors for crossover networks may inevitably be sourced from Asia, Focal maintains its primary production within France.
Design
For this review, Focal provided us with Vestia No.3 speakers for the left and right channels, a Vestia Center, and Vestia No.1 bookshelf models for the surrounds. Positioned just below the top-tier No.4s in terms of features, the No.3 speakers feature three 6.5-inch woofers compared to the No.4's two 8-inch woofers. While Focal offers a range of compact subwoofers, they were not a good fit for my spacious listening room. When additional bass was required, especially for complex soundtracks, a pair of SVS PB-3000 subwoofers performed admirably.
The Vestia No.3 is designed as a three-way system, incorporating three 6.5-inch woofers, a 6.5-inch midrange, and a 1-inch "M-shaped" inverted dome tweeter, referred to as "TAM" for home audio applications. The cones are made of Slatefiber, a material first introduced in Focal's Chora range. The speaker includes both a front and a rear bass port and features a single pair of multi-purpose binding posts, making biwiring unfeasible. Though magnetic grilles are available, I chose to leave them off during my tests.
The Vestia No.1 bookshelf speaker is a two-way, front-ported design with a 6.5-inch Slatefiber woofer and a TAM tweeter. The Vestia Center follows a similar two-way design, featuring two 6.5-inch Slatefiber woofers, two rear ports, and a TAM tweeter.
All Vestia models are adorned with a leather-like wrap in either black or white that covers the front baffle, top, and back. Side panels are available in high-gloss black or in a choice of wood finishes. The No.3s are equipped with a short plinth that slightly tilts the speaker backward. To adjust for a height difference between my seated ear level and the speaker's tweeter, I used shims under the rear of the speaker.
The Vestia Center speaker design deserves mention. While it performs well for listeners seated directly in front, it's less optimal for those situated off-center. In such positions, the dual woofers can cause a noticeable dip in frequency response, most evident around 2kHz in my room. The Vestia lineup would significantly benefit from an advanced three-way center speaker design. Implementing such an upgrade could substantially improve the Vestia system's overall performance rating.
Setup
I positioned the Vestia No.3s about eight feet apart near the front of the room, roughly four feet out from the wall behind them, and angled in toward the center listening seat. The closest sidewall was about three feet from the left speaker. The Vestia No.1 bookshelf speakers, used here as surrounds, were positioned high up near the back of the room. The room cannot accommodate Dolby's recommended positioning—on the sides of the room, behind the listening position and just above ear height. The Vestia Center, placed on a low stand that angles it slightly upward, was centered between the No.3s and about a foot in front of and below the TCL 85-inch TV I recently reviewed.
A pair of SVS PB-3000 subwoofers were also included where needed—one located at the right front of the room and the other at the left rear. My listening room and setup produce a significant peak between 100 and 200 Hz at the main listening seat—to one degree or another, on every loudspeaker I've reviewed in this space, including the Vestias. Rearranging the room is not an option. The only way to address this—and audition the speakers as they'd sound in a room without this issue—is to use equalization. As I've done in the past, I dialed in Audyssey room correction below 500 Hz. This was implemented on the Denon AVR-X6700H receiver, which also drove all the main speakers—apart from the powered subwoofers when they were used.
All the source material I used here was from discs, including CDs, Blu-rays, and Ultra HD Blu-rays. I used an Oppo UDP-203 Ultra HD Blu-ray player for both music and movies. It was connected to the Denon AVR via HDMI for movies and via a coaxial link for 2-channel music. All the Vestia speakers were auditioned without their grilles.
Music
I did all my music listening in 2-channel stereo from the left and right channels only, employing the Audyssey room correction described above. But I also realized very soon that without subwoofer support in this arrangement the bass was lean. This was no surprise and no reflection on the Focal Vestia No.3s. My room, in addition to the mid-bass peak that Audyssey helpfully removed, also has poor support for the deep bass. This will not be an issue in many smaller (or less open concept) rooms.
I could have cured it by additional Audyssey tweaking but preferred to leave the Audyssey untouched and instead simply dialed in the Denon AVR's Bass control to +3. This won't necessarily be ideal for all rooms and all AVRs, whose bass control curves might differ. (It's also a violation of Amendment 2 to the Audiophile Code, but I did it anyway). My goal was to eliminate as much of the room's effect on the Focal's bass performance as possible when used without a subwoofer. Low bass and mid-bass issues (apart from ultimate deep bass reach) are almost universally produced by the room and/or loudspeaker placement when played at levels short of audible distortion.
A bass boost of this degree makes significant demands on both the loudspeakers and the AVR's on-board amplifiers. Thankfully, at any sensible playback level neither the Focals (whose sensitivity is rated at a higher-than-average 92dB) nor the Denon AVR was audibly disturbed by the added stress (though it's likely certain that some source, somewhere, might challenge this configuration).
To clarify any confusion below about the application here of Audyssey room Eq and/or the +3dB bass tweak, Audyssey below 500 Hz was engaged for all the following discussions. Only when the subwoofers were off was the +3dB adjustment dialed in with the bass control. The bass control was always returned to zero whenever the subwoofers were used.
This was the first time I've experimented with a +3dB tweak in this room, but with the Vestias it worked beautifully on some of the most challenging material in my collection. The bass was striking, including drums of all sorts (including aggressive Kodo drums), both classical string bass and double bass, and electronica of all sorts. Other music genres worked beautifully as well. Female voices were natural and well-positioned suspended in a well-defined soundstage without unnatural sibilants. Percussion instruments were as crisp and accurate as they needed to be without unnatural edginess. While the image depth was not jaw-dropping—likely because, as for many of you, a flat-screen TV sits just a foot or two behind the plane of my front speakers—it was convincing when present on the recording.
So, without a subwoofer or two, the bass from the front pair of Vestia No.3s is unlikely to disappoint anyone shopping in this price range. But adding in a pair of subwoofers carried them to another level. The Focal speakers blended seamlessly with the two SVS PB-3000 subs I used. And for movies, I recommend adding a sub or (even better) two.
Movies
I began my surround testing with one of the best soundtracks in my collection: Blade Runner 2049. It's a challenge for any system in a large room without at least one good subwoofer. I started cautiously with the Vestia No.3 towers left and right, driven full range without a subwoofer (but here without the +3dB boost--I know well the challenges offered by this soundtrack). The rest of the system consisted of the Vestia Center and the pair of Vestia No.1 bookshelves as surrounds. But on the first impact of the bass at the very beginning of the film, the left Vestia emitted some ugly crackles that had me diving for the Blu-ray player's pause control. Fortunately, the Vestia exhibited no sign of damage, but given that experience I used a pair of SVS PB-3000 subwoofers for the remainder of my surround home theater auditioning. I also raised the level of the subwoofers slightly, above the levels shown in the Test Bench results, to which the system responded readily, with powerful but not overblown bass. The blend of the Vestias with the subwoofers was superb. But to keep the system fully Focal-ed apart from the subs, I shut down the Dolby Atmos overhead speakers for this review.
I don't want to give the impression here that the Vestia No.3 towers, sans subwoofers, would be insufficient for an excellent surround-sound setup for music and movies. Your room may be smaller than mine, your preference of playback levels different, and your choice of source material less challenging. But in general, any good home theater setup deserves one or two good subwoofers. You could, in fact, save significant money, and achieve the same results, by selecting a pair of the Vestia floor-standing No.2s ($800 less per pair U.S. than the No.3s) and put the money saved toward a good subwoofer. We didn't have No.2s on hand to audition in such a setup, but logic (and comparing the specs of the No.2s and the No.3s) suggests that this option would make both sonic and fiscal sense. So why does Focal offer such a wide range of Vestia models? Because, as with all manufacturers, it must configure its product lines to appeal to a wide range of buyers. And there are legions of 2-channel audiophiles who would never consider a subwoofer.
In any event, the Vestias plus subwoofers as auditioned here left nothing on the table. Blade Runner 2049 sounded incredible on the system, from its deep growling bass to its astonishing range of music and effects. The subwoofer-ed Vestia system grabbed it all and never let go, producing a remarkably cohesive sound space. I have my issues with all 2-way center speakers, as noted earlier, when heard from off-center. But from my center listening seat the Vestia Center blended seamlessly with the rest of the system. The dialogue was consistently clear, hampered neither by mid-bass thickening nor fizzy sibilants. Overall, the system fully engaged my senses, from the film's biggest scenes to its quietest moments. The reproduction of the film's environmental subtleties was particularly effective in drawing me into scene after scene. Perhaps I was simply in the right mood, but I don't believe I've ever before heard this film sound so consistently impressive.
I've viewed some or all of the recent animated musical film Encanto many times since acquiring the 4K disc and never tire of it. Both its visuals (in superb HDR) and its audio (particularly the songs from Lin-Manuel Miranda, best known for his work in the Broadway hit Hamilton) were first rate. The musical fun begins as the lead character, Mirabel, describes her family to local children in their small Colombian town--a song clearly meant to give the viewer valuable information. The lyrics here are rapid-fire, and while it's a challenge to follow the words, the Vestia Center didn't let me down. None of the other songs are quite so densely scored, but the music here, together with the sometimes-surprising effects as Mirabel encounters her long-missing, black-sheep uncle Bruno (no one talks about Bruno!) were child's play for the Vestia system.
I was familiar with both above soundtracks before Vestia made them so vivid, but the biggest surprise was yet to come. I have a number of disks, 4K and otherwise, cooling on my shelves waiting for the right mood to strike for a first look. It struck here on Spiderman: Into the Spider-Verse. If you've seen it, you'll understand my mixed feelings about its story (easy to follow in a broad-brush way but often convoluted in its details). Nevertheless, I've rarely seen more stunning animation, or a more striking use of 4K HDR video. But audio is our main event here, and when I could wrest my attention away from the visuals it was clear that the film's sound, as heard on the Vestias, kept pace with the brilliant production design step by step. As in the other films referenced above, it was clear that the Vestia speaker system didn't detract from the jaw dropping experience in any way.
Conclusion
The Focal Vestia series makes a compelling argument for quality craftsmanship in a market saturated by cost-effective alternatives. With its innovative design, use of unique materials like Slatefiber, and remarkable performance, the Vestia line lives up to its brand's reputation. However, there is room for improvement in the center speaker's design, particularly when it comes to off-center listening experiences. If you're shopping in this price range and are discerning about audio quality, the Vestia series deserves thoughtful consideration. Yet, if you're considering a full home theater setup, don't skimp on a good subwoofer to complete your audio experience; the SVS PB-3000 pair used in our test proved to be an excellent match. Overall, the Vestia line manages to maintain Focal's heritage while offering a competitive option for today's audio enthusiast.
Specs
Vestia No.3 ($3,600/pair):
3 x 6.5-inch Slatefiber cone woofers, 6.5-inch) Slatefiber cone midrange, 1-inch) Al/Mg TAM tweeter; WxHxD: 10.125 x 44.125 x 14.75 (inches).
Vestia Center ($700):
2 x 6.5-inch Slatefiber cone woofers, 1-inch) Al/Mg TAM tweeter; WxHxD 21.125 x 8.25 x 10.25 (inches).
Vestia No.1 ($1,200/pair):
6.5-inch Slatefiber cone woofer, 1-inch) Al/Mg TAM tweeter; WxHxD 8.625 x 15.25 x 10.25 (inches).
Test Bench
These in-room measurements were made using the Parts Express Omnimic measuring software and microphone at ear height in the main listening position about 10-feet from the left and right speakers. The results shown here are for the Focal Vestia No.3 (left channel only except as noted) either driven full range without subwoofers, orwith two SVS PB-3000 subwoofers and the Vestia No.3s crossed over at 90Hz.
All of the measurements were made the main ear position, not an average of several positions. Experience has shown that an average of several readings in my room, taken across a L/R span of about 2 feet, differs little from the single position measurement apart from smoothing out small ripples in the response. None of the curves shown here used the +3dB bass tweak referenced in the text. All of the curves were 1/6th octave smoothed. Crossovers to subwoofers when used: 90Hz.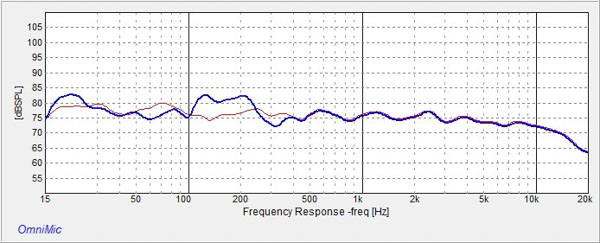 Fig. 1 Left channel with 2 subwoofers: Blue: no Audyssey room EQ. Red: with Audyssey room EQ in Reference mode. EQ only below 500Hz.
Fig. 2 With 2 subwoofers. Red left channel, Blue right channel, both with Audyssey in room EQ Reference mode, EQ only below 500Hz.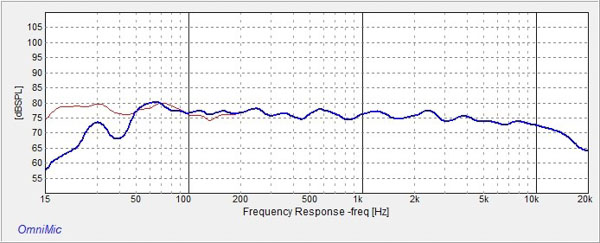 Fig. 3 Left channel. Red with 2 subwoofers. Blue without subwoofers. Both with Audyssey EQ below 500Hz.