FLO TV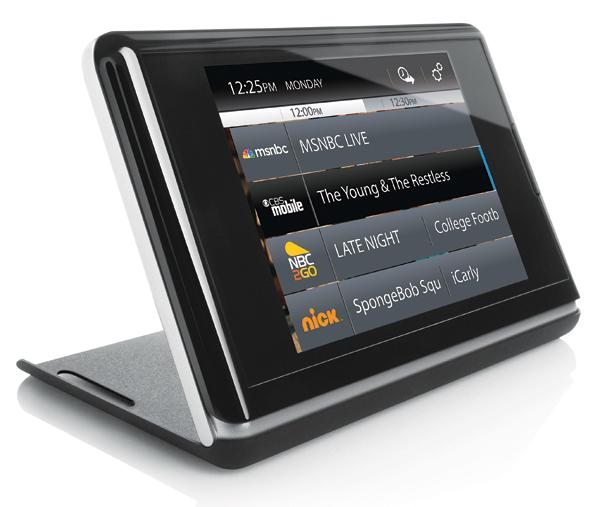 Figuring out how to watch TV while I'm out of my house has always been a challenge. I got a black-and-white Sony Watchman as a gift for Christmas in 1985 that worked pretty well for the time; I took it to the pool to watch Mets baseball and to my son's basketball games to watch Jets football. Like an old car with 150,000 miles on it, the Watchman wasn't fancy, but it got me where I wanted to go.
Over the years, I've tried other products, but none worked as well, so I continued to use the antique Watchman. It was Old Reliable. But when I pulled it out recently to try to catch a football game while on my way to a family event, I couldn't get a picture. At first, I couldn't figure out why, and it was making me crazy. Then it hit me: It's an analog receiver in a digital world. Damn! I sadly laid my Watchman next to my 8-track tape player and went in search of the next way to watch portable TV.
I found it by getting my hands on a FLO TV ($200; flotv.com). It's a mobile handheld device that gives you live TV as well as pre-programmed hit shows 24 hours a day, 7 days a week. Reminiscent of an iPod touch, the TV weighs in at a svelte 5.4 ounces and has a 3.5-inch QVGA touchscreen display.
After a very short and easy setup, I was watching live TV — sort of. And therein lies the rub with FLO TV. You do get a good amount of channels like ABC, CBS, NBC, MSNBC, CNBC, Fox News, and the Food Network, to name just a few. (Beware: While certain channels are free, the full programming slate costs an additional $150 for a year or $200 for 2 years.) Problem is, the programming isn't always live. For example, as I write this, CBS is showing CSI, ABC has Desperate Housewives, and Fox has Lie to Me — at 10 in the morning.
True, this is great for 10 a.m., since it gives me a chance to watch shows I've missed and to skip boring early-morning programming. On the other hand, NBC offers Today live, and ESPN has live sports news. It's all a bit confusing.
Another disappointment: When I took the TV to my friend's daughter's bat mitzvah in hopes of watching an all-important, nationally televised Jets playoff game, NBC was instead offering a rerun of The Jay Leno Show. Definitely not what I had in mind.
Still, this is a pretty cool device. It has a great picture, the battery lasts 5 hours, and it's extremely easy to use. The menu on the touchscreen couldn't be simpler. It also has a very nice built-in custom stand so you can set it on a desk or table top. The sound was surprisingly good, and you can also use headphones with it.
I do wish there was an aux input so I could plug the TV into the back of my SUV for the kids to use. After all, it would be great for long trips — or for when you're stuck somewhere just waiting around, as I was when I needed to get an MRI on my ankle at the hospital and I had to wait 20 minutes. Let me tell you, FLO TV was way better than an outdated issue of Golf magazine. Hopefully, in the near future, it will go completely live. But for now, I'm really digging it.
Oh, by the way . . . does anyone want to buy a, er, vintage Sony Watchman?
Gary Dell'Abate is the executive producer of The Howard Stern Show. Besides talking tech recently on Geraldo at Large, he does the new-gear thing during regular Gadget Gary segments on WPIX Morning News in New York City.