Flat. Wide. Networked. Digital.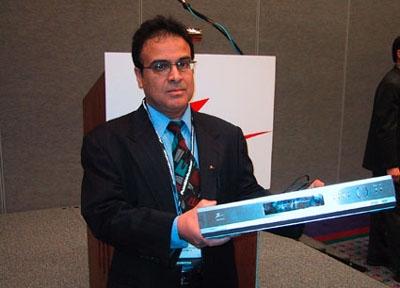 That's a concise summary of the myriad press conferences held the day before the official opening of the 2003 International Consumer Electronics Show in Las Vegas. Every company also announced new set-top boxes or TVs with integrated digital high-definition cable tuners that conform to the standards agreed to last fall for security and copy protection. John Taylor, spokesman for Zenith, opened the first press event of the day by declaring, "We've reached a milestone in the industry. The early-adopter phase of digital TV is behind us." With that Zenith announced 40 new products, including 12 models of thin, flat LCD and plasma displays in eight screen sizes. These included a prototype widescreen 52-inch LCD set (no price or delivery date announced) and plasma displays with 1,000:1 contrast ratios. The 50- and 42-inch models include built-in HDTV tuners-Zenith claims these will be the first integrated plasma HDTVs on the market. No prices were announced, but they'll be available in the second half of this year. A few months later Zenith will introduce the DLP52W37, a 52-inch Digital Light Processing (DLP) rear-projection HDTV with integral tuner for under $4,000. Among a multitude of DVD players and recorders, Zenith showed the HDR 230, a digital video hard-disk recorder, or HDR (sometimes referred to as a personal video recorder, or PVR) that records up to 9 hours with its built-in HDTV tuner. When it arrives in April the price will be about $1,000.
Zenith's director of technology displays the HDR 230 video hard-disk recorder. Available in April for about $1,000.
In the realm of digital recording, Pioneer displayed two new models. The DVR-002H combines an 80-gigabyte (GB) HDR with a DVD-R/RW recorder, which permits recording a program onto the hard drive while you watch a DVD. It can also transfer a 1-hour program from the hard drive to DVD-R in about 2 1/2 minutes. Pioneer promises this $999 deck this summer. A new entry-level DVD-R/RW recorder designed to replace the VCR, the DVR-001, arrives at the same time for $625-substantially more than a good VCR. Panasonic, as usual, showed a wide range of products, from the micro to the macro, emphasizing "3D" for digital TV, recordable DVD, and SD memory card-enabled products. The SV-AV30, in Panasonic's e-wear line, is a four-in-one combination of digital video camcorder/recorder (it can record from an external video source), digital still camera, digital audio player, and digital voice recorder. It accomplishes all of this strictly with an SD card in a unit that easily fits in a shirt pocket yet has a 2-inch swiveling LCD screen. It records moving video using MPEG-4 encoding. It will debut in April with a 64-megabyte (MB) SD card for $400. Panasonic, however, promised a 1-GB SD card within the year.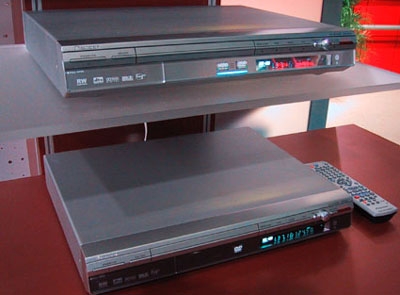 Pioneer's new DVD-R/RW recorders: the DVR-002H (top, $999), which also has a hard-disk recorder, and DVR-001 (bottom, $625). Both will be available this summer.
The VDR-M30 digital camcorder records directly to an 8-cm 1.46-GB DVD, in either the DVD-RAM or DVD-R/RW formats, or to an SD card. This is where that 1-GB card will really be useful. Using Panasonic's variable-bit-rate technology, the camcorder can record up to 120 minutes of video or 1,998 still images. Look for it this spring for $900. Panasonic's 4-inch-thick enhanced-definition 42- and 37-inch plasma displays with built-in tuners boast an amazing 3,000:1 contrast ratio. They're scheduled to be available this summer at a price to be announced.
Panasonic goes straight to disc with the ultra-compact VDR-M30 DVD camcorder. Available this spring for $900.
To complement the displays, Panasonic introduced its newest DVD recorder, the DMR-E50. What makes this special is that it can perform many of the same functions of a hard-disk recorder using a DVD, thanks to Panasonic's DVD-RAM technology. For example, you can watch a TV show from the start while it continues recording, or watch one program from the disc while recording another. It also records up to 6 hours on DVD-R discs, or up to 12 hours on a DVD-RAM disc. Super high-quality recording on DVD-R provides 1 hour per disc. The DMR-E50 plays back virtually every optical disc format except SACD and DVD+R/RW. Priced at $600, it will be available in March. RCA showed its HDLP50W151 50-inch widescreen rear-projection HDTV utilizing Texas Instruments' second-generation DLP technology. It comes with a built-in HDTV tuner and includes high-speed broadband connectivity for networking and Internet browsing using the Windows CE operating system for $4,499 this fall.
RCA's Lyra RD-2780 A/V jukebox gives you sound and vision in a very small package. Available in June for $399.
On a smaller scale, about the size of a small egg, RCA's RD2760 Lyra Micro Jukebox comes with 1.5 GB of storage for $199. If you want video with your audio, the palm-sized RD2780 Lyra audio/video jukebox has a 3 1/2-inch LCD screen and a 20-GB hard drive and is compatible with multiple audio and video codecs. It uses MPEG-4 to record video and will store 300 hours of audio using the included MusicMatch software in MP3, MP3pro, and Windows Media Audio formats. It connects to most standard TVs if you want big screen playback. It will be available in June for $399. Philips joined Zenith with 52- and 42-inch LCD TVs, admitting they were jointly developed with LG Electronics, the parent of Zenith. No price or date were announced. Philips also showed key-ring digital cameras (up to 2 megapixels) and key-ring MP3 players, which have USB connectivity. Both cameras and players range in price from $99 to $149 and will be available this summer.
Toshiba adds all the frills, including progressive-scan outputs, to its SD-P2500 portable DVD player.
While RCA dropped its Liquid Crystal On Silicon (LCOS) TV set, Toshiba showed a 57-inch rear-projection HDTV. Unlike most other HDTVs, which are 1080i format, the 57HLX82 is 1080p. It uses three LCOS chips-red, green, and blue-each with a resolution of 1,920 horizontal x 1,080 vertical, or 2,073,600 pixels total, with a screen pitch under 0.1 mm, which Toshiba claims is the industry's finest. Available now, it lists for $9,000. Toshiba maintains that its new SD-P2500 portable DVD-Audio/Video player is the only DVD portable with a progressive-scan output. The 8.9-inch, 614,000-pixel screen is carried over from the previous model, but the new 3 1/2-hour lithium-ion battery is new. An SD/SM/MMC memory card slot is provided for JPEG viewing. The player will be available in May for $800. Toshiba opted for a fashion statement with the SD-P1200 portable DVD player, which has a bright-red faux rubberized sure-grip casing. It has a 7-inch screen, a 3 1/2-hour lithium-ion battery, and arrives in April for $600. Finally, Toshiba introduced a combination DVR/DVD recorder augmented with TiVo. No price was announced for the unit, which will debut in the fall.
(all photos by Rich Warren)