The Flaming Lips DVD-Vs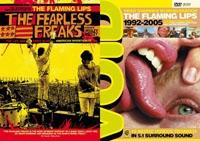 The Fearless Freaks Shout! Factory
---
Movie •••• DVD Picture/Sound ••• Extras •••½
VOID Warner/Reprise
---
Movie •••• DVD Picture/Sound •••• Extras None.
Early in
The Fearless Freaks
, the Flaming Lips zeitgeist is neatly summed up: "Finally, the punks have taken acid! How great is that?" This home movie, in stereo only (sorry, surround fans), traces the evolution of these surrealists from humble Okie origins.
Wayne Coyne
is the group visionary and
Steven Drozd
the main musical resource. Tales of Coyne's fry-cook years give insight into his Midwestern work ethic, while a more serious subplot - Drozd's battle with heroin - culminates in a remarkably candid scene. Filmed by confidante
Bradley Beesley
, the Lips' story is an all-American triumph of creativity and self-invention. A disc of extras includes gnarly early live footage and deleted scenes.
The compilation VOID (Video Overview in Deceleration) confirms that in Wayne's world, visuals are on an equal footing with the music. (Note, however, that all the music here has been remixed in 5.1 channels - hooray, surround fans!) Just as Lips concerts incorporate costumes and projections, their 19 videos are jammed with "head-trip cinema," in Coyne's words. Jump-cut imagery in "Frogs" and the dizzying blend of sounds and images in "Are You a Hypnotist??" attest to the band's psychedelic synesthesia..- PARKE PUTERBAUGH