Fitness Technologies Says, "Come On In, the Water's Fine"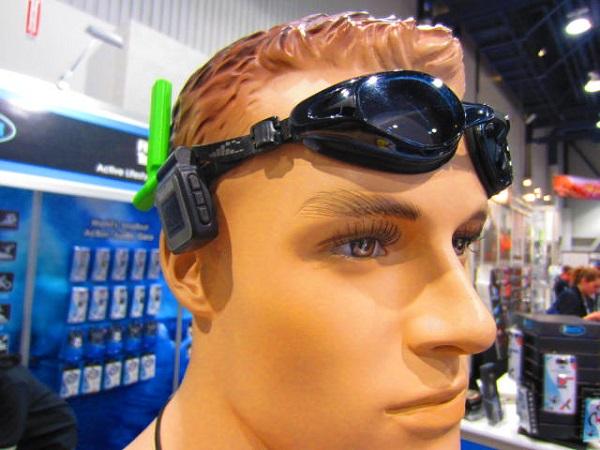 After a week of CES buffet food, I could probably stand to lose a few pounds. Maybe I should strap on some Fitness Technologies gear and go for a swim. FT specializes in sports electronics, offering three small players, each with a different wrinkle, and each advertised as "the world's smallest." In addition, to being small, the players are also waterproof. And when FT says "waterproof," they mean it; these players can be submerged in up to 10 feet of water (IPX8 rating). Swim, sail, surf, kayak, snorkel, ski, jog, scuba - you get the picture.
The K9 is an AM/FM radio, the G5 is a MP3/FM player, and the G8X is a MP3/WMA/PLL/FM/AM player. The K9 is a basic radio; its playing time is 7 to 8 hours; there are 19 station presets; there is a non backlit LCD screen; there is a USB port for charging. A pair of 100% waterproof earphones are included. Interestingly, its AM capability comes from a module that plugs into the otherwise FM radio.
The G5 is an MP3 player with 4GB of memory, and it also contains an FM tuner. Playing time is pegged at 6 hours (MP3) tor 8 hours (FM); it has a multi-color LCD display; a USB port handles charging and data; waterproof earphones are included. The G8X does it all: MP3, WMA, PLL, FM, AM. It contains 8GB of memory; AM is supplied via a plug-in module; playing time is 7 hours (MP3) or 8 hours (AM/FM); OLED display; equalizer presets; USB port for charging and data; waterproof earphones included; weighs about an ounce.
Prices for the K9 and G5 are $60; the G8X goes for $130. Three colors (green, orange, and gray) are available. All three will be available in March, 2014. Last one in is a rotten egg.