Escient FP-1 iPod Music Manager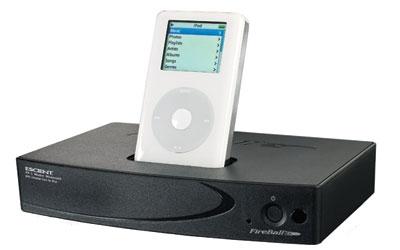 When historians mark time, there are always pivotal technologies that clearly define watershed changes in how society functions: the printing press, the automobile, the airplane. And quite possibly, for future historians to consider, the iPod.
You can safely say that Apple's pocket-sized marvel has revolutionized the consumer-electronics world. Never before have so many manufacturers created peripherals and hardware specifically for another manufacturer's product. The legion of iPod owners has no shortage of options for tricking out their 'Pods.
More specifically, if you own a modern audio-distribution system - SpeakerCraft's MODE, Niles Audio's ICS, Control4, Crestron's Adagio, or Colorado vNet's Vibe, to name just a few - docks are available to extend the iPod experience from your pocket to every room of your house. But for standalone music systems, there haven't really been many fully realized options for moving iPod content from your hip to your home. I'm talking about a device that not only lets you play tunes stored on your iPod but also control it with a smart, intuitive, fully detailed visual interface.
Fortunately, those dark days are coming to an end, as evidenced by the new Escient FP-1 iPod Music Manager. This seemingly simple iPod docking station transforms your iPod, with all its stored music, into a sophisticated digital music server featuring Escient's well-regarded graphic interface. (See the photo gallery for images of the FP-1interface in action.) Not only that, it also works with Escient's existing servers to create a single, unified library with all your music whenever your Pod is mounted in the dock. All that for $599, making the FP-1 the cheapest way ever to get into an Escient system. So when review samples recently became available, I just had to say "Yes, please!"
LATEST VIDEO