Escient FireBall SE-80 Digital Music Manager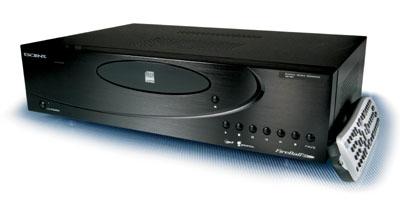 Even before Apple's iPod changed the way we listen to music on the go, audio hard-disk recorders - also called music servers - were altering how we store and listen to music at home. When ReQuest Multimedia christened the category with its ARQ1 some five years ago, the promise of putting away all your CDs and having any song accessible by the push of a button seemed too good to be true. And in a way, it was. Over the years, these components grew in capability and cost to where they've been sold almost exclusively through custom installers for elaborate whole-house audio systems.
What We Think
Easy installation and a simple interface make this latest FireBall a great reason to mothball all your CDs.
Escient, another early pioneer, went that route and nursed an elaborate multizone system through several generations, culminating in its FireBall E2 digital music manager, priced at $2,000 and up. Now the company is going the other way, stripping off a few high-end features to offer the best parts of the E2 in a server that can be bought off the shelf at half the cost and installed by just about anyone. Sound & Vision got an exclusive first round with this new model, the FireBall SE-80.
At first glance, the $999 SE-80 strikes the pose of a fancy CD player. The prominent disc drawer is used for playback and for ripping CDs to the 80-gigabyte (GB) hard drive as well as for recording custom CDs from your stored music library. Around back, an Ethernet port connects the server to a home network to facilitate downloading music from your PC and automatic collection of CD information and cover art from the Web. The info is loaded into a graphic interface that lets you manage your collection from your TV, computer, or wireless PDA. Completing the package is a universal remote that lets you operate up to four FireBall devices.
SETUP The SE-80 comes with an Ethernet cable for the network hookup and a composite-video/stereo cable for connection to a TV and sound system. You'll need your own cables to take advantage of the S-video, component-video, or optical digital audio outputs. The network connection can be wired, like mine, or via Wi-Fi. If you want to go wireless, Escient recommends using a Wi-Fi bridge adapter. As soon as I made these simple connections and powered up, a red LED on the front panel started flashing, and a message on the TV screen said "preparing to authenticate." In less than 5 minutes, the SE-80 had found my network, connected to the Internet, installed 84 Internet radio stations, and put up a congratulations message! I was ready to rip CDs, stream radio, and transfer music from my PC.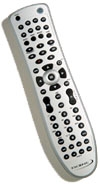 OPERATION Ripping CDs was easy. You can set the SE-80 to automatically record a disc when you slip it into the tray or just play it. The title, artist, and song list are automatically downloaded from the Gracenote Web service, and cover art comes from the All Media Guide (AMG). Songs are saved by default as MP3 files at 192 kilobits per second (kbps). At that rate, the 80-GB drive stores 894 hours of music, or about 900 to 1,000 CDs - you can also choose 128, 160, or 320 kbps for as much as 1,340 hours or as little as 536 hours.
If you run out of space, you can't attach another hard drive directly, which could be a limitation down the road for some users. But beginning early next year, Escient expects to provide a firmware upgrade to let you access tunes stored on your networked computers without having to first transfer them to the SE-80. Though the SE-80 can't record WMA files, it can play them. Not supported at all are WAV and AAC files or songs you've downloaded to your computer from pay sites like iTunes or Napster that are wrapped with digital rights management (DRM) restrictions.
The system initially loads in all the Internet radio stations offered via the free Escient iRadio Tuning Service. You can add stations coming in as MP3 or WMA streams and group them according to a genre. As usual with music servers, streaming radio can't be recorded.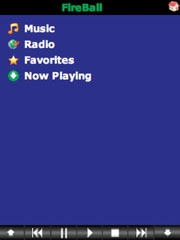 Controlling the FireBall from my networked PC or transferring music from PC to FireBall was a snap. You connect to the FireBall's internal Web server using your PC's own Web browser. (Alternatively, you can also use a Wi-Fi-enabled PDA via its browser.) You can then control the SE-80 from another room via computer or wireless PDA. The PDA interface (right), which can also be called up as a compact window on the PC, lets you select a CD, view its song list, start playing it from the beginning, or skip to the next song. There's a certain thrill in hearing "Take It to the Limit" by the Eagles spilling out of another room (or your whole-house audio system) when you just tapped the title on a remote screen.
You can import compatible music files from any PC or Mac on the network simply by dragging them into a folder on your computer screen. Then, you can tap into the SE-80's music library for playback on a networked computer in another room. Escient says that about five streams can be tapped simultaneously around the house; the number depends on the bit rate of the tunes and available bandwidth on your network. As an alternative, you can stream to media receivers that are compliant with the Digital Living Network Alliance (DLNA) standard. And if that's not enough, you can also play music stored on your FireBall at any broadband-linked computer in the world.