Energy Take Series Home Theater Speaker System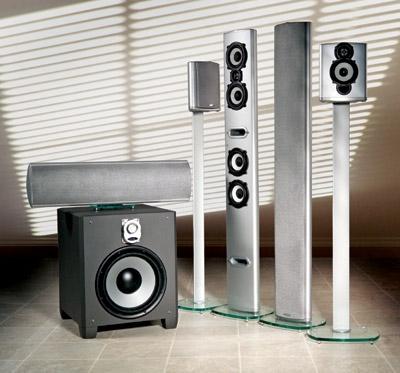 Call it the invasion of the on-walls. Or just call it a change in the way speaker companies think about design. Either way, the audio world is being overrun these days with speakers made to go with flat-panel TVs. What these systems have in common are shallow, wall-hugging cabinets. But this recent entry from Energy, which takes some obvious style cues from Definitive Technology's successful Mythos speaker line, also shares that system's freewheeling use of extruded aluminum for its cabinetry. This rigid material lends itself to being carved into svelte designs that complement futuristic flat screens.
Energy pretty much created the low-price, high-performance niche a few years back with its sub-$1,000 Take 5 system. But even with their exotic looks and cabinet materials (and, consequently, higher prices), the newest members of that family - now simply called the Take Series - follow the earlier lines in delivering maximum bang for the buck. At the heart of the system I listened to was a pair of top-of-the-line Take TWR towers. These were combined with the Take FPS center speaker, two Take SAT surrounds, and an S10.3 subwoofer.
The Take TWR's slender form, aluminum cabinet, and matching silver grille helped the pair disappear beside my flat-panel TV - though they'd be equally at home alongside a rear projector. Each TWR comes with a tempered-glass base and wall-mounting hardware. The speaker's dual front-panel vents also help its quadruple woofers deliver deeper bass than other wall-mountable speakers.
The FPS center speaker is an equal mate for the TWR right down to its quartet of cones (two woofers and two passive radiators). Like the TWR, it comes with both wall-mounting hardware and a glass base. But I was most intrigued by the adjustable foot that attaches to the FPS's back panel and lets you aim the speaker up or down as well as balance it on narrow surfaces - a great solution for slim-topped TVs.
The Take SAT that I used for surrounds is the entry-level speaker in the Take line. A two-way design with a slightly smaller woofer, the tiny SAT can be wall-mounted or placed on a shelf with the supplied glass base. To prop the SATs up for testing, I used Energy's workably sturdy Take stands ($130 a pair, shown).
Although the TWR pumps out decent bass for a slender speaker, you'll need a subwoofer to get the most from this system. Energy's S10.3, a 200-watt model with a 10-inch woofer, fit the bill for my 22 x 16-foot room. The S10.3's dark-gray cabinet and silver grille was a good match for the rest of the system, and its compact size kept it from overshadowing the other speakers. I especially liked its front-panel volume control, which has tick marks to help compulsive tweakers like me recall bass settings for different recordings or sources. A rear-panel switch lets you completely bypass the sub's crossover so your receiver can do the honors. And Energy's patented "ribbed" design for its woofer surround helps the sub play loud without distortion - as our lab tests confirmed (see "in the lab").