Elac Unleashes 7 High-Performance Subwoofers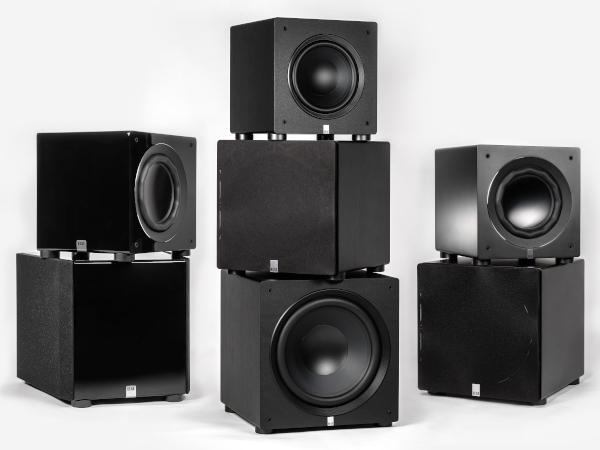 Germany's Elac has introduced a steady stream of impressive speakers since launching the
Debut
series of speakers in 2015, which marked its return to the U.S. market after a long absence. Last week, the German company announced a new line of high-performance "AutoEQ" subwoofers that draws on a rich history in audio that dates back almost 100 years.
Dubbed Varro, the lineup comprises seven app-controllable subwoofers across three "best-in-class" series with prices ranging from $650 to $3,000. Delivery is set for March.
At the heart of all seven models is a "state-of-the-art AutoEQ system that allows people the flexibility of placing the subwoofer in a position that works for them and their environment without sacrificing performance," according to chief technology officer Joe Riggi. The system uses Elac's Sub Control 3.0 Android/iOS app and a smartphone microphone to automatically optimize room EQ.
All of the new subwoofers are also DSP controlled using 28-bit processing and incorporate BASH amplifier technology, which combines the power of class-AB and the efficiency of class-D amplifiers. As Elac explains it, the hybrid design allows for "maximum voltage swings, providing all the power that is needed and additional dynamic power throughout the entire operating range of the woofers."
Custom woofers with high power handling 2- or 2.5-inch voice coils are used throughout the line. Premium Series models use a 2-inch coil, while the Reference and Dual Reference series move up to a 2.5-inch coil.
The Premium Series comprises three models, starting with the PS250-BK ($650) with a 10-inch driver and 250-watt amplifier. The PS350-BK ($800) moves to a 12-inch driver and 350-watt amp and the PS500-BK ($1,000) a 15-inch driver and 500-watt amp. In-room response is spec'd down to 24, 21, and 16Hz, respectively, and maximum output level at 107, 108, and 115dB SPL (dB/1m). On these models, line-level inputs are provided and the woofers have treated-paper cones. Finish is a textured "black pica."
Moving up the price ladder, the Reference Series and Reference Series Dual each have two models and feature "sandwich aluminum" drivers and a built-in wireless receiver, which can be paired with the optional AirX2 transmitter to convey audio wirelessly to up to three subwoofers; the transmitter connects to an AV receiver or preamp/amplifier.
The Reference Series comprises the RS500-SB ($1,300) with a 10-inch driver and 500-watt amplifier. The RS700-SB ($1,500) mates a 12-inch driver with a 700-watt amp. In-room response is spec'd down to 15 and 14Hz, respectively, and maximum output level at 108 and 111dB SPL (dB/1m). Finish is satin black.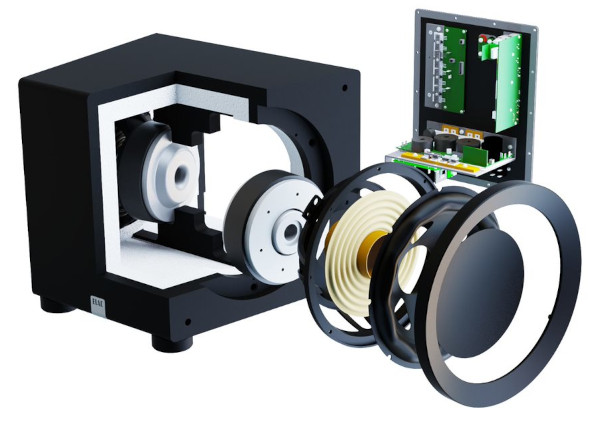 The Dual Reference Series, so named for its use of two dual woofers firing from oppose sides of the enclosure, comprises the DS1000-GB ($2,500), featuring 10-inch drivers and a 1,000-watt amp, and the DS1200-GB ($3,000) that mates two 12-inch drivers with a 1,200-watt amp. In-room response is spec'd down to 15 and 14Hz, respectively, and maximum output level at 115 and 118dB SPL (dB/1m). Finish is gloss black.
Reference and Dual Reference models use high-excursion "aluminum sandwich" woofers — a treated paper cone with a rigid aluminum core — to improve the handling of high signal levels and deep bass. The drivers also incorporate Elac's Hex surrounds to "ensure faithful reproduction of the recorded signal with low distortion even at high playback volumes."
In addition to line-level inputs, Reference Series models add speaker-level inputs for use with receivers and integrated amps that lack a dedicated subwoofer output. Dual Reference models go one step further with the inclusion of balanced XLR inputs. An Ethernet port is also included on the subwoofers in these series for use with third-party control systems from Control4, Savant, and others.
All Varro subwoofers are constructed of thick MDF with internal cross bracing to reduce cabinet resonance and flex. For more information, visit elac.com.