EISA Home Theater Audio & Video Awards 2021-2022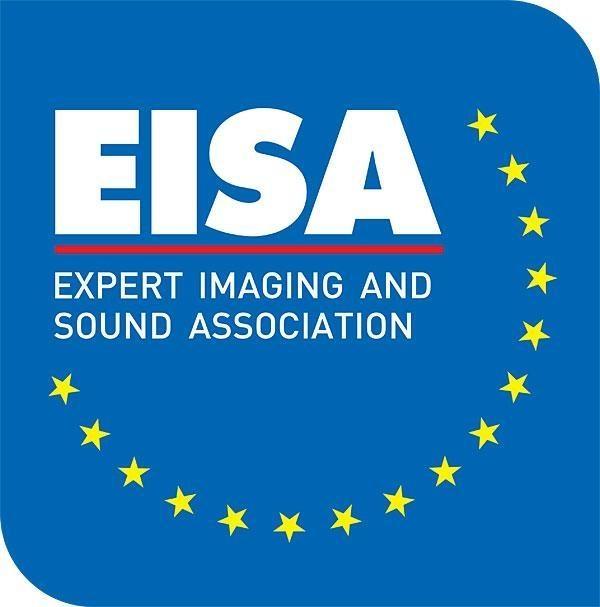 EISA, or the Expert Imaging and Sound Association, is an organisation representing 60 of the most respected special interest publications and websites from 29 countries that cover Hi-Fi, Home Theater Video, Home Theater Audio, Photography, Mobile Devices, and In-Car Electronics. Every year EISA's Expert Group members, including editors from this publication, test a very wide range of new products from their field of expertise before comparing results and voting to decide the cream of every product category.
To win an EISA award all products undergo a comprehensive multi-step judging process. So, while EISA's annual Convention in Antwerp in May and Awards Meeting in June were, once again, both cancelled due to the pandemic, the comprehensiveness of the Association's product testing was not diminished. EISA hosted no fewer than 40 webinars that put new technologies, and brands, in front of its expert editorial audience. This, combined with regular video conferences for the Expert Groups, and the shipment of products between member countries, allowed judging to extend over many months, fuelling lengthy and highly informed discussions. EISA's democratic voting process was reinforced, establishing a consensus of excellence that ultimately determined the winning products.
To find out more about EISA, visit www.eisa.eu
---
EISA Home Theater Video Awards 2021-2022
---
EISA 8K TV 2021-2022
LG 75QNED99 (US Model: LG 75QNED99UPA)
Deserving of its flagship status in LG's LCD TV lineup, the 75QNED99 emphasises the benefits of state-of-the-art mini LED backlighting technology, multizone local dimming, and 8K resolution on a crowd-pleasing scale. The TV's 75in Quantum Dot NanoCell panel exhibits impressive brightness, a wide contrast and vibrant colours, while LG's newly implemented backlight delivers precision illumination with HDR material that dovetails with the 75QNED99's ultra-sharp 8K presentation. This is a performance that brings a sense of cinema to movie night, but the set is a talented all-rounder too, suited to largescale gaming (with 4K/120Hz playback from compatible hardware) and streaming TV from LG's excellent WebOS 6.0 smart platform.
---
EISA BEST GAMING TV 2021-2022
LG OLED48C1 (US Model: LG OLED48C1PUB)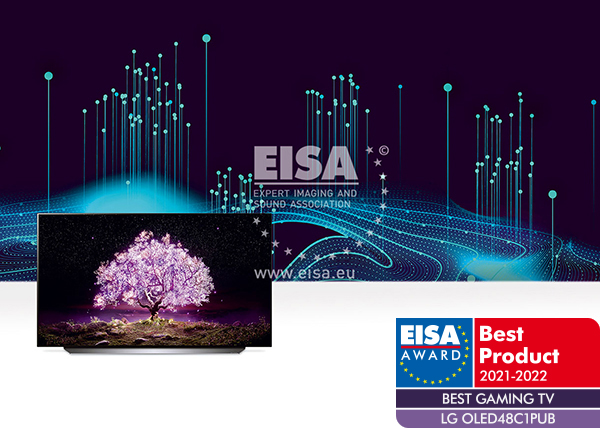 As gaming consoles and PCs become more advanced, utilising the latest in high frame rate and HDR technologies, gamers are seeking displays that can do them justice. The appeal of LG's OLED48C1 is that it accommodates all of the brand's next-generation video processing features in a 48in screen that's ideal for both a living room setup and a gaming den. In addition to 4K/120Hz support (including in Dolby Vision HDR) across all four of its HDMI inputs, this smartly styled OLED supports Variable Refresh Rates for stable, tear-free game play, plus Auto Low Latency Mode. LG's Game Optimizer setting then provides genre-specific presets to further tailor picture performance, while a lightning-fast response time means you're always one step ahead of the action.
---
EISA BEST PREMIUM OLED TV 2021-2022
LG OLED65G1 (US Model: LG OLED65G1PUA)
With the 65in G1, LG combines its Gallery Series design – which allows this super-thin TV to mount flush-fit to your wall – with a new brighter-than-ever Evo OLED panel. This joins with OLED technology's traditional black level strengths to deliver a 4K HDR image with dramatic contrast and vibrant, nuanced colours. Also key to its performance prowess is the latest generation of LG's Alpha9 processor, which further refines AI Picture Pro image optimisation, noise reduction and motion handling. Emphasising the TV's premium feel, meanwhile, is support for Dolby Vision IQ and Dolby Atmos audio, futureproofed HDMI connectivity (with 4K/120fps playback), and wide-ranging smart features. The OLED65G1 is a thrilling statement set.
---
EISA BEST BUY OLED TV 2021-2022
Philips 55OLED806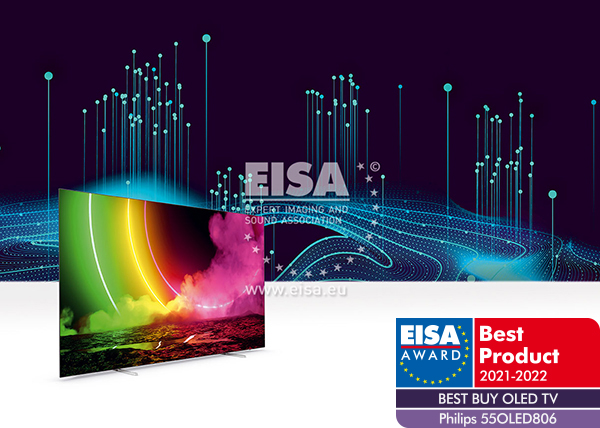 A superb-value 4K HDR TV, Philips' 55OLED806 introduces technology previously reserved for the company's high-end models, including four-sided Ambilight smart illumination and anti burn-in technology. These new talents partner HDR10+ and Dolby Vision playback, the app-laden Android 10.0 platform, and advanced HDMI specification to craft an OLED television with all-round appeal. Designed for gamers, streaming TV addicts and movie lovers (the latter benefiting from automated selection of Filmmaker Mode or Home Cinema Mode), this mid-range model serves up a stellar picture performance – all while cutting a fine figure in your living room courtesy of its ultra-slim bezel and customisable desktop feet.
---
EISA PREMIUM LCD TV 2021-2022
TCL 65C825 (65C821 & 65C822)
By replacing a conventional LCD backlight with a multi-zone dimming array comprising thousands of mini LEDs, TCL's flagship 65C825 4K TV ushers in a picture performance that belies its tempting price tag. Black levels and shadow detail are excellent, as is the precision of its HDR playback – Dolby Vision IQ and HDR10+ are both handled, while HDR10 is fine-tuned by Dynamic Tone Mapping. Beyond its cinematic visuals, this mini LED TV ticks plenty of other boxes, from a sound system designed in collaboration with Onkyo that provides largescale, full-range audio, to its Android smart platform and compatibility with next-generation games consoles. Approached from any angle, the 65C825 is a TV triumph.
---
EISA BEST HOME Theater TV 2021-2022
Philips 65OLED936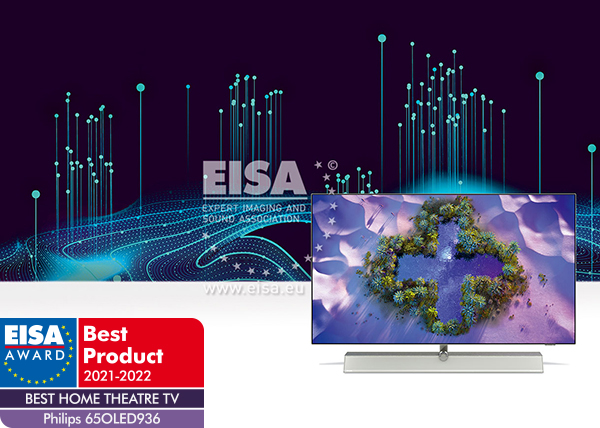 The 65OLED936 is a TV worthy of its flagship positioning, offering exemplary images, blockbuster audio and employing Philips' most advanced image engine. The latter works in unison with the latest OLED panel and a suite of well-judged picture modes to present a first-rate picture, with professional-grade calibration an option. Yet it's the sound that most marks this 65in TV out as the one to beat. The integrated speaker system, once again engineered by audio specialist Bowers & Wilkins, features an upgraded 3.1.2 driver array, resulting in a Dolby Atmos experience with a rarefied sense of space, detail and clarity, plus a rich, robust bass response. More than just a TV, Philips' 65OLED936 is a complete home Theater package.
---
EISA LASER TV PROJECTION SYSTEM 2021-2022
BenQ V7000i/V7050i and ALRS01
Mixing the super-sized visuals of a traditional projector with the user-friendly installation and operation of a TV, BenQ's V7000i (white chassis) and V7050i (black) offer convenient, high-quality home Theater thrills. Setup is a breeze, thanks to an integrated focus pattern, measuring tool and keystone correction, while a bundled dongle introduces Android TV for video-on-demand apps, voice control and more. Build quality and styling are luxurious, audio performance from the front-facing stereo speaker array is clear and robust, and 4K HDR playback benefits from naturalistic colours, crisp images and vibrant contrast – particularly when used with BenQ's optional 100in ALR (Ambient Light Rejection) screen. This is a superior all-in-one solution.
---
EISA BEST BUY LCD TV 2021-2022
TCL 55C728 (55C727 & 55C729)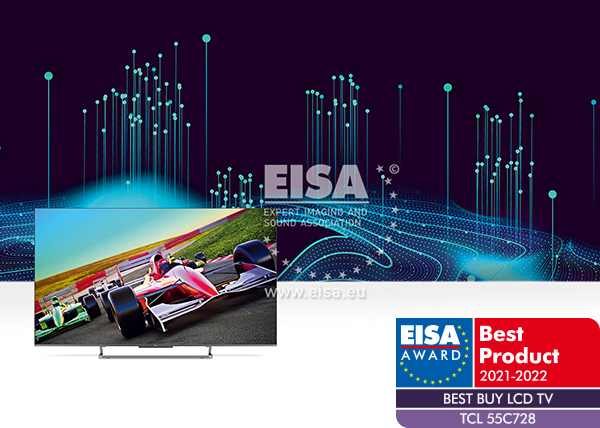 TCL's 55in 55C728 fulfils the brief of an affordable 4K TV. The set itself offers a slim-bezel styling with a discreet stand, while its features roster includes HDMI 2.1 connectivity, the Android TV OS – upgradable to Google TV later this year – and Dolby Vision IQ HDR and Dolby Atmos audio support. Importantly, however, it backs up this appealing specification with a picture quality that's a cut above the price point. TCL's direct-lit QLED panel delivers a detailed, wide-colour performance with expressive contrast, bringing film, TV and gaming content to life. The integrated Onkyo-designed speaker system provides a punchy sonic accompaniment. Those seeking a versatile, living-room friendly flatscreen that won't break the bank should look here.
---
EISA BEST BUY PROJECTOR 2021-2022
XGIMI Horizon Pro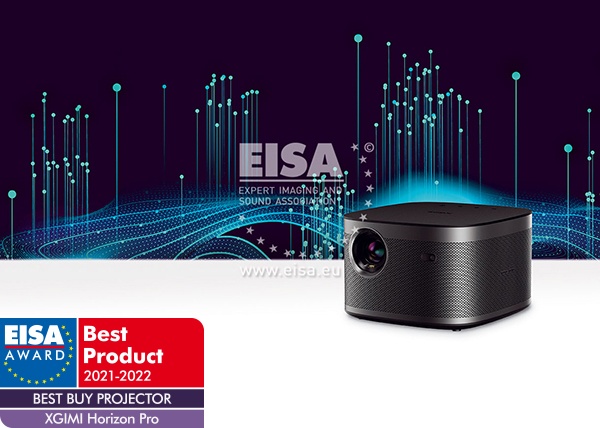 XGIMI's innovative Horizon Pro – a compact, easily portable 4K HDR model with Android TV smart talents – offers a plug-and-play user experience and the ability to be installed almost anywhere. Automated focus and keystone correction are joined by intelligent 'obstacle avoidance' to adjust its image to fit any wall surface, plus automatic alignment for use with a dedicated screen. Pictures, delivered by a 2200 Lumens LED light source, are sharp, bright and intensely coloured. Generous connectivity includes Wi-Fi and Bluetooth for streaming sources, HDMI for Blu-ray playback and a digital audio output for hook-up to an external sound system – although the performance of the Horizon Pro's own Harman/Kardon speakers is worthy of praise.
---
EISA FAMILY TV 2021-2022
Hisense 65U8GQ (US Model: Hisense 65U8G)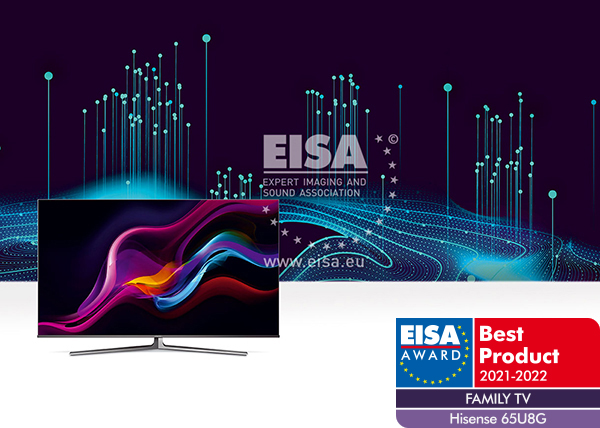 The 65U8GQ underscores Hisense's appreciation of what makes a modern flatscreen a genuine all-rounder. A ULED model with full array local dimming of its Quantum Dot panel, this 65-incher implements the brand's superb, easy-to use VIDAA U5 smart OS, meaning a wide-ranging selection of video-on-demand apps and content recommendations are just a remote-click away – or requested via the TV's in-built Alexa and Google Assistant voice control. Console gamers are catered for by the 65U8GQ's support of VRR and ALLM on all HDMI inputs, while film fans can soak up its cinematic playback of 4K HDR sources in both Dolby Vision and HDR10+. This is a highly impressive set at a tempting price.
---
EISA HOME Theater PROJECTOR 2021-2022
Sony VPL-VW590ES (US Model: Sony VPL-VW715ES)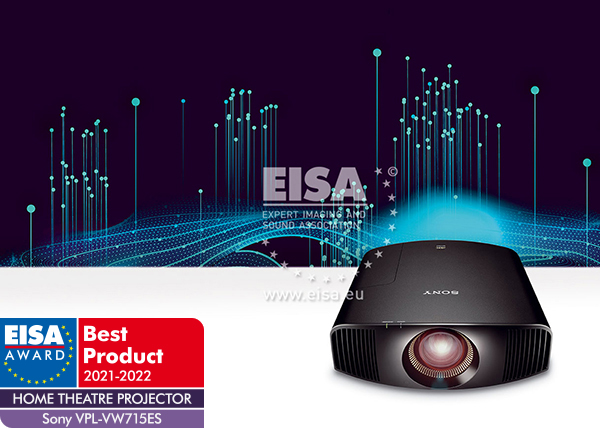 Occupying the sweet-spot in the current Sony home Theater range, the VPL-VW590ES benefits from the action of a dynamic iris while retaining the affordability of lamp-based projection. Key to its premium status is the use of genuinely native 4K optics without recourse to mirror-switching – it employs a trio of 4096x2160-resolution SXRD panels, able to deliver both white and colour to the maximum available brightness of 1800 Lumens. Sony's new 'X1 For Projector' processor, based upon technology from its Bravia TVs, delivers frame-by-frame HDR enhancement, 4K Motionflow, and Super Resolution upscaling. The result is largescreen projection images of truly cinematic quality, with spectacular detail and deep contrast.
---
EISA PREMIUM UST PROJECTOR 2021-2022
Samsung The Premiere LSP9T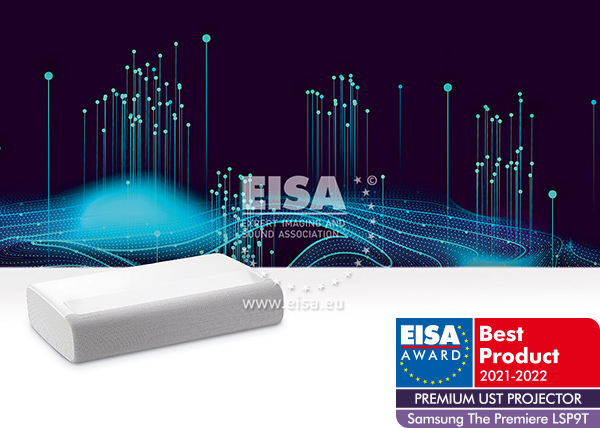 Within the LSP9T projector's well-dressed chassis, Samsung unites state-of-the-art imaging technology with an enjoyably immersive 4.2-channel sound system, TV tuner and a sophisticated smart platform. Movie, television, app and gaming sources are all ready for the big screen experience, and it's one delivered with panache. A triple-laser light engine generates a colour space far in excess of DCI-P3, yielding best-in-class colour finesse with 4K HDR (including HDR10+) sources, while motion handling and image sharpness also excel. Feature-laden and high-performance, this the best example yet of how an ultra-short-throw projector can effectively replace a conventional flatscreen TV.
---
EISA Home Theater Audio Awards 2021-2022
---
SOUNDBAR INNOVATION 2021-2022
LG Eclair QP5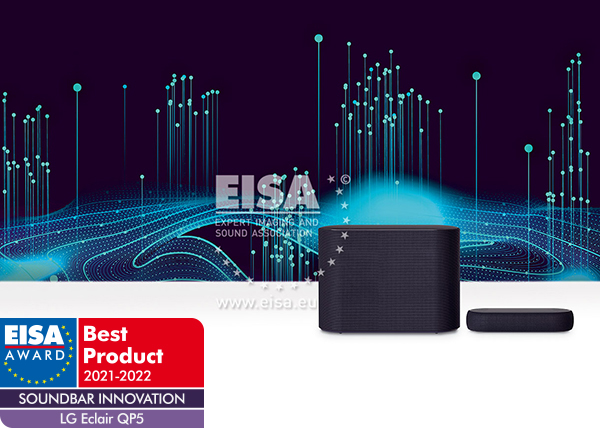 Ideal for installation in a living room, bedroom or games den, LG's Eclair QP5 features an ultra-compact soundbar enclosure that can be installed almost anywhere, yet manages to incorporate a five-driver system with dedicated Dolby Atmos height speakers. In conjunction with the Eclair QP5's wireless, style-matched subwoofer – which features twin 5.25in bass drivers in a vibration-cancelling bipolar configuration – the result is a 3.1.2 soundstage that plays bigger and bolder than the cabinet dimensions suggest. HDMI 2.1 eARC connectivity, DTS:X playback and AI-assisted real-time audio tuning, plus intelligent interaction with LG's TV range, all add to the allure of this innovative sound system.
---
EISA COMPACT SUBWOOFER 2021-2022
SVS 3000 Micro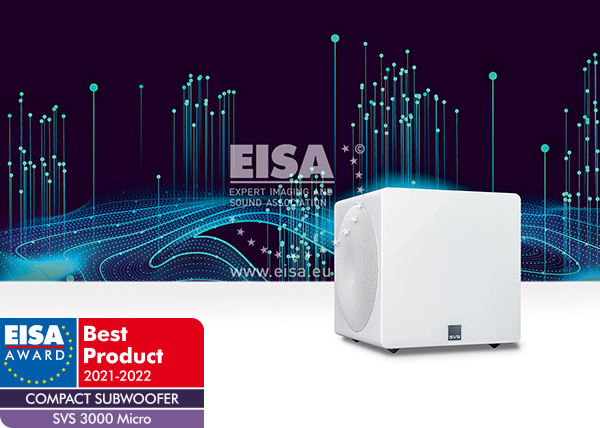 Other models in SVS's 3000 series use a single, large woofer in a sealed or ported enclosure. Here, however, the US bass specialist has introduced its smallest ever subwoofer driver (an 8in aluminium cone), and fitted two of them within a new, rock-solid cabinet measuring less than 30cm in all directions. The 3000 Micro is therefore destined for use in space-starved home Theaters and living rooms, while still delivering the performance that brand fans will expect. Its onboard 800W-rated Sledge DSP amplifier keeps a tight rein on proceedings, allowing this sub to mix control and subtlety with brute force when needed. Factor in the affordable price tag and it's a clear category winner.
---
EISA HOME Theater RECEIVER 2021-2022
Yamaha RX-V6A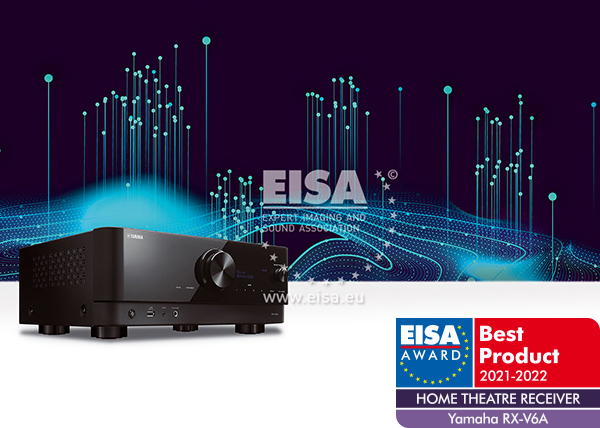 Yamaha's seven-channel networked AV receiver comes to your kit rack boasting a gorgeous all-new design philosophy and seven-input/one-output HDMI stage that's ready for advanced gaming consoles and the 8K video sources of the future. And while implementing an array of smart features, including allowing its MusicCast multiroom speakers to be used as wireless surrounds, Yamaha hasn't turned attention away from performance. Propelled by revised high slew-rate amplification and proprietary Cinema DSP, the RX-V6A crafts spacious, detailed and immersive soundfields with Dolby Atmos and DTS:X sources, while applying upmixing polish to stereo and multichannel material. This is a brilliant, forward-thinking addition to the brand's AVR fleet.
---
EISA COMPACT SOUNDBAR 2021-2022
JBL BAR 5.0 Multibeam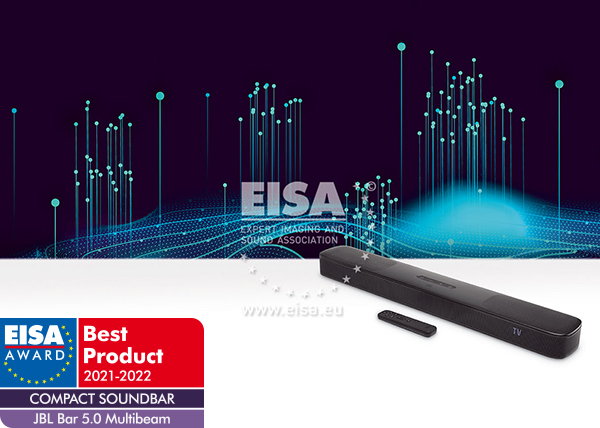 JBL's Bar 5.0 Multibeam hides a wealth of technological talent within its compact chassis. As a living room-friendly single-box system, there's no accompanying subwoofer here – instead, the soundbar's five active drivers are joined by four passive radiators that provide tangible, well-integrated bass. Then, for a cinematic sound experience, Virtual Dolby Atmos DSP combines with JBL's automatic Multibeam calibration for a soundstage that offers width, height and excellent effects placement. Believable dialogue comes courtesy of a dedicated centre channel, while music playback (via Chromecast built-in, Bluetooth, or the Bar 5.0 Multibeam's HDMI and optical audio inputs) benefits from its balanced delivery.
---
EISA SMART SOUNDBAR 2021-2022
Denon Home Sound Bar 550
One part Dolby Atmos/DTS:X soundbar, one part fully-fledged HEOS multiroom speaker, Denon's Home Sound Bar 550 brings both a rewarding audio performance to movie and music playback, and the possibility of expansion to a home cinema-style multichannel system with optional wireless surrounds and subwoofer. Operation via its remote control is simple and intuitive, but the HEOS app experience is even slicker – and it's here that users can stream music from subscription services, Internet radio or their own network. Amazon Alexa functionality, via in-built microphones, removes the need to even lift a finger. Rounding off this smart package are proximity-sensing touch controls, HDMI switching with Dolby Vision passthrough, and a superior design and build.
---
EISA BEST BUY SOUNDBAR 2021-2022
TCL TS8132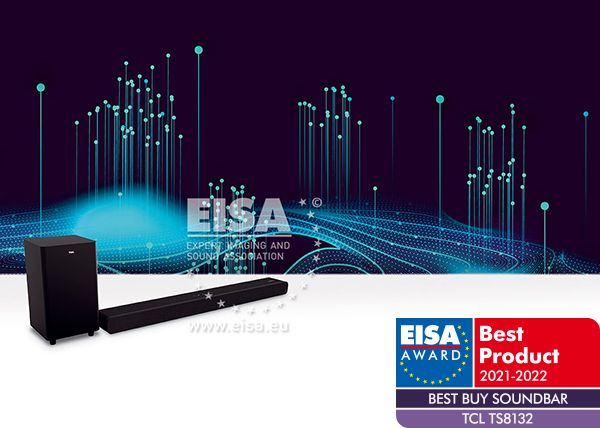 Via a physical driver array incorporating a dedicated centre channel and twin upfiring units, plus a wireless subwoofer, TCL's affordable soundbar system creates enveloping 3.1.2-channel sonics from a discreet design. Ideally suited to a TV-based setup, the TS8132's dialogue handling, effects separation and detailing are strong points, as is the sense of scale brought by its deep bass response. Native Dolby Atmos playback is supported, and stereo content can be upmixed through the soundbar's surround mode. The specification is fit for a pricier model, too – dual HDMI ports, USB and optical digital audio make it easy to connect a range of sources, while Chromecast (with Google Assistant voice control), Apple AirPlay and Bluetooth usher in plenty of wireless potential.
---
EISA BEST BUY HOME Theater SUBWOOFER 2021-2022
SVS SB-1000 Pro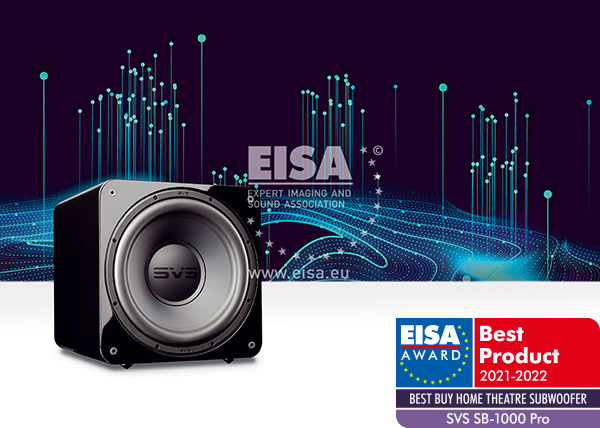 Whether you pick up SVS's keenly-priced SB-1000 Pro in its standard black ash finish or premium gloss white or black, the end result is the same – a performance that beguiles in terms of speed, slam and depth, from a cabinet that measures barely bigger than the subwoofer's forward-facing 12in driver. Inside, a 325W-rated DSP amplifier provides ample power, giving explosive soundmix moments the scale and impact they deserve. And to cap off an excellent overhaul of SVS's entry-level model, the company's Bluetooth-based control and EQ app – once the preserve of its flagship 16 Ultra series – is on hand to fine tune in-room performance. Looking for a brilliant, bargain bass-maker? Look here.
---
EISA HOME Theater SPEAKER SYSTEM 2021-2022
Polk Audio Reserve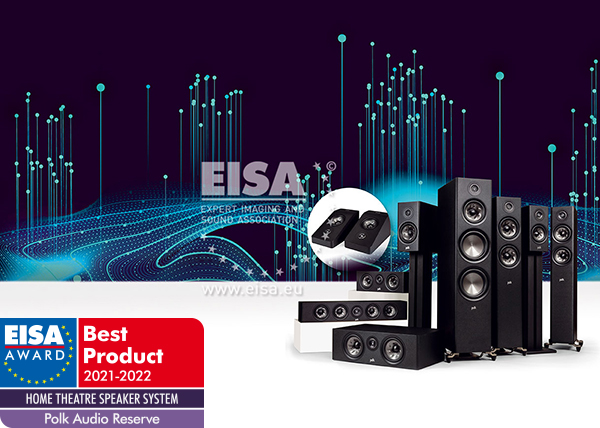 To create its Reserve Series, Polk Audio has leveraged technologies from its high-end Legend loudspeakers – including eye-catching Pinnacle tweeters and Turbine Cone drivers – while also introducing its first on-wall/on-cabinet height modules. A treat for system builders, the range has nine options, including a slim centre channel and three different floorstanders, timbre-matched to accommodate mix-and-match installs. The voicing favours neutral tonality, excellent detail retrieval and a smooth balanced bass response aided by Polk's Power Port 2.0 venting technology – all attributes likely to set a home Theater fan's pulse racing. While the Reserve Series' understated design helps the speakers blend into any room, its performance guarantees you'll sit up and listen.
---
EISA HOME Theater SOUNDBAR 2021-2022
Philips Fidelio B97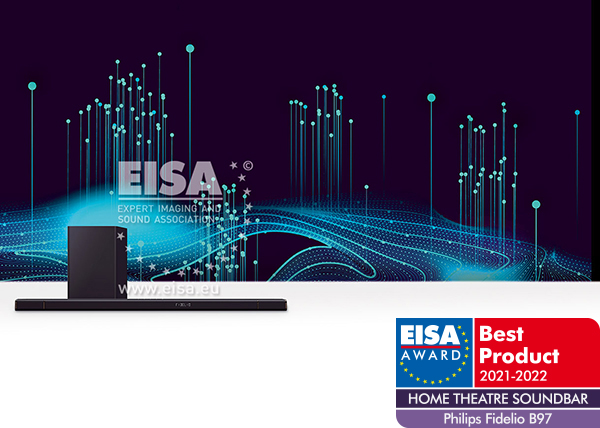 Philips' range-topping IMAX-Enhanced soundbar system leaves no stone unturned in its pursuit of immersive, enthralling home cinema sonics. This smartly styled package partners a five-channel soundbar enclosure with wireless surround speakers and 8in subwoofer for a 7.1.2 Dolby Atmos/DTS:X experience. Its performance is one of deep, explosive bass, an expansive soundstage, midrange clarity and enveloping ambience. It's flexible too – the surround speakers can attach to the main soundbar (recharging their internal batteries at the same time), while connections cover both wired and wireless options including HDMI eARC, Chromecast and DTS Play-Fi. Preset listening modes and custom EQ then help tailor the B97 to your taste – and it sounds delicious…
---
EISA UHD PLAYER 2021-2022 (Combined with Home Theater Video) Reavon UBR-X200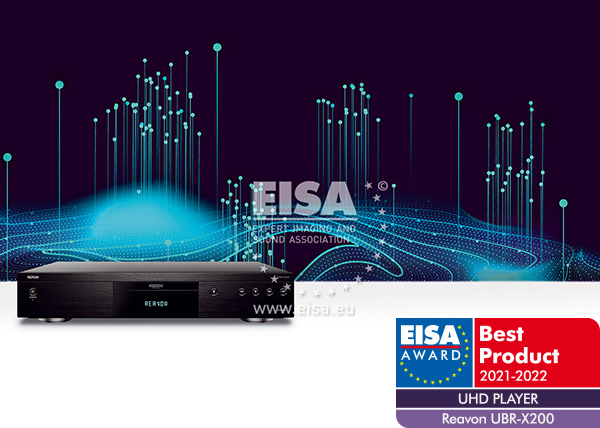 Reavon's UBR-X200 brings a universal approach to home Theater entertainment with playback of Ultra HD Blu-ray, DVD, CD, SACD and DVD-Audio discs, plus high-resolution music files from a USB drive or networked device. Externally, the player exudes a premium feel thanks to the build quality and styling of its full-width, steel-plated chassis, while inside an eight-channel Burr-Brown DAC and MediaTek SoC (System On a Chip) work to provide a suite of features including balanced stereo audio over XLR, and Dolby Vision HDR from 4K platters. Onscreen menus provide full control over setup and customisation, while the backlit remote is ideal for use in a dedicated movie room. It's an excellent choice for physical media fans.
---
COMBINED WITH MOBILE DEVICES EXPERT GROUP
EISA WIRELESS HEADPHONES 2021-2022
Philips Fidelio L3
---
EISA IN-EAR HEADPHONES 2021-2022
LG TONE Free FP8 (DFP8, UFP8, DFP8W, FP8W, UFP8W, FP8E, TFP8E)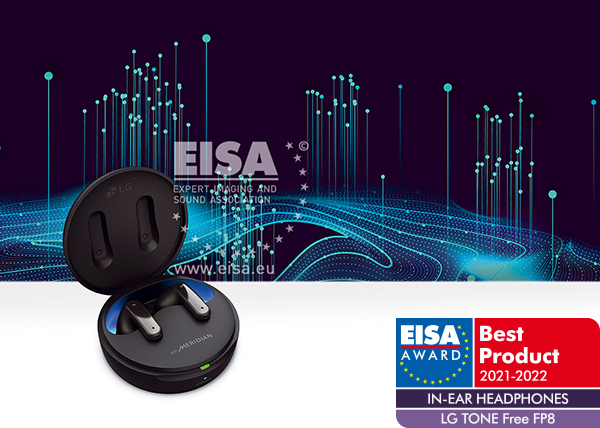 ---
More EISA Awards 2021-2022:
HI-FI EXPERT GROUP
EISA FLOORSTANDING LOUDSPEAKERS 2021-2022
Monitor Audio Silver 500 7G
EISA STANDMOUNT LOUDSPEAKERS 2021-2022
KEF LS50 Meta
EISA WIRELESS FLOORSTANDING LOUDSPEAKERS 2021-2022
System Audio Legend 40.2 Silverback
EISA WIRELESS STANDMOUNT LOUDSPEAKERS 2021-2022
KEF LS50 Wireless II
EISA HIGH-END LOUDSPEAKERS 2021-2022
Wilson Audio SabrinaX
EISA HI-FI SUBWOOFER 2021-2022
KEF KC62
EISA STREAMING AMPLIFIER 2021-2022
Cambridge Audio EVO 150
EISA INTEGRATED AMPLIFIER 2021-2022
Rotel Michi X3
EISA POWER AMPLIFIER 2021-2022
NAD C 298
EISA PHONO STAGE 2021-2022
Hegel V10
EISA DIGITAL MUSIC PLAYER 2021-2022
Bluesound NODE
EISA HIGH-END MUSIC PLAYER 2021-2022
HiFi Rose RS150
EISA DAC 2021-2022
Cambridge Audio DacMagic 200M
EISA BEST VALUE TURNTABLE 2021-2022
Pro-Ject Debut PRO
EISA HIGH-END TURNTABLE 2021-2022
Thorens TD 124 DD
EISA PHONO CARTRIDGE 2021-2022
Ortofon 2M Black LVB 250
EISA STEREO SYSTEM 2021-2022
Marantz Model 30/SACD 30n
EISA HEADPHONE SOLUTION 2021-2022
Naim Uniti Atom Headphone Edition
EISA HEADPHONES 2021-2022
Focal Clear Mg
EISA HIGH-END HEADPHONES 2021-2022
T+A Solitaire P-SE
EISA BEST VALUE HEADPHONES 2021-2022
Sennheiser HD 560 S
EISA HI-FI ACCESSORY 2021-2022
Ferrum Hypsos
PHOTOGRAPHY EXPERT GROUP
EISA CAMERA OF THE YEAR 2021-2022
Sony Alpha 1
EISA BEST BUY CAMERA (APS-C) 2021-2022
Fuji X-S10
EISA BEST BUY CAMERA (FULL-FRAME) 2021-2022
Nikon Z 5
EISA ADVANCED CAMERA 2021-2022
Nikon Z 6II
EISA PREMIUM CAMERA 2021-2022
Canon EOS R5
EISA PROFESSIONAL CAMERA 2021-2022
Fujifilm GFX 100S
EISA PHOTO/VIDEO CAMERA 2021-2022
Sony Alpha 7S III
EISA LENS OF THE YEAR 2021-2022
Tamron 17-70mm F/2.8 Di III-A VC RXD
EISA WIDEANGLE LENS 2021-2022
Sony FE 14mm F1.8 GM
EISA WIDEANGLE ZOOM LENS (APS-C) 2021-2022
Tamron 11-20mm F/2.8 Di III-A RXD
EISA WIDEANGLE ZOOM LENS (FULL-FRAME) 2021-2022
Sony FE 12-24mm F2.8 GM
EISA STANDARD LENS 2021-2022
Sony FE 50mm F1.2 GM
EISA TELEPHOTO ZOOM LENS 2021-2022
Tamron 150-500mm F/5-6.7 Di III VC VXD
EISA PROFESSIONAL TELEPHOTO ZOOM LENS 2021-2022
Nikon NIKKOR Z 70-200mm f/2.8 VR S
EISA PORTRAIT LENS 2021-2022
Sigma 85mm F1.4 DG DN Art
EISA MANUAL LENS 2021-2022
Laowa Argus 33mm f/0.95 CF APO
EISA MACRO LENS 2021-2022
Nikon NIKKOR Z MC 50mm f/2.8
EISA SPECIAL PURPOSE LENS 2021-2022
Laowa 15mm f/4.5 Zero-D Shift
EISA LENS INNOVATION 2021-2022
Canon RF 100mm F 2.8L Macro IS USM
EISA PHOTO SOFTWARE 2021-2022
Zoner Photo Studio X
EISA ADVANCED PHOTO SOFTWARE 2021-2022
DxO PureRAW
EISA PHOTO SERVICE 2021-2022
CEWE Photoworld
EISA PHOTO PRINTER 2021-2022
Epson SureColor SC-P700
COMBINED WITH MOBILE DEVICES EXPERT GROUP
EISA MULTIMEDIA SMARTPHONE 2021-2022
Sony Xperia 1 III
EISA ADVANCED SMARTPHONE 2021-2022
OPPO Find X3 Pro
MOBILE DEVICES EXPERT GROUP
EISA MULTIMEDIA SMARTPHONE 2021-2022
Sony Xperia 1 III
EISA ADVANCED SMARTPHONE 2021-2022
OPPO Find X3 Pro
EISA BEST SMARTPHONE 2021-2022
Apple iPhone 12 Pro Max
EISA FOLDABLE SMARTPHONE 2021-2022
Huawei Mate X2
EISA BEST BUY SMARTPHONE 2021-2022
TCL 20 Pro 5G
EISA WIRELESS HEADPHONES 2021-2022
Philips Fidelio L3
EISA IN-EAR HEADPHONES 2021-2022
LG TONE Free FP8 (DFP8, UFP8, DFP8W, FP8W, UFP8W, FP8E, TFP8E)
EISA MOBILE SPEAKER 2021-2022
We. by Loewe We. HEAR 2
EISA SMARTWATCH 2021-2022
Huawei Watch 3 Pro
IN-CAR ELECTRONICS EXPERT GROUP
EISA IN-CAR HEAD UNIT 2021-2022
Kenwood DMX8020DABS
EISA IN-CAR INNOVATION 2021-2022
Audiotec Fischer Conductor
EISA IN-CAR SPEAKER SERIES 2021-2022
Ground Zero Uranium SQ series
EISA IN-CAR SOUND PROCESSOR 2021-2022
ESX D68SP
EISA IN-CAR SPEAKER SYSTEM 2021-2022
Eton ONYX 16, ONYX 80, ONYX 28
EISA IN-CAR DSP AMPLIFIER 2021-2022
Match UP 10DSP
EISA IN-CAR CAMPER VAN COMPONENT 2021-2022
Alpine Adventure Audio
EISA IN-CAR COMPACT SUBWOOFER 2021-2022
Pioneer TS-WX010A
EISA IN-CAR INTEGRATION 2021-2022
Zenec Z-E2055
EISA IN-CAR OEM PREMIUM AUDIO SYSTEM 2021-2022
Maserati MC20 with Sonus faber